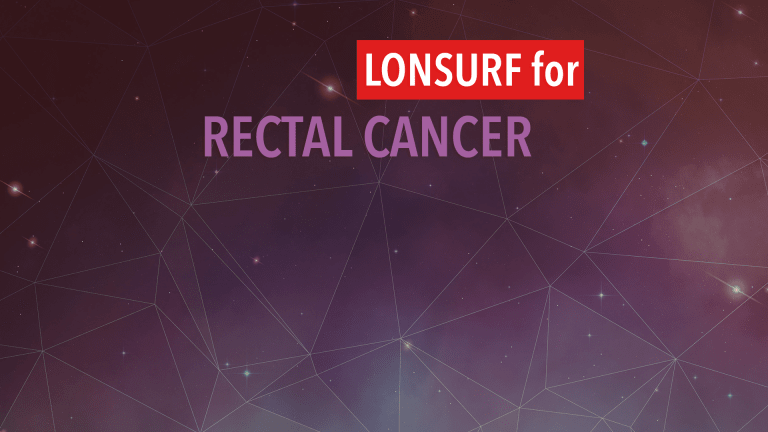 Lonsurf® Treatment for Colorectal Cancer
Lonsurf® - TAS 102 is an effective treatment when used alone or in combination therapy for advanced colorectal cancer.
by Dr. C.H. Weaver M.D. updated 7/2019
The United States Food and Drug Administration (FDA) has approved the oral agent, Lonsurf® (trifluridine and tipiracil), for the treatment of colorectal cancer.
Colorectal cancer remains the second leading cause of cancer-related deaths in the U.S. although death rates from colorectal cancer have declined in the past 10 years which is thought to be due to increased screening and newer drugs to treat the disease.
Lonsurf is approved, specifically, for the treatment of advanced colorectal cancer that has stopped responding to standard therapies including chemotherapy and biologic therapy. It is a comprised of the two active anti-cancer agents, trifluridine and tipiracil.
About Lonsurf
Lonsurf (TAS-102) is a novel anti-cancer agent consisting of trifluridine (FTD) and tipiracil hydrochloride (TPI). FTD is the active component of TAS-102 and is directly incorporated into cancer DNA, leading to DNA dysfunction. However, when FTD is taken orally it is largely degraded to an inactive form. TPI prevents the degradation of FTD. A previously reported phase II trial of TAS-102 found an overall survival benefit in Japanese patients with metastatic colorectal cancer refractory to treatment.
In preclinical studies, Lonsurf showed antitumor activity against cancer cell lines that were resistant to flourouracil a standard therapy for colorectal cancer.
The current RECOURSE study was a global phase III trial conducted in 13 countries. Patients had metastatic colorectal cancer refractory to all standard therapies including with wild-type KRAS tumors. Patients were treated with TAS-102 (534 patients) or placebo (266 patients) and directly compared.
The researchers found that TAS-102 prolonged overall survival experiencing a median overall survival of 7.1 months for TAS-102 and 5.3 months for placebo. TAS-102 also improved progression-free survival and was well tolerated with the most common side-effect being neutropenia.
Although these gains may seem small, the fact that they occurred in patients whose cancer no longer responded to other therapies suggests TAS-102 holds real promise as a treatment for the disease, the study authors said.
The cancer cell-killing component of TAS-102, a drug known as trifluridine, was developed in the late 1950s, at about the same period as 5-FU. At the time, 5-FU was thought to work by being incorporated into cancer cells' DNA and preventing the cells from metabolizing nutrients. Later, it was learned that the drug actually works by blocking an enzyme (thymidylate synthase) that the cells need for survival.
Trifluridine, by contrast, does integrate into cancer cell DNA, but proved to be too toxic to patients when given in doses necessary to kill the cancer cells. About 15 years ago, the Japanese company Taiho Pharmaceutical began testing trifluridine in combination with tipiracil hydrochloride, an agent that blocks the metabolism of trifluridine. The combination allowed trifluridine to exert its beneficial effect without reaching toxic levels, thereby making it a potentially useful form of anticancer therapy.
Lonsurf + Avastin
In patients with chemo-refractory metastatic colorectal cancer (mCRC), Lonsurf combined with Avastin (bevacizumab) approved survival according to results presented at the ESMO 21st World Congress on Gastrointestinal Cancer.
The study enrolled 93 patients with chemo-refractory to receive treatment with Lonsurf with or without Avastin. The combination improved survival duration from 6.7 months with Lonsurf to 9.4 months with the addition of Avastin.
The combination represents a new treatment option in patients with chemo-refractory colorectal cancer and additional trials are ongoing to ascertain the benefit if used earlier.
The most common side effects with Lonsurf were low levels of blood cells and fatigue/weakness.
References:
United States Food and Drug Administration FDA news release: FDA approves new oral medication to treat patients with advanced colorectal cancer. Accessed September 22, 2015. Available at: fda.gov/NewsEvents/Newsroom/PressAnnouncements/ucm463650.htm
Pfeiffer P, Yilmaz M, Möller S, et al. Bevacizumab improves efficacy of trifluridine/tipiracil (TAS-102) in patients with chemorefractory metastatic colorectal cancer: a Danish randomized trial. Presented at: the ESMO 21st World Congress on Gastrointestinal Cancer; July 2019; Barcelona, Spain. Abstract O-014.