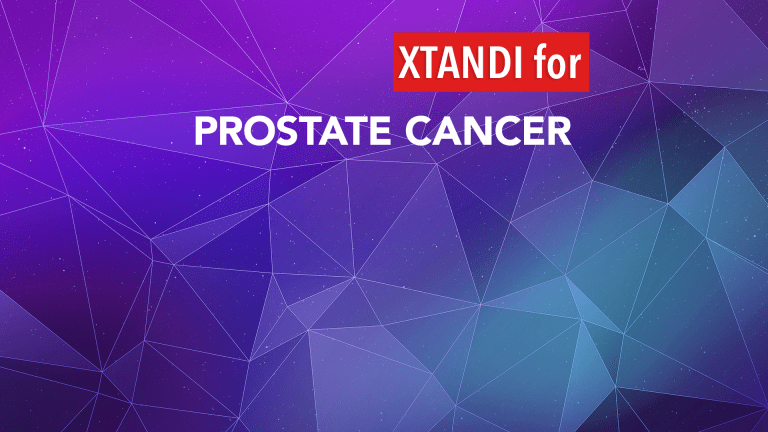 Xtandi® Treatment of Advanced Prostate Cancer
Xtandi superior to non-steroidal anti-androgens. ASCO 2020 update Xtandi improves survival of advanced prostate cancer.
by Dr. C.H. Weaver M.D. updated 6/2020
Prostate cancer is the most frequently diagnosed cancer in men aside from skin cancer. An estimated 220,800 new cases of prostate cancer are diagnosed annually in the U.S., with more than 27,500 men dying from the disease.
Prostate cancer is stimulated to grow from exposure to the male hormone, testosterone. Therefore, an important treatment component for prostate cancer includes agents that block the formation of testosterone. This type of treatment is referred to as androgen deprivation therapy (ADT). There are several different types of ADT agents that prevent formation of testosterone through different mechanisms. Xtandi is used effectively in men with (1-10)
Newly diagnosed hormone sensitive metastatic prostate cancer
Rising PSA and no other evidence of disease
Non-metastatic castration-resistant prostate cancer (NM-CRPC)
Metastatic CRPC.
In combination with Keytruda Immunotherapy
About Xtandi® (enzalutamide)
Xtandi is an androgen receptor inhibitor that targets multiple steps in the androgen-receptor–signaling pathway, interfering with molecular pathways that help the cancer grow. What's more, the drug does not cause side effects commonly associated with chemotherapy, such as nausea and hair loss.
Enzamet Clinical Trial: Xtandi Improves Survival as Initial Treatment in Men with Metastatic Hormone-Sensitive Prostate Cancer
Men who are newly diagnosed with metastatic prostate cancer are considered to have hormone-sensitive prostate cancer and have historically been treated with androgen deprivation therapy (ADT) combined with an anti-androgen medication.
The combination of ADT plus an anti-androgen drug shuts off the supply of testosterone, which is the fuel that drives prostate cancer growth. Traditionally this had been accomplished with ADT + a non-steroidal anti-androgen medication.
The objective of the Enzamet clinical trial was to determine if initial treatment of men with hormone sensitive prostate cancer could be improved using Xtandi combined with ADT compared to standard treatment using ADT combined with a non-steroidal anti-androgen (bicalutamide, nilutamide, flutamide)
Men participating in the Enzamet trial were treated with either ADT + Xtandi or ADT + a non-steroidal anti-androgen.
The trial found that after 3 years, 80% of men with metastatic hormone-sensitive prostate cancer who were treated with Xxtandi + ADT survived compared to 72% of men who received standard care. Treatment with Xtandi + ADT reduced the risk of death at 3-years by a third, relative to giving ADT with standard anti-androgen drugs. Xtandi also significantly increased the time until the cancer showed signs of growing, either by symptoms, scans, or rising PSA.
The study is practice changing and suggests that Xtandi should be considered much earlier in the course of the disease, around the time of starting ADT when patients are diagnosed with metastatic cancer.(10)
Xtandi® in Non-Metastatic Castration-Resistant Prostate Cancer (rising PSA but no other evidence of disease)
Results from the Phase 3 PROSPER clinical trial in patients with non-metastatic Castration-Resistant Prostate Cancer (CRPC) demonstrated that the use of Xtandi® plus ADT significantly reduced the risk of developing metastases or death by 71 percent compared to ADT alone in men on ADT and a rising PSA but no other evidence of metastatic disease.
About PROSPER
PROSPER is a comparative clinical trial that enrolled approximately 1,400 patients with non-metastatic CRPC that had progressed, based on a rising PSA level despite ADT, but who had no symptoms and no prior or present evidence of metastatic disease. The trial directly compared Xtandi plus ADT to ADT alone.
The final results of the PROSPER trial were released at the 2020 American Society of Clinical Oncology Annual Meeting and published in the New England Journal of Medicine. Xtandi plus ADT significantly reduced the risk of developing metastasis or dying and prolonged average survival duration from 56 to 67 months. (11)

Fyarro for Malignant Perivascular Epithelioid Cell Tumor (PEComa)
The U.S. Food and Drug Administration (FDA) has approved FYARRO™ (sirolimus protein-bound particles for injectable suspension) (albumin-bound) for intravenous use for the treatment of adult patients with locally advanced unresectable or metastatic malignant perivascular epithelioid cell tumor (PEComa).
Xtandi Delays Need for Chemotherapy in Metastatic Prostate Cancer Patients
Results of a phase III trial reported at the 2014 American Society of Clinical Oncology Annual Meeting demonstrated that treatment with Xtandi® significantly delays the need for chemotherapy in metastatic prostate cancer patients previously treated with hormone therapy.
The trial, led by researchers at the Oregon Health and Sciences University, enrolled 1717 patients and randomly assigned them to a daily dose of Xtandi or a placebo. All patients had been treated previously with hormone therapy but had not received chemotherapy. Scientists were measuring progression-free survival and overall survival.
Results indicated that the Xtandi group had a time to the start of chemotherapy of 28 months. The same measure for the placebo group was 10.8 months. At 12 months, 65% of the Xtandi patients had no disease progression. Only 14% of the placebo group was without progression.
At the conclusion of data collection, 72% of the Xtandi patients were still alive, compared to 63% in the placebo group.
The rate of adverse events with the two groups was comparable. Forty-three percent of the Xtandi arm and 37% of the placebo arm reported grade 3 or higher adverse events. However, the time to onset of the adverse events was longer in the Xtandi group (22.3 months). The corresponding time for placebo patients was 13.3 months.
Xtandi Superior to Casodex for Hormone Refractory Prostate Cancer
The agent Xtandi® improves survival and reduces the time to cancer progression compared to Casodex® (bicalutamide) among men with prostate cancer that has stopped responding to prior therapy with anti-androgens.
Researchers conducted a clinical trial to directly compare two different agents that block the formation of testosterone. The trial, referred to as the STRIVE trial, included 396 men whose cancer had progressed despite prior ADT. Patients had both metastatic (cancer spread to distant sites in the body), as well as earlier-stage (nonmetastatic) prostate cancer.
One group of patients was treated with Casodex, and the other group was treated with Xtandi both of which are FDA approved for the treatment of prostate cancer. The results from both groups of patients were directly compared.
Patients treated with Xtandi had a 76% reduced risk of cancer progression or death, compared to patients treated with Casodex.
The median time from initiation of therapy to progression of cancer among survivors (progression-free survival) was 19.4 months for those treated with Xtandi, compared with 5.7 months for those treated with Casodex.
Xtandi was beneficial in patients with either metastatic or nonmetastatic cancer.
The researchers concluded that "Xtandi significantly reduced the risk of prostate cancer progression or death compared with Casodex in patients with non-metastatic or metastatic" cancer that had stopped responding to prior ADT.
Xtandi Combination Regimens:
About Castration-Resistant Prostate Cancer
Prostate cancer is the second most common cancer in men worldwide. More than 164,000 men in the United States are estimated to be newly diagnosed with prostate cancer in 2018. Castration-resistant prostate cancer refers to the subset of men whose prostate cancer progresses despite castration levels of testosterone. Non-metastatic CRPC means there is no clinically detectable evidence of the cancer spreading to other parts of the body (metastases), and there is a rising prostate-specific antigen (PSA) level. Many men with non-metastatic CRPC and a rapidly rising PSA level go on to develop metastatic CRPC. The relative 5-year survival rate for patients with distant stage prostate cancer is 30 percent and therapies that can delay the onset of metastasis in these patients is needed.(1,2,3,6)
References:
Luo J, Beer T, Graff J. Treatment of Non-metastatic Castration Resistant Prostate Cancer. Oncology. April 2016, 30(4):336-344.
Smith MR, Kabbinavar F, Saad F, Hussain A et al. Natural history of rising serum prostate-specific antigen in men with castrate nonmetastatic prostate cancer. J Clin Oncol 2005; 23: 2918–2925.
Beer TM, Armstrong AJ, Sternberg CN, et al: Enzalutamide in men with chemotherapy-naive metastatic prostate cancer (mCRPC): Results of phase III PREVAIL study. Presented at the 2014 Genitourinary Cancers Symposium. Journal of Clinical Oncology. 2014; 32 (supplement 4; abstract LBA1).
Beer TM, et al. Enzalutamide in metastatic prostate cancer before chemotherapy. New Engl J Med 2014; DOI: 10.1056/NEJMoa1405095.
Penson D, Armstrong A, Concepcion R, et al. Enzalutamide Versus Bicalutamide in Castration-Resistant Prostate Cancer: The STRIVE Trial. Journal of Clinical Oncology. January 25, 2016, doi: 10.1200/JCO.2015.64.9285. Available here. Accessed February 5, 2016.
Overall survival (OS) results of a phase III randomized trial of standard-of-care therapy with or without enzalutamide for metastatic hormone-sensitive prostate cancer (mHSPC): ENZAMET (ANZUP 1304), an ANZUP-led international cooperative group trial.