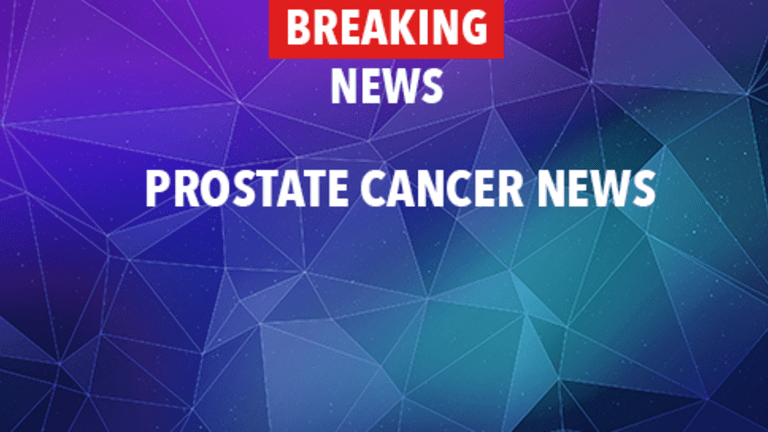 Suramin May Provide Relief for Persons with Prostate Cancer
Suramin May Provide Relief for Persons with Prostate Cancer that Does Not Respond to Hormone Therapy
For men with advanced prostate cancer, effective therapies to alleviate pain and other symptoms of disease are often needed. The chemotherapy drug, suramin, was recently found to be beneficial in reducing pain and in prolonging the time before progression of disease for men with advanced prostate cancer that is resistant to hormone therapy.
Cancer of the prostate, a male sex gland located near the bladder and rectum, is a type of cancer that occurs commonly in older men. The testing of the blood for levels of a protein called prostate-specific antigen (PSA) may be used to help diagnose and evaluate the treatment of prostate cancer. If elevated PSA levels are found, this suggests that prostate cancer may be present and further diagnostic tests are needed. Once the cancer is diagnosed, treatment options may include delaying treatment until the cancer progresses, or surgery, radiation therapy, chemotherapy, biologic therapy, and/or hormone therapy. Men with prostate cancer that has spread to other parts of the body (called advanced or metastatic cancer) are often treated with hormone therapy. Because the body's male hormones can sometimes help the cancer to continue growing, various hormone therapies can be used to lower the levels of these hormones, or androgens (mainly testosterone), or block the body's use of these androgens, thereby relieving the symptoms of disease and slowing the growth of the cancer. Researchers continue to study new chemotherapy combinations to treat advanced prostate cancer when it no longer responds to hormone therapy.
Because chemotherapy has produced significant relief from pain, the first chemotherapy drug, called estramustine, was approved by the U.S. Food and Drug Administration for use in men with prostate cancer. Since then, studies have shown that chemotherapy can significantly aid in the control of prostate cancer; therefore, various other chemotherapy drugs and combinations continue to be developed and investigated. For example, combining estramustine with the drug vinorelbine has recently been shown to be more effective than estramustine alone in relieving the symptoms of prostate cancer that does not respond to hormone therapy.*
Another drug, called suramin, has also been studied over the past decade for its potential use against prostate cancer; however, it has been associated with side effects, such as suppression of the adrenal gland. For this reason, persons receiving suramin often must also receive hydrocortisone, a substance normally produced in the body by the adrenal gland. Past reports on suramin as a treatment for prostate cancer have produced conflicting results, but 1 new study suggests that this agent may indeed slow the progression of disease and reduce pain in men with prostate cancer that has become resistant to hormone therapy.
Researchers from several medical centers in the United States treated 460 men with prostate cancer for whom hormone therapy had failed. The researchers assigned the patients to receive either suramin or placebo for 78 days. Those who experienced a progression of the cancer while receiving the placebo were then switched to the suramin therapy. The results showed that a reduction in pain was achieved in more men taking the suramin than the placebo, and that the men taking the placebo required more pain medications. In addition, those receiving suramin had a greater decrease in PSA levels, and had a longer time until the cancer began to progress. However, other quality of life measures, performance status (various functioning abilities), and survival time did not differ between the suramin and placebo groups. These researchers concluded that suramin provides a moderate benefit in reducing pain and prolonging the time until progression of disease for men with prostate cancer that does not respond to hormone therapy.**

Because of similar positive findings with the use of suramin against hormone therapy-resistant prostate cancer, other researchers have attempted to use suramin as an initial, first-line treatment against advanced prostate cancer. With this intent, researchers from the Southwest Oncology Group treated 62 men who were newly diagnosed with advanced prostate cancer with both suramin and hormone therapy to decrease androgen levels. The patients received suramin, hydrocortisone, and hormone therapy with either goserelin or leuprolide. However, the results showed that this combination increased side effects such that suramin frequently could not be administered. Therefore, it appears that at this time, treatment with suramin should be limited to persons who have prostate cancer that has become resistant to hormone therapy.***
The findings of these studies point to the potential of suramin and other chemotherapy drugs and combinations, such as estramustine and vinorelbine, to provide effective relief from pain and other symptoms of disease in men who have hormone therapy-resistant disease. Individuals with this type of disease may wish to talk with their doctor about the risks and benefits of receiving the suramin or estramustine/vinorelbine regimens or of participating in a clinical trial in which other promising new treatments are being studied. Sources of information on ongoing clinical trials that can be discussed with a doctor include a comprehensive, easy-to-use service provided by the National Cancer Institute (cancer.gov) and the Clinical Trials section and service offered by Cancer Consultants.com (www.411cancer.com).
*(Proceedings of the American Society of Clinical Oncology, Vol 18, Abstract 1236, 1999)
**(Journal of Clinical Oncology, Vol 18, No 7, pp 1440-1450, 2000)
***(Journal of Clinical Oncology, Vol 18, No 5, pp 1043, 2000)
Copyright © 2018 CancerConnect. All Rights Reserved.