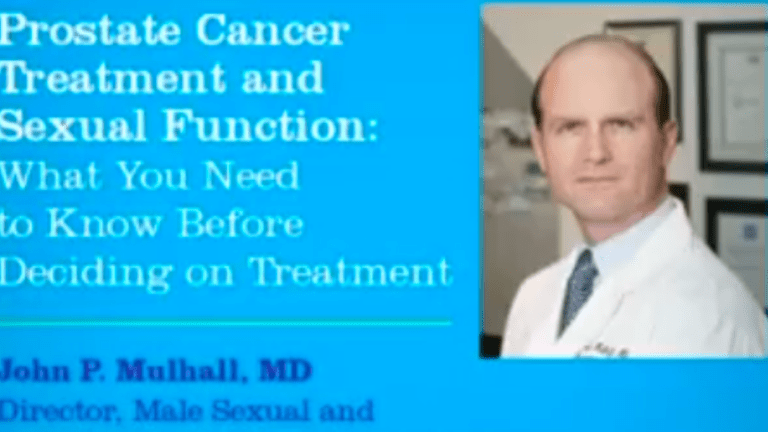 Prostate Cancer Treatment and Sexual Function: What You Need to Know
Dr. Mulhall M.D. of Memorial Sloan-Kettering Cancer Center discusses prostate cancer treatment and sexual function
Prostate Cancer Treatment and Sexual Function: What You Need to Know Before Deciding on Treatment, Web Chat with John P. Mulhall, MD
Dr. Mulhall is the Director of the Male Sexual and Reproductive Medicine Program at Memorial Sloan-Kettering Cancer Center. Dr. Mulhall is a urologist and microsurgeon specializing in sexual and reproductive medicine and surgery with a focus on the care of men who have sexual difficulties or fertility problems as a result of their cancer or cancer treatment. Click here for Dr. Mulhall's bio.
Patients with early-stage prostate cancer have several treatment options. The treatment selected may be influenced by the patient's age, concurrent health problems, the patient's goals of treatment, and the bias of the treating physician. Treatment options include hormone therapy, surgery, radiation, combinations of therapy and "watchful waiting." It is important to have as much information as possible about each treatment and to get more than one physician opinion, especially when considering surgery versus radiation therapy. The benefits of a specific treatment must be carefully balanced with its potential risks. Understanding how treatment for prostate cancer can affect sexual function is an important part of the decision making process.
The Live Web Chat is not intended to be a substitute for healthcare professional medical advice, diagnosis, or treatment. Speak to your healthcare provider about any questions you may have regarding your health.
Copyright © 2018 CancerConnect. All Rights Reserved.