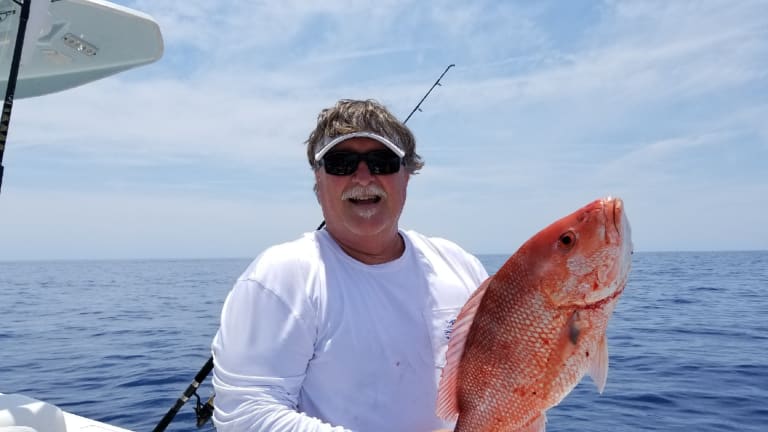 Prostate Cancer Leads Aerospace Biomedical Technician to Discover High-Tech HIFU
Charles McFarland shares his experience with High Intensity Focused Ultrasound treatment of prostate cancer.
By Charles McFarland
I'm a Florida native, born and raised here, went to college and joined the military here as well. I started my career as a biomedical technician, repairing military hospital equipment. My wife and I have 5 adult children in total and 1 grandchild. We live in Satellite Beach -- about 250 yards from the ocean. Like many Floridians, my wife and I love to go boating and fishing. Sometimes you'll find us paddle boarding around the Florida Keys.
So, at age 58, when I was diagnosed with prostate cancer I was determined to get it taken care of, and hold on to my quality of life in the process.
Through my years in the military and eventually landing my position at the Kennedy Space Center, I've learned to appreciate the pros and cons of applying high-tech solutions to problems. I'm also someone who looks into things with a lot of forethought. Because of those experiences, I naturally explored a variety of options when I got the diagnosis.
In those explorations, I ultimately discovered a medical procedure called HIFU, which is shorthand for High Intensity Focused Ultrasound. Essentially, with HIFU, the doctor directs high-frequency sound waves to heat up and burn off diseased tissue in the prostate using an ultrasound probe. As I found in my research, this approach has been shown to result in reduced side effects like impotence and incontinence, according to some studies in Europe and elsewhere in the world.
Learn more about HIFU treatment of prostate cancer
But it took a while before I arrived at the decision to use HIFU to treat my prostate cancer.
First, I had to run the gamut of tests and sift through the medical opinions of several doctors.
My search began after a routine PSA test in 2016. My PSA numbers had risen to 8.5 – which was higher than the 4.0 (or lower) range considered by most doctors to be normal. That score triggered a referral to a urologist who found an adenocarcinoma, the scientific word for cancer, in the left base of my prostate.
The good news was that the cancer was in the early stages and localized – which means it had not moved beyond the prostate. But I remember the doctor clearly telling me, "You have cancer and we have to get rid of it."
Initially, like many of the 2.9 million men diagnosed with prostate cancer in this country, I was offered the option of a radical prostatectomy – a surgical procedure to remove the prostate gland. That surgery, however, would leave me incontinent, according to the surgeon, and I'd have to see an occupational therapist to learn to control my urine stream. That was out of the question for me. With due respect to the doctors, I thought the surgery seemed barbaric. There had to be a better way to get rid of the tumor other than cutting out the entire prostate.
The only other option covered by my health insurance was brachytherapy, in which radioactive "seeds" or implants are inserted into the prostate to destroy the cancer, but the seeds could also escape into the bloodstream. Furthermore, a friend of mine who had brachytherapy developed blow flood issues in his prostate and now he has to go into a hyperbaric chamber every week, plus he's had to have multiple catheters because he can't urinate. So brachytherapy was out of the question.
There were also lots of exotic treatments for prostate cancer on the internet. My son looked online and found a treatment in England where the DNA from a deep-water jelly fish is injected into the prostate. No thanks!
Fortunately, I found HIFU because my primary care physician had recommended it to one of his patients. Even more fortunately, I found Dr. Perinchery Narayan. He's a pioneer in the field of prostate cancer who holds multiple patents – including a patent on an endorectal probe using MRI technology for the diagnosis of prostate cancer.
I felt comfortable dealing with Dr. Narayan as well as his practice manager, Gerry Schuster. Since the FDA cleared HIFU for prostate tissue ablation in 2015, Dr. Narayan and his team have performed more than 100 HIFU procedures throughout the U.S., including academic centers like Henry Ford Hospital and the University of Minnesota.
When I went to HIFU Solution - Dr. Narayan's office in Ocala, FL -- he did an ultrasound and all of the other standard tests urologists use with patients like me. The ultrasound showed my prostate was three times larger than normal. That meant they needed to shrink the prostate gland first in order to eventually do proper penetration with the HIFU probe to locate the cancer. From April through June of this year, I took Lupron to shrink my prostate.
Near the end of June, I underwent the HIFU procedure. Since then, I've had no bleeding, no problems urinating, and no incontinence. And I still have my prostate! I've also been able to stop taking Lupron and should resume testosterone production by the end of the year. And my latest PSA score is .4!
I'm exactly like I was before I had HIFU.