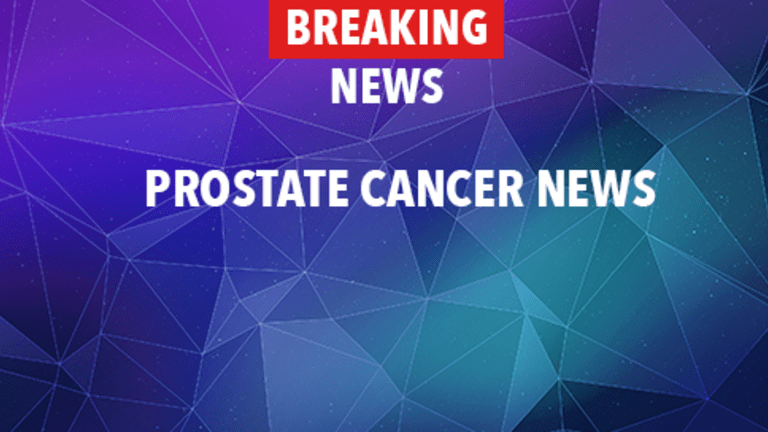 Investigational Drug Shows Activity in Advanced Prostate Cancer
Investigational Drug Shows Activity in Advanced Prostate Cancer
An investigational anti-androgen drug called MDV3100 has shown encouraging anti-tumor activity in patients with progressive, metastatic, hormone-resistant prostate cancer, according to the preliminary results of a study published early online in the Lancet.[1]
The prostate is a male sex gland responsible for producing fluid that forms semen. It is located below the bladder, in front of the rectum, and surrounds the urethra. Prostate cancer occurs when the cells in the prostate gland grow out of control. 
Prostate cancer is a hormonally sensitive disease that can be controlled for long periods with androgen deprivation therapy (ADT). When prostate cancer stops responding to this treatment, it is referred to as hormone-refractory prostate cancer. Metastatic, androgen-independent (or hormone-refractory) prostate cancer is a challenging form of the disease to treat because the cancer has spread to distant sites in the body and does not respond to treatment with hormonal therapy. 
MDV3100 is an investigational drug that blocks androgens from binding to the androgen receptor. It can also induce cancer-cell death. Researchers conducted a Phase I-II study in five U.S. cancer centers in order to determine the safety and efficacy of MDV3100. The study involved 140 patients with progressive, metastatic hormone-refractory prostate cancer, 75 of whom had previously been treated with chemotherapy. The investigators used dose-escalation to determine the maximum tolerated dose; the doses studied were 30 mg, 60 mg, 150 mg, 240 mg, 360 mg, 480 mg, and 600 mg. The maximum tolerated dose for sustained treatment was 240 mg. 
The researchers observed anti-tumor effects at all doses. The drug appeared to show benefit to both chemotherapy-naïve patients as well as those who had already received chemotherapy. Among the observed benefits:
Fifty-six percent of patients experienced a 50% reduction in PSA levels.
Soft tissue responses were observed in 22% of patients.
Fifty-six percent of patients had stabilization of bone disease.
Forty-nine percent of patients experienced conversion from unfavorable to favorable circulating tumor cell counts. 
The most common grade 3-4 adverse event was dose-dependent fatigue, which diminished with dose reduction. Three patients experienced seizures, which may or may not have been directly related to the treatment with MDV3100. 
The researchers concluded that MDV3100 is very active among men with progressive, metastatic hormone-refractory prostate cancer—cancer that is typically unresponsive to treatment. As a result of these data, Phase III studies of MDV3100 have already begun.  
Reference:
[1] Scher HI, Beer TM, Higano CS, et al. Antitumor activity of MDV3100 in castration-resistant prostate cancer: A phase 1-2 study. The Lancet [early online publication]. April 15, 2010.
Copyright © 2018 CancerConnect. All Rights Reserved.