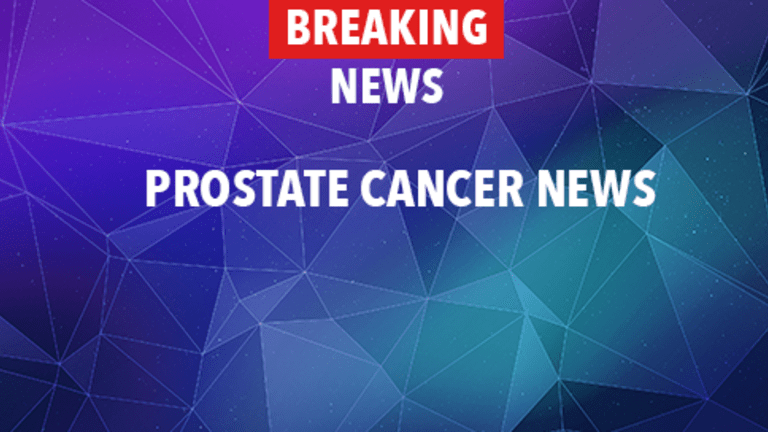 Further Evidence Indicating Hormone Therapy Beneficial in Early Prostate Cancer
Further Evidence Indicating Hormone Therapy Beneficial in Early Prostate Cancer
According to results presented at the 45th annual meeting of the American Society for Therapeutic Radiation and Oncology, further evidence indicates that the addition of immediate hormone therapy to standard therapy appears to improve progression-free survival in patients with localized or locally advanced prostate cancer.

1
One out of every 6 men will be diagnosed with prostate cancer in the United States. Prostate cancer is the second leading cause of cancer deaths in the U.S. for men. The prostate is a walnut-sized male sex gland that is located between the bladder and rectum. The prostate is responsible for secreting a substance that forms a component of semen. Treatment options are varied for patients with prostate cancer, often depending upon the stage, or extent, of the disease. Some patients with prostate cancer that has not spread outside the prostate may be cured with radiation therapy or surgery alone. However, due to the variances in cure rates, researchers are investigating novel treatment options in order to provide consistent optimal results.
One component of therapy for prostate cancer is called hormone therapy, in which levels of male hormones, particularly testosterone, are reduced in the body. Testosterone has growth stimulatory effects on prostate cancer cells. One hormonal agent commonly used for treatment of prostate cancer that reduces the levels of testosterone in the blood is called bicalutamide (Casodex®). Researchers continue to evaluate optimal timing of hormone therapy in the sequence of treatment, particularly for patients with localized prostate cancer, as their chances for long-term survival are good and hormone therapy is associated with side effects.
Previous clinical trials have suggested that radiation therapy plus hormone therapy reduces the risk of a cancer recurrence, compared to radiation therapy alone in patients with localized prostate cancer. Recently, researchers from Europe and the United States initiated the largest clinical trial to date for prostate cancer, called The Early Prostate Cancer (EPC) program. This trial involves nearly 8,000 patients with prostate cancer that was either confined to the prostate (localized) or nearby tissues or lymph nodes (locally advanced), with no spread to distant sites in the body. Patients were treated initially with radiation therapy, surgery or watchful waiting. Regardless of initial treatment, patients received either bicalutamide immediately following treatment, or placebo (inactive substitute). At approximately 3 years, patients who received bicalutamide had a 42% reduced risk of having cancer progression.

2 Upon analysis of over 3,000 men who were treated with initial radiation therapy, those treated with bicalutamide had a 58% reduced risk of cancer progression, as detected by prostate specific antigen (PSA) levels. In addition, time of progression-free survival was improved by over one-third for patients treated with bicalutamide.
These researchers concluded that hormone therapy initiated immediately following initial therapy reduces the risk of cancer progression. For men with localized or locally advanced prostate cancer treated with initial radiation therapy, immediate hormone therapy also improves progression-free survival. Patients with localized or locally advanced prostate cancer may wish to speak with their physician about the risks and benefits of hormone therapy or the participation in a clinical trial evaluating novel therapeutic approaches. Two sources of information regarding ongoing clinical trials include the National Cancer Institute (cancer.gov) and www.cancerconsultants.com. Personalized clinical trial searches are also performed on behalf of cancerconsultants.com.
References:
1.Payne H, Tyrrell C, See W, et al. Bicalutamide 150 mg as adjuvant to radiotherapy significantly increases progression-free survival in early prostate cancer. Proceedings from the 45th annual meeting of the American Society for Therapeutic Radiation and Oncology. 2003. Abstract #83. S173.
2.See et al.
Journal of Urology. 2002; 168:429-435.
Copyright © 2018 CancerConnect. All Rights Reserved.