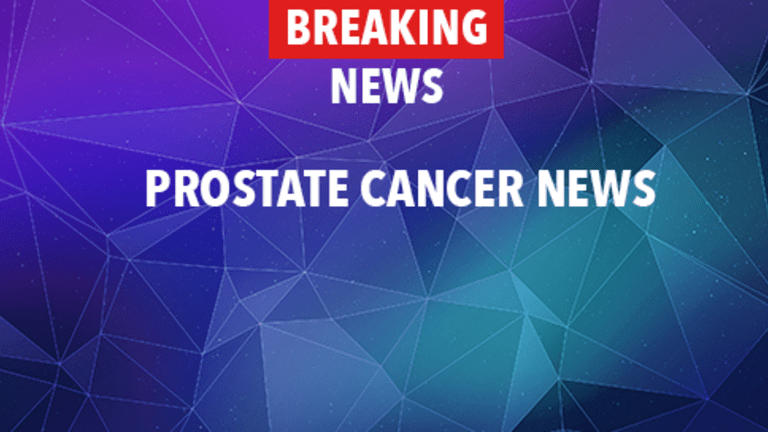 Estramustine, Docetaxel & Hydrocortisone: Active Treatment in Prostate Cancer
Estramustine, Docetaxel and Hydrocortisone: Active Treatment in Advanced Prostate Cancer
The chemotherapy combination consisting of estramustine, docetaxel and low-dose hydrocortisone appears to produce significant anti-cancer responses in approximately 50% of men with metastatic prostate cancer that no longer respond to hormone therapy, according to a recent study published in the Journal of Clinical Oncology. This regimen may be particularly helpful in maintaining physical functioning and in relieving pain for patients with this disease.
The prostate is a male sex gland that is located between the bladder and the rectum. Prostate cancer occurs commonly in older men and is the second leading cause of cancer death in men in the United States. Patients diagnosed with prostate cancer have many treatment options available to them, depending upon the stage, or extent of their disease. Prostate cancer that has spread from its site of origin to distant sites in the body is referred to as advanced or metastatic prostate cancer and is often treated with hormone therapy.
Male hormones, called androgens, can stimulate prostate cancer cells to grow. Various hormone therapies can be used to lower the levels of these androgens (mainly testosterone) in the body, or block androgens from entering the cancer cell. This stops or slows the growth of cancer by depleting the cancer cell of the androgen growth stimulus. While this approach may initially delay the progression of metastatic prostate cancer, the disease will eventually become resistant to hormone therapy and ultimately progress. Once the cancer stops responding to hormone therapy, it is referred to as hormone-refractory prostate cancer.
Historically, most physicians have believed that hormone refractory prostate cancer was resistant to treatment with chemotherapy; however, doctors have recently realized that certain chemotherapeutic agents such as estramustine, mitoxantrone and the taxanes may produce significant anti-cancer activity in men with hormone refractory prostate cancer. Research is ongoing to identify which chemotherapy combinations are most promising for the treatment of hormone refractory metastatic prostate cancer.

Recently, researchers in the Cancer and Leukemia Group B performed a clinical trial evaluating a chemotherapy combination in men with hormone-refractory prostate cancer. In this study, 47 men were treated with the combination of docetaxel, estramustine and low-dose hydrocortisone. Following the completion of treatment, anti-cancer responses were achieved in 50% of patients. Sixty-eight percent of men had a 50% or greater decrease in prostate specific antigen (PSA) levels (blood levels of proteins produced by cancer cells) and 57% had a 75% or greater decrease in PSA levels. Following treatment, the average survival duration was 20 months. The average time to cancer progression following treatment for patients in this study was 8 months.
The researchers concluded that the combination of estramustine, docetaxel and low-dose hydrocortisone was effective and well tolerated in men with hormone refractory prostate cancer. Future clinical trials are warranted utilizing this chemotherapy combination earlier in the disease course and directly comparing this treatment combination to other standard treatment regimens.
Men with hormone refractory or other prostate cancer may wish to speak with their physician about the risks and benefits of this or other chemotherapy combinations or the participation in a clinical trial evaluating other, promising new treatment regimens. Two sources of information regarding ongoing clinical trials include comprehensive, easy-to-use services provided by the National Cancer Institute (cancer.gov) and eCancerTrials.com. eCancerTrials.com also provides personalized clinical trial searches on behalf of patients. (Journal of Clinical Oncology, Vol.19, No. 9, pp 2509-2516, 2001)
Copyright © 2018 CancerConnect. All Rights Reserved.