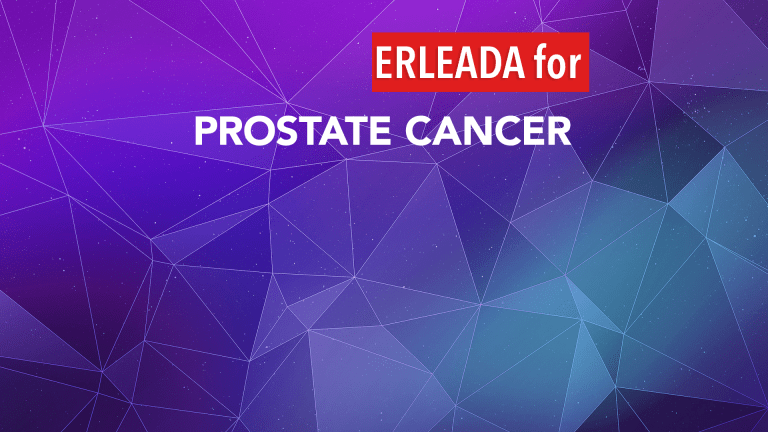 Erleada Treatment for Prostate Cancer
Erleada prolongs survival in non-metastatic Castration-resistant Prostate Cancer and for those with metastatic disease.
by Dr. C.H. Weaver M.D. updated 2/2021
The U.S. Food and Drug Administration (FDA) has approved Erleada (apalutamide) for the treatment of non-metastatic castration-resistant prostate cancer (CRPC), (1) and new data from the TITAN clinical trial have also shown that Erleada benefits men with metastatic castration-sensitive prostate cancer (mCSPC).(2)
About Erleada ™
Erleada™ is an androgen receptor (AR) inhibitor that works by binding directly to the ligand-binding domain of the AR. Erleada™ inhibits AR nuclear translocation, inhibits DNA binding, and impedes AR-mediated transcription.
Erleada in Castration-Sensitive Prostate Cancer
The phase 3 TITAN clinical trial evaluated Erleada® plus androgen deprivation therapy (ADT) for the treatment of patients with metastatic castration-sensitive prostate cancer (mCSPC). mCSPC refers to prostate cancer that still has spread away from the prostate gland to other parts of the body but still responds to ADT. The trial directly compared ADT with or without Erleada. An Independent Data Monitoring Committee recommended halting the trial because Erleada significantly delayed cancer progression and prolonged survival and initial results were presented at the June 2019 American Society of Clinical Oncology Annual Meeting. (2)
In the TITAN trial 525 men were treated with Erleada 240 mg daily plus continuous ADT in 28-day cycles and compared to 527 men treated with continuous ADT alone. The addition of Erleada to ADT conferred a 52% reduction in risk for death or radiographic progression. At 2 years, results showed an absolute 20 percentage point difference in the rate of cancer progression in favor of Erleada. At 2 years the overall survival rate were was 82% for Erleada compared to 74% for ADT alone.
At four years of follow up there remained a 35% lower risk of death with Erleada + ADT and the median overall survival has still not been reached for Erleada arm and was 52.2 months for ADT alone. Erleada also delayed the time to castration resistance, compared with placebo plus ADT. The median time to castration resistance was not reached in the Erleada group and was 11.4 months ADT alone. (8)
Erleada in Castration-Resistant Prostate Cancer
For men who are being treated with androgen deprivation therapy (ADT) and see their prostate specific antigen (PSA) levels begin to increase Erleada represents an effective new treatment option. Erleada is the first FDA-approved treatment for non-metastatic CRPC.

Prostate cancer is the second most common cancer in men worldwide. More than 164,000 men in the United States are estimated to be newly diagnosed with prostate cancer in 2018. (3,4)Castration-resistant prostate cancer refers to the subset of men whose prostate cancer progresses despite castration levels of testosterone. (5) Non-metastatic CRPC means there is no clinically detectable evidence of the cancer spreading to other parts of the body (metastases), and there is a rising prostate-specific antigen (PSA) level.(6) Many men with non-metastatic CRPC and a rapidly rising PSA level go on to develop metastatic CRPC.(7) The relative 5-year survival rate for patients with distant stage prostate cancer is 30 percent and therapies that can delay the onset of metastasis in these patients is needed.
The FDA approval is based the results of a pivotal clinical trial presented last week at the 2018 ASCO Genitourinary Cancers Symposium. The trial evaluated 1,207 non-metastatic CRPC patients with a rapidly rising PSA (PSA doubling time of 10 months or less) and no evidence of distant metastatic cancer. Half the individuals received Erleada in addition to whatever treatment they were already receiving (mostly ADT) and were compared to those not offered Erleada.
Erleada treated patients experienced a delay in the time to metastatic disease of 40.5 months compared to only 16.2 months for those not receiving the medication. This represents a 72% reduction in risk of metastasis or death.(1)
References:
FDA Approves Apalutamide (Erleada); the first treatment for non-metastatic castration-resistant prostate cancer
Chi KN, et al. Abstract 5006. Presented at: ASCO Annual Meeting; May 31-June 4, 2019; Chicago.
Urology Care Foundation. Advanced Prostate Cancer Patient Guide. urologyhealth.org/educational-materials.
Luo J, Beer T, Graff J. Treatment of Non-metastatic Castration Resistant Prostate Cancer. Oncology. April 2016, 30(4):336-344.
Smith MR, Kabbinavar F, Saad F, Hussain A et al. Natural history of rising serum prostate-specific antigen in men with castrate nonmetastatic prostate cancer. J Clin Oncol 2005; 23: 2918–2925.