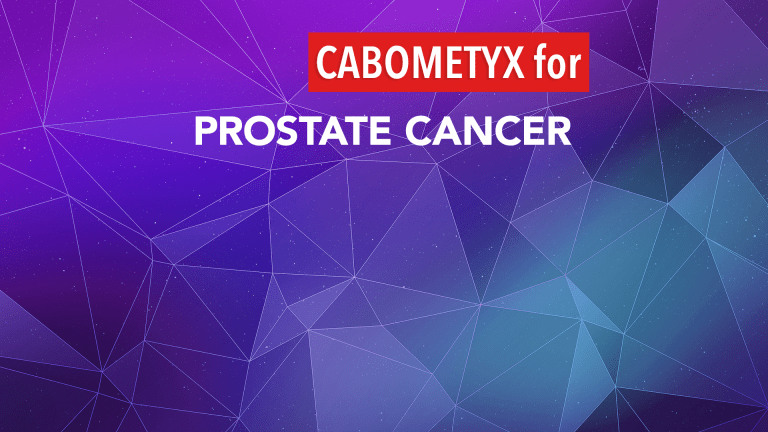 Cabometyx (cabozantinib) for Advanced Prostate Cancer
Cabometyx combined with Tecentriq for advanced prostate cancer promosing.
by Dr. C.H. Weaver M.D. updated 3/2020
Cabometyx (cabozantinib) initially evaluated as treatment of metastatic, hormone-refractory prostate cancer as a single agent appeared promising with particularly notable results among patients with bone metastases. Larger studies did not confirm its effectiveness but recent trials evaluating it in combination with immunotherapy appear more promising.
Prostate cancer is a hormonally sensitive disease that can be controlled for long periods with androgen deprivation therapy (ADT). When prostate cancer stops responding to this treatment is it referred to as hormone-refractory prostate cancer. Advances have been made in the treatment of hormone-refractory cancer, but challenges remain and new drugs continue to be developed.
Cabozantinib is an investigational drug that targets two proteins—MET and VEGFR2—that play a role in the development and progression of many types of cancer.
Cabometyx in combination with Tecentriq however may be active in the treatment of metastatic castration-resistant prostate cancer (CRPC). Researchers reported encouraging results from the CRPC cohort of COSMIC-021, a phase 1b trial of Cabometyx combined with Tecentriq (atezolizumab) in patients with locally advanced or metastatic solid tumors.
Forty-four patients that had progressed on hormone therapy but had not received Taxotere (docetaxel) were included in this interim analysis at an average follow up of 12.6 months. The objective response rate was 32%, including two complete responses and 12 partial responses. Disease control rate was 80%.
Men with metastatic castration-resistant prostate cancer, who have progressed on novel hormone therapies had clinically meaningful activity with the combination of cabozantinib and atezolizumab in this COSMIC-021 clinical trial.
Single Agent Cabometyx
To evaluate cabozantinib in the treatment of hormone-refractory, metastatic prostate cancer, researchers conducted a Phase II clinical trial among 171 patients with progressive (worsening) cancer. More than three-quarters of the men had bone metastases.
All patients were initially treated with 12 weeks of cabozantinib. Treatment after 12 weeks depended on how the patients had responded to initial treatment.
Among the patients with bone metastases, 76% had partial or complete disappearance of the bone metastases on bone scan. Among patients who had been taking narcotics for bone pain, 67% had a reduction in pain and 56% decreased or stopped their narcotic use.
More than two-thirds of patients had some reduction in metastases outside of the bone.
Side effects of cabozantinib included fatigue, gastrointestinal symptoms, and high blood pressure.
These results suggest that cabozantinib is active against hormone-refractory prostate cancer, and may be particularly beneficial for patients with bone metastases. Additional studies of the drug are underway; cabozantinib has not yet been approved by the U.S. Food and Drug Administration.
Due to prior study results, researchers continued to evaluate cabozantinib among patients with advanced prostate cancer. The phase III clinical trial, referred to as the COMET-1 trial, included 1,028 men with metastatic prostate cancer that had progressed following prior therapies, including therapy to reduce testosterone levels. Patients in the trial were treated with either cabozantinib, or prednisone (a steroid).
Overall, men treated with cabozantinib did not experience a significant difference in survival outcomes (11 months), compared to those treated with prednisone (approximately 10 months).
Although some cancer markers were improved among men treated with cabozantinib, there were no differences in prostate-specific antigen (PSA) levels between the two treatment groups.
The researchers concluded that among men with metastatic prostate cancer that progressed despite prior therapy, treatment with cabozantinib did not improve survival compared with prednisone.
References:
Hussain M, Smith MR, Sweeney C et al. Cabozantinib (XL184) in metastatic castration-resistant prostate cancer (mCRPC): results from a phase II randomized discontinuation trial. Paper presented at: 2011 Annual Meeting of the American Society of Clinical Oncology; June 3-7, 2011; Chicago, IL. Abstract 4516.
Smith M, De Bono J, Sternberg C, et al. Phase III Study of Cabozantinib in Previously Treated Metastatic Castration-Resistant Prostate Cancer: COMET-1*. J Clin Oncol*. Published online before print July 11, 2016, doi: 10.1200/JCO.2015.65.5597.