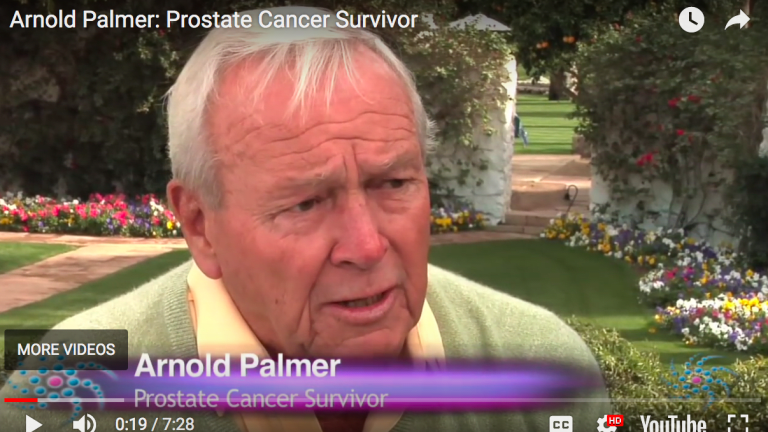 Arnold Palmer Discussed His Battle With Prostate Cancer
Did you know Arnold Palmer had prostate cancer? The golfing legend discussed his battle with prostate cancer.
ARNOLDPALMER: I certainly have a respect – I suppose is the best thing to say about cancer and talking about it is a necessity. It isn't something you really want to talk about, but it's something you can't avoid.
ANNOUNCER: For over five decades, Arnold Palmer has been synonymous with golf. Not only is he a golf legend, he is a devoted family man, spokesperson, business executive, skilled aviator and a prostate cancer survivor with a diligent message for everyone.
ARNOLDPALMER: I can't tell you how important it is to have an annual physical or have a check-up. There are not many Americans living today that have not in one way or another been touched by cancer- either relatives, friends, family. It's something that we must talk about.
ANNOUNCER: In 1996, Arnold was diagnosed with prostate cancer. In 1999, Winnie, his wife of 45 years lost her battle with cancer. His wife was not the only loved one in his life to battle cancer.
ARNOLDPALMER: I've had a daughter who had breast cancer, had 25 positive nodes and that's scary in itself, and she was 32 years old. Today she's approaching, I will make it general, she's approaching 50 and quite healthy and with four wonderful children, two grandchildren. So we feel very fortunate that we have had the experience with that and have survived it.
ANNOUNCER: When he is not on the golf course, Arnold is busy lending his time and energy to the fight against cancer with the Arnold Palmer Hospital for Children, Winnie Palmer Hospital for Women and Babies, the Arnold Palmer Prostate Center and the AP Pavilion in his home town of Latrobe, Pennsylvania.
ARNOLD PALMER: I have a medical center in Orlando that is, we have a children's hospital and we have a women and children's hospital, we have a medical center that is there for cancer patients, we have a trauma and emergency room and we're doing everything we can to help when it happens and to warn people to try to get that physical and do the things that would prevent cancer and of course find a cure after you get it.
HOST, STACEY GUALANDI: You know, there's a quote that I read in this article that you said, "My advice to people is to get on with their lives and to treat cancer as something they can beat."
ARNOLDPALMER: That's right and that's the way I feel about it. And of course when you have it, you say, "Oh sure, that's easy for you to say." But I've had it, my daughter has had it and my wife died from it and one of my very close associates just passed from it. And we try to do everything we can to prevent it, but treat it when we have to treat it.
STACEY GUALANDI: Is there a way that you applied what you learned in terms of how to be the champion that you are on the golf course with how to combat a devastating disease? I think you even called it a dehumanizing disease.
ARNOLD PALMER: It's a tough disease and as I've mentioned earlier, the best cure is early discovery and if you find you have cancer, then the treatment early on is going to help. I'm not sure that there is something that is everlasting or that you can say well, we got it. We haven't got it.
STACEY GUALANDI: For you, what do you think was the single most important thing that helped you, first of all, deal with the diagnosis and being told you had cancer and also working through it and working beyond it?
ARNOLD PALMER: It's something that I feel, again, extremely fortunate in that I had a medical doctor that's not just my doctor but my friend and then I had a physical – that starting at age 30 I took an annual physical. And my doctor was a very astute person and when the opportunity to have testing for prostate cancer came along in the form of PSA, I was told by my doctor that he thought I should proceed and his whole conversation dealt on the fact that if you have cancer, the earlier you discover it the better chance for a cure.
STACEY GUALANDI: How important do you think is attitude?
ARNOLDPALMER: Very important. If you can, if you are a person that is fighting cancer, if you have a good attitude, we have known it to help and help a lot. A positive feeling that you can beat it – and we've seen miracles.
STACEY GUALANDI: I'm sure you've learned many life lessons from this experience and how it affected you. What do you think is the best advice for someone that is dealing with cancer now?
ARNOLDPALMER: I don't suppose that there's anything you can do other than comfort these people and give them hope. Hope is one of the great things – we pray for the things that are good and that will help people. In some cases, there isn't a great deal you can do except give them hope and encourage them to do a going-on battle with this disease.
STACEY GUALANDI: How much does drinking Arnold Palmer Wine help with one's hope?
ARNOLD PALMER: Well, I'm not going to advocate that people drink a lot of wine, but I think it's certainly good and I enjoy it very much and I think I'll continue to have a glass of wine occasionally.
STACEY GUALANDI: The message you want to get across to people now is just be very diligent about your own health.
ARNOLDPALMER: Having a physical annually or semi-annually is something that we all should do and I did it. As I said, I probably wouldn't be here if I hadn't.
[End of recording]