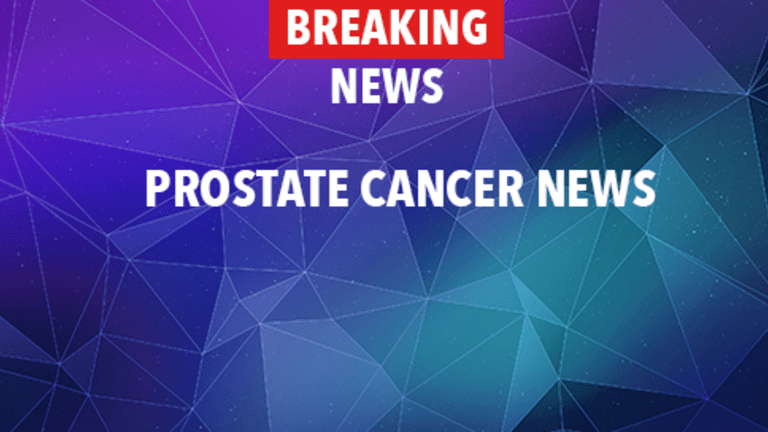 Antiandrogen Prevents Disease Progression in Early-Stage Prostate Cancer
Antiandrogen Prevents Disease Progression in Early-Stage Prostate Cancer
Results from a large clinical trial indicate that the antiandrogen, bicalutamide, prevents cancer progression in patients with early stage prostate cancer, as recently reported at the 96th Annual Meeting of the American Urological Association.
The prostate is a male sex gland that is located between the bladder and the rectum. Prostate cancer is the second leading cause of cancer death in men in the United States. Patients diagnosed with prostate cancer have many treatment options available to them, depending upon the stage, or extent of their disease. Currently, controversy exists regarding the optimal treatment strategy for patients with this disease. As a result, treatment decisions need to be individualized, taking into account the age of the patient and the side effects of treatment. Standard treatment options include radiation therapy, surgery to remove the prostate (prostatectomy), watchful waiting (monitoring PSA levels), hormone therapy (therapy to reduce male hormone levels), cryotherapy (freezing of cancer cells) and/or chemotherapy.
Growth of prostate cancer cells has been shown to be stimulated by male hormones, mainly testosterone. Cancer cells have small proteins to which testosterone binds. This binding action initiates a biochemical cascade within the cell that stimulates the growth of the cancer cell. Bicalutamide works by binding to the testosterone receptors so that no receptors are free for testosterone to bind to and the process for growth stimulation is halted.
Recently, a multi-institutional clinical trial was conducted evaluating the effects of bicalutamide in over 8,000 men with early stage prostate cancer (cancer confined to the prostate or nearby tissues). Patients were divided into 2 groups – those receiving bicalutamide and those receiving a placebo (non-active substitute). All the patients in this trial had received primary therapy of either radiation therapy, a radical prostatectomy or watchful waiting. Three years following the initiation of this trial, patients receiving bicalutamide had a reduced risk of cancer progression of 42% compared with patients who had received placebo, regardless of which primary treatment the patient had received. Progression was determined by bone scans, CT scans, MRI or ultrasound. Side effects included breast pain and gynecomastia (enlargement of breasts), but were reported as mild to moderate.

These results indicate that the addition of bicalutamide to primary treatment appears to significantly reduce the risk of cancer progression in patients with early stage prostate cancer. Patients with prostate cancer may wish to speak with their physician about the risks and benefits of participation in a clinical trial utilizing bicalutamide. Two sources of ongoing information about clinical trials include comprehensive, easy-to-use listing services provided by the National Cancer Institute (cancer.gov) and eCancerTrials.com. eCancerTrials.com also provides personalized clinical trial searches on behalf of patients. (Proceedings from the 96thAnnual Meeting of the American Urological Association, Anaheim, CA, June, 2001)
Copyright © 2018 CancerConnect. All Rights Reserved.