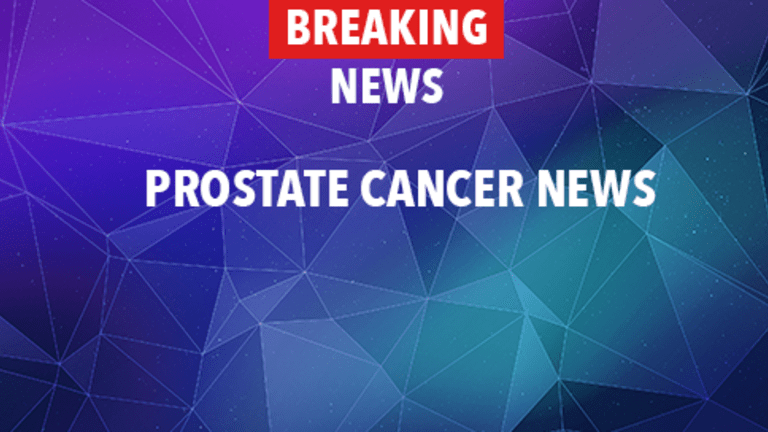 Addition of Emcyt® Improves Survival in Prostate Cancer
Addition of Emcyt® Improves Survival in Prostate Cancer
According to an early online publication in The Lancet, the addition of the chemotherapy agent Emcyt® (estramustine) improves survival of patients with hormone refractory prostate cancer.
Current treatment options for prostate cancer include watchful waiting, surgery, chemotherapy, radiation, or hormonal therapy. Hormonal therapy is designed to block testosterone from stimulating the growth of hormone-dependent types of prostate cancer. Some hormonal therapies (such as surgical removal of the testes or use of medications such as leuteinizing hormone releasing hormone analogues) inhibit production of testosterone by the testes. Other therapies, such as the antiandrogen drugs, block the activity of testosterone.
Some prostate cancers become resistant to standard hormonal therapy and require a different treatment approach; this condition is known as hormone refractory prostate cancer (HRPC). Because hormone refractory prostate cancer can be difficult to treat, new agents and treatment approaches are continually evaluated.
Chemotherapy has demonstrated improvement in outcomes, including survival, for patients with HRPC. Researchers continue to compare different chemotherapy regimens in order to provide optimal outcomes for patients with this disease.
Researchers affiliated with Meta-analysis of Estramustine in Prostate Cancer (MECaP) Trialists' Collaborative Group recently reviewed data pooled from clinical trials that compared chemotherapy regimens with and without Emcyt. This review included information from five trials with a total of 605 patients that had been accrued between 1993 and 2003. Patients in these trials had been assigned chemotherapy regimens that consisted of Taxotere® (docetaxel), Taxol® (paclitaxel), Ixempra™ (ixabepilone), or Velban® (vinblastine), with or without Emcyt. Follow-up was approximately three years.
Patients treated with Emcyt® had a 23% improved survival compared with patients who did not have Emcyt in their treatment regimen.
Survival effects were seen as early as the first year of treatment.
Time to prostate-specific antigen (PSA) progression was significantly longer for patients treated with Emcyt.
Blood clots occurred at a higher rate among patients treated with Emcyt.
The researchers concluded that "addition of estramustine [Emcyt] to chemotherapy increases time to PSA progression and overall survival compared with chemotherapy without estramustine [Emcyt]." However, they caution that risks of Emcyt must be weighed against its benefits.
Patients with HRPC may wish to speak with their physician regarding their individual risks and benefits of treatment including Emcyt, as well as other available therapies.
Reference: Fizazi K, Le Maitre A, Hudes G, et al. Addition of estramustine to chemotherapy and survival of patients with castration-refractory prostate cancer: a meta-analysis of individual patient data. Lancet Oncology [early online publication]. October 16, 2007. DOI: :10.1016/S1470-2045(07)70284-X.
Related News:Taxotere® plus Emcyt® Confirmed Superior to Taxotere Alone for Hormone Refractory Prostate Cancer (7/10/2007)
Copyright Prostate Cancer Information Center on CancerConsultants.com
Copyright © 2018 CancerConnect. All Rights Reserved.