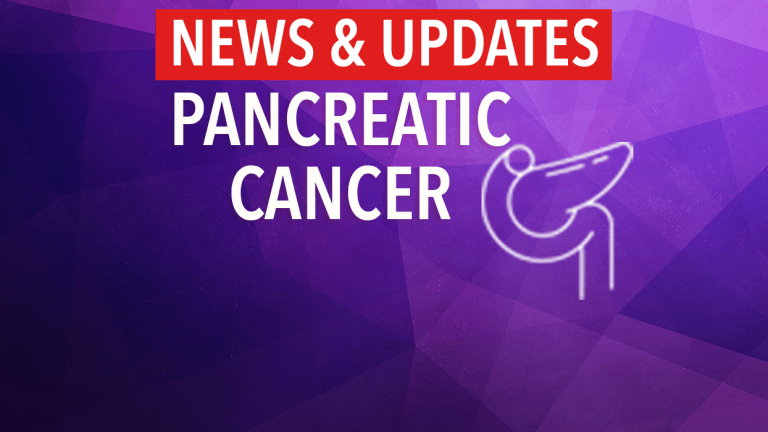 Vaccine May Extend Survival in Pancreatic Cancer
Vaccine May Extend Survival in Pancreatic Cancer
According to preliminary results presented at the International Conference of the American Association of Cancer Research, National Cancer Institute, and European Organisation for Research and Treatment of Cancer (AACR-NCI-EORTC), a new vaccine that is still in clinical trials may improve survival for patients with pancreatic cancer who are able to have their cancer surgically removed.
The pancreas is a gland located in the abdomen. It produces juices that help digest foods as well as the hormones that help regulate blood sugar levels. Pancreatic cancer is the fourth leading cause of cancer deaths in the U.S. Each year, approximately 30,000 individuals in the U.S. are diagnosed with pancreatic cancer; nearly the same number die from the disease each year.
Some patients with pancreatic cancer are able to have their cancer surgically removed. Unfortunately, even after surgical removal of the cancer, recurrence rates are high due to undetectable cancer cells that may remain in the body. Survival at one and two years for patients with operable pancreatic cancer tends to be approximately 60% and 40%, respectively. Researchers continue to evaluate ways in which to rid the body of remaining cancer cells and reduce recurrences; the ultimate hope is to improve survival for this group of patients.
Researchers from the Johns Hopkins Kimmel Cancer Center recently conducted a phase II trial to evaluate a vaccine designed to stimulate the immune system to fight pancreatic cancer. The vaccine is comprised of radiated pancreatic cancer cells that are not able to replicate or grow. The cells have been modified to secrete a substance referred to as granulocyte macrophage colony stimulating factor (GM-CSF), which stimulates the immune system to recognize pancreatic cancer cells and attack them.
The trial included 56 patients who underwent the surgical removal of their cancer, followed by the first vaccine at eight weeks post surgery. One month later, standard chemotherapy and radiation were administered, followed by three more vaccines given every month. The final vaccine booster is given at six months following chemotherapy/radiation.
At a median follow-up of 32 months:
Survival at one year was 88%.
Survival at two years was 76%.
The researchers concluded that the addition of the cancer vaccine to standard chemotherapy and radiation therapy appears promising when comparing one and two-year survival rates to historical rates of survival in patients with operable pancreatic cancer. These results are preliminary. Future trials evaluating the vaccine have already been planned.
Patients diagnosed with operable pancreatic cancer may wish to speak with their physician regarding their individual risks and benefits of participating in a clinical trial further evaluating vaccines or other promising therapeutic approaches.
Reference: Laheru D, et al. A Safety and Efficacy Trial of Lethally Irradiated Allogeneic Pancreatic Tumor Cells Transfected with the GM-CSF Gene in Combination with Adjuvant Chemotherapy for the Treatment of Adenocarcinoma of the Pancreas. Proceedings from the International Conference of AACR-NCI-EORTC. November, 2005. Philadelphia, PA. Abstract #C28.