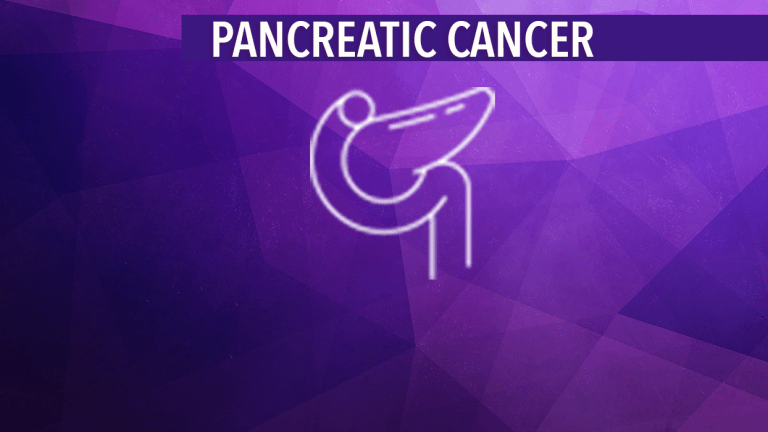 Treatment of Stage IV - Metastatic Pancreatic Cancer
Treatment is with precision medicines & chemotherapy - genomic biomarker testing should be performed in all patients.
Medically reviewed by Dr. C.H. Weaver M.D. Medical Editor updated 2/2020
Pancreatic cancer is considered stage IV or metastatic if it has spread to distant locations in the body, such as the liver, lungs, or adjacent organs including the stomach, spleen, and/or the bowel. Sometimes it can only be determined that a pancreatic cancer is in stage IV once surgery is completed.
Stage IV Pancreatic Cancer is Divided into Two Groups
Stage IVA pancreatic cancer is locally confined, but involves adjacent organs or blood vessels, thereby hindering surgical removal. Stage IVA pancreatic cancer is also referred to as localized or locally advanced.
Stage IVB pancreatic cancer has spread to distant organs, most commonly the liver. Stage IVB pancreatic cancer is also called metastatic. The goal of treatment for patients with localized IVA disease is to induce a remission, or a disease-free period that may last months or years. Management of patients with Stage IVB disease is often aimed at controlling symptoms and pain from the cancer.
Treatment of Localized Stage IVA Pancreatic Cancer
Pancreatic cancer is often not diagnosed until it is in Stage IVA, meaning the cancer has invaded adjacent organs or major blood vessels. When this occurs surgical removal of the cancer (which provides a chance at long-term cure) is seldom an option. Therefore, the goal of treatment of patients with Stage IVA pancreatic cancer is to induce a remission, which is a cancer-free period that may last months or years, and to prevent and control symptoms.
Treatment for Stage IVA pancreatic cancer may include surgery, and systemic therapy with precision cancer medicines or chemotherapy, or chemoradiation, which is chemotherapy and radiation delivered together. Occasionally, a surgical bypass procedure may be performed to alleviate complications of the cancer, such as jaundice, intestinal obstruction, or pain, thereby improving quality of life.
Treatment of Non-localized Stage IVB (Metastatic) Pancreatic Cancer
The majority of patients with Stage IV cancer have metastatic disease (Stage IVB), which means that cancer has spread to distant locations in the body that often include the liver and other areas of the abdominal cavity. To kill cancer cells that have spread throughout the body, a systemic treatment is necessary, and this is typically chemotherapy.
Historically, patients with metastatic pancreatic cancer have been considered incurable and rarely survived more than a year. However, with newer treatments, some patients are surviving 2 - 5 years and longer and can experience improved quality of life. The management of stage IV pancreatic cancer is focused on reducing pain, maintaining nutrition and prolonging survival. Pain relief can be achieved by destroying the nerves that provide sensation in the area around the pancreas. This is usually performed by injection of alcohol or other chemicals either through the skin or during an open abdominal operation.1
Systemic Therapy: Precision Cancer Medicine, Chemotherapy, and Immunotherapy
Systemic therapy is any treatment directed at destroying cancer cells throughout the body. Patients with locally advanced (Stage IVA) and metastatic (Stage IVB) pancreatic cancer require systemic treatment to decrease the chance of cancer recurrence and prolong survival. All patients should consider participation in a clinical trial evaluating new. systemic therapies which include precision cancer medicines and chemotherapy.
Precision Cancer Medicines
A precision cancer medicine developed for the treatment of ovarian cancer in women with BRCA1 and BRCA2 genetic mutations has been demonstrated to be effective in the management of some individuals with pancreatic cancer who have the same mutations.2,3,4
The results of the phase III "POLO" clinical trial were presented at the 2019 annual meeting of the American Society of Clinical Oncology (ASCO) and showed that the Lynparza (olaparib) PARP inhibitor delays cancer progression and improves survival when used to treat BRCA-mutated pancreatic cancer and appears to represent a new treatment option for this hard to treat cancer.4
All patients with pancreatic cancer should undergo genomic biomarker testing for BRCA, HER2 and other potential targets.
Chemotherapy
Chemotherapy is any treatment involving the use of drugs to kill cancer cells. Cancer chemotherapy may consist of single drugs or combinations of drugs and can be administered through a vein or delivered orally in the form of a pill. Chemotherapy is considered a systemic therapy because the drugs circulate throughout the body and can kill cancer cells that have spread to locations distant from where the cancer started.
Gemzar® (gemcitabine): The standard treatment of stage IV pancreatic cancer has been Gemzar® based chemotherapy combinations for several years.5
Abraxane is a novel form of the widely used cancer drug Taxol (paclitaxel). In Abraxane, the paclitaxel is bound to albumin, a human protein in tiny particles. This formulation improves the delivery of the drug directly to cancer cells and reduces side effects. Abraxane and Gemzar has been shown to improve median overall survival to 8.5 months, compared with 6.7 months for individuals treated with Gemzar alone. What's more—Abraxane appeared to improve long-term survival, demonstrating a 59 percent increase in one-year survival, with 35 percent of patients alive at one year compared to 22 percent of those who received Gemzar alone. Abraxane doubled the two-year survival rate—9 percent of patients were still alive at two years, compared with 4 percent of those who had Gemzar alone.
Improved survival with FOLFIRINOX compared to Gemzar for treatment of metastatic pancreatic cancer
The results of this Phase III study were presented at the annual meeting of the American Society of Clinical Oncology and published in the New England Journal of Medicine suggest that the combination known as FOLFIRINOX (5-fluorouracil, leucovorin, irinotecan, and oxaliplatin) may be more effective than Gemzar. A large trial compared overall survival among patients treated with FOLFIRINOX to Gemzar alone. The study involved 342 patients with metastatic pancreatic cancer.6
Survival among patients receiving FOLFIRINOX was just over 10 months compared with approximately seven months among those receiving Gemzar alone.
Progression-free survival was also significantly improved among the FOLFIRINOX group: six months versus three months.
Side effects of therapy with FOLFIRINOX were greater than those observed with Gemzar alone but were considered manageable.
Herceptin® (trastuzumab): Herceptin is a monoclonal antibody, which is a type of targeted therapy that binds to the HER2 receptor, (a protein on the surface of the cancer cells) in approximately 20% of patients with pancreatic cancer. This binding action appears to stimulate the immune system to attack and kill the cancer cells to which Herceptin is bound.
Researchers from Brown University reported that treatment of patients with advanced pancreatic cancers that overexpress HER2 with Gemzar plus Herceptin appears to produce longer survival than treatment with Gemzar alone. Approximately 72% of patients treated with the combination demonstrated an anticancer response. Approximately 24% of patients lived one year or more following treatment.7
Tip- Five Things You Should Know About Pancreatic Cancer
Erbitux® (cetuximab): Another targeted monoclonal antibody therapy, Erbitux, binds to epidermal growth factor receptors (EGFR), thereby suppressing cancer growth and spread. Erbitux was FDA-approved for the treatment of colon cancer in February 2004 and is being evaluated in other cancers including pancreatic cancer.
Researchers from the M.D. Anderson Cancer Center have reported that the addition of Erbitux to Gemzar may improve survival for patients with advanced pancreatic cancer. This trial involved 40 patients with advanced pancreatic cancer who had tested positive for over expression of EGFR. Results indicate that more of the patients who received Gemzar plus Erbitux lived one year or more and were cancer-free for longer than patients who were treated with Gemzar alone.8
Strategies to Improve Treatment
The development of more effective cancer treatments requires that new and innovative therapies be evaluated with cancer patients in clinical trials. Areas of active investigation aimed at improving the treatment of pancreatic cancer include the following:
Development of Precision Cancer Medicines
Research is ongoing to develop additional precision cancer medicines that specifically target cancer cells. These trials typically require a sample of the cancer or liquid biopsy to be available in order to evaluate for biomarkers. Patients should learn about options to participate in these trials prior to surgery in order to ensure that cancer tissue is obtained correctly.9,10
Targeting ras
More than 85% of pancreatic cancers have mutations in the ras gene; these malignant cells contain a unique enzyme (known as farnesyl transferase) whose activity appears to be required if the cells with the mutation are to divide. Specific drugs that inhibit farnesyl transferase have been developed and are being evaluated in clinical trials. Similarly, methods are being explored through which the normal (rather than mutated) gene can be directly injected into a tumor mass with the hope that a return to the usual pattern of cell division will lead to tumor regression.
Doctors evaluated the feasibility of using a specific mutant ras peptide vaccine as an adjuvant immunotherapy in pancreatic and colorectal cancer patients. Twelve patients with no evidence of disease after surgery, five with pancreatic cancer, and seven colorectal cancers were vaccinated subcutaneously with 13-mer mutant ras peptide, corresponding to their tumor's ras mutation. Vaccinations were given every four weeks, up to a total of six vaccines. No serious side effects were reported, and five out of eleven patients showed a positive immune response. The five pancreatic cancer patients had an average overall survival of more than 44 months, and the seven colorectal cancer patients had an average overall survival of over 41 months.11
CPI-613 (devimistat)
Devimistat is being evaluated in combination with modified FOLFIRINOX in a phase 3 clinical trial. The AVENGER 500 clinical trial compares CPI-613 in combination with modified FOLFIRINOX compared with modified FOLFIRINOX alone for patients with previously untreated metastatic adenocarcinoma of the pancreas. In a phase 1 study that included 18 patients, the CPI-613-chemotherapy combination conferred an average survival of 20 months compared to 11 months with chemotherapy alone and an overall response rate of 61% vs. 32%.
CPI-613 is designed to target the mitochondrial tricarboxylic acid (TCA) cycle, an indispensable process essential to tumor cell multiplication and survival, selectively in cancer cells. CPI-613 "tricks" the disease into believing it has sufficient energy. Interrupting this energy feedback mechanism causes the cancer cell to starve to death. Disruption of CPI-613 on the TCA cycle also substantially increases the sensitivity of cancer cells to a diverse range of chemotherapeutic agents, including FOLFIRINOX.
Vaccines: A vaccine is a form of immunotherapy that is designed to help the patient's immune system destroy the cancer by activating the patient's immune cells against the cancer. Vaccines are made from a variety of substances that often include the actual cancer cells removed from the patient. A difficulty in preparing vaccines is that the patient's cancer cells must be processed immediately following surgery. Patients and their surgeon must therefore prepare in advance to ensure the removed cancer cells can be handled properly for vaccine preparation. Vaccines are currently being evaluated in clinical studies.
The GVAX vaccine has been designed to stimulate the immune system to fight pancreatic cancer.6 The vaccine is comprised of radiated pancreatic cancer cells that are not able to replicate or grow. The cells have been modified to secrete a substance referred to as granulocyte macrophage colony stimulating factor (GM-CSF), which stimulates the immune system to recognize pancreatic cancer cells and attack them.
Results from the initial trial evaluating the GVAX vaccine are promising and additional clinical trials are ongoing.12
At a median follow-up of 32 months:
Survival at one year was 88%.
Survival at two years was 76%.
Immunotherapy-Trials in Humans Coming
A new study in mice by researchers at Fred Hutchinson Cancer Research Center has found that a specialized type of immunotherapy — even when used without chemotherapy or radiation — can boost survival from pancreatic cancer, a nearly almost-lethal disease, by more than 75 percent. The findings are so promising that human clinical trials are now ongoing.
The researchers devised a therapy using T cells, disease-fighting immune cells, that they engineered in the lab to recognize and attack pancreatic cancer. T cells — engineered to recognize and kill cells bearing a protein called mesothelin, which is overproduced by virtually all pancreatic tumors get into the mice's tumors and started attacking them.13
Phase I Clinical Trials
New chemotherapy drugs continue to be developed and evaluated in patients with advanced cancers in Phase I clinical trials. The purpose of Phase I trials is to evaluate new drugs in order to determine the safety and tolerability of a drug and the best way of administering the drug to patients.
References:
National failure to operate on early stage pancreatic cancer. Annals of Surgery. 2007;246:173-180.
Lynparza significantly delayed disease progression as 1st-line maintenance treatment in germline BRCA-mutated metastatic pancreatic cancer
Oettle H, Neuhaus P. Adjuvant therapy in pancreatic cancer: a critical appraisal. Drugs. 2007;67:2293-310.
Conroy T, Desseigne F, Ychou M, et al. Randomized phase III trial comparing FOLFIRINOX (F: 5FU/leucovorin [LV], irinotecan [I], and oxaliplatin [O]) versus gemcitabine (G) as first-line treatment for metastatic pancreatic adenocarcinoma (MPA): Preplanned interim analysis results of the PRODIGE 4/ACCORD 11 trial. Presented at the 2010 annual meeting of the American Society of Clinical Oncology. June 4-8, 2010. Chicago, IL. Abstract 4010.​
Safran H, Ramanathan R, Schwartz J, King T, et al. Herceptin and Gemcitabine for Metastatic Pancreatic Cancers That Overexpress her-2/neu. Proceedings from the 37th Annual Meeting of the American Society of Clinical Oncology 2001, San Francisco CA, Abstract #517.
Abbruzzese JL, Rosenberg A, Xiong Q, LoBuglio A, et al. Phase II study of anti-epidermal growth factor receptor (EGFR) antibody cetuximab (IMC-C225) in combination with gemcitabine in patients with advanced pancreatic cancer. Proceedings from the 37th Annual Meeting of the American Society of Clinical Oncologists 2001, San Francisco CA, Abstract #518.
Toubaji A, Achtar M, Provenzano M et al. Pilot study of mutant ras peptide-based vaccine as an adjuvant treatment in pancreatic and colorectal cancers.Cancer Immunol Immunother. 2008 Feb 23 [Epub ahead of print],
Laheru D, et al. A Safety and Efficacy Trial of Lethally Irradiated Allogeneic Pancreatic Tumor Cells Transfected with the GM-CSF Gene in Combination with Adjuvant Chemotherapy for the Treatment of Adenocarcinoma of the Pancreas. Proceedings from the International Conference of AACR-NCI-EORTC. November, 2005. Philadelphia, PA. Abstract #C28