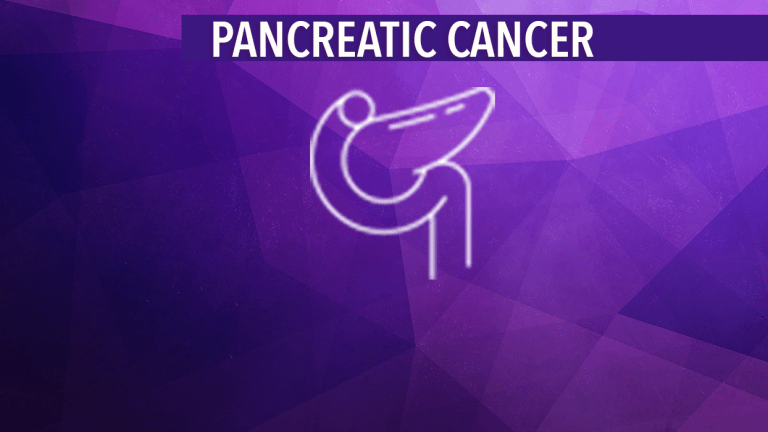 Stage III Pancreatic Cancer Overview
Surgery, chemotherapy, radiation or participation is a clinical trial and the treatment of stage III pancreatic cancer.
Pancreatic cancer is referred to as Stage III cancer if the final pathology report shows that the cancer has spread to local lymph nodes and major blood vessels. A patient may be diagnosed with Stage III cancer following surgical removal of the pancreas and surrounding lymph nodes or after surgical sampling of the lymph nodes. Pancreatic cancer diagnosed at this stage is often difficult to cure. To help improve a patient's outcome, a combination of anti-cancer drugs, radiation therapy or participation in a clinical trial is often recommended following surgery. If the cancer cannot be removed by surgery, a combination of anticancer drugs and/or radiation therapy may be given instead.
When complete surgical removal of the cancer is possible, Stage III pancreatic cancer is best managed by surgery. The most common surgical procedure is a pancreaticoduodenectomy, or Whipple procedure, which involves removal of a portion of the pancreas, small intestine (duodenum), stomach and the entire gallbladder. The exact surgical procedure may differ based on the location and extent of the cancer within the pancreas. To learn more, go to Surgery for Pancreatic Cancer.
While up to 20% of patients survive without evidence of cancer five years after surgery, the majority of patients with Stage III pancreatic cancer will develop recurrence of their cancer after surgery. The cause of relapse following surgical removal of the caner is micrometastases, which are small amounts of cancer that have spread outside the pancreas and could not be removed by surgery. In order to increase the chance of cure with surgery, an effective systemic treatment is needed to cleanse the body of micrometastases.
The following is a general overview of treatment for Stage III pancreatic cancer. Treatment may consist of surgery, radiation, chemotherapy, precision cancer medicines, or a combination of these treatment techniques. The information on this Web site is intended to help educate patients about their treatment options and to facilitate a mutual or shared decision-making process with their treating cancer physician.
Systemic Therapy
Systemic therapy is treatment directed at destroying cancer cells throughout the body. Most patients with Stage III pancreatic cancer already have small amounts of cancer that have spread outside their pancreas (micrometastases). Systemic treatment is needed to cleanse the body of micrometastases in order to improve a patient's duration of survival and potential for cure. Current systemic treatment consists of chemotherapy and precision cancer medicines.
Chemotherapy: Chemotherapy is any treatment involving the use of drugs to kill cancer cells. Cancer chemotherapy may consist of single drugs or combinations of drugs and can be administered through a vein or delivered orally in the form of a pill.
Historically a combination of chemotherapy drugs consisting of Gemzar (gemcitabine) plus Xeloda (capecitabine) or other chemotherapy was the most widely recommended standard therapy but recent clinical trials suggest the chemotherapy regimen know as mFOLFIRINOX is superior.1,2
A large clinical trial in individuals with stage I-III pancreatic adenocarcinoma who had all visible tumor surgically removed were treated with the standard chemotherapy drug Gemzar or a more aggressive multi-drug treatment regimen mFOLFIRINOX for 6 months and directly compared.3,4
At a median follow-up of 33.6 months from the treatment individuals treated with mFOLFIRINOX survived without evidence of cancer an average of 21.6 months compared to only 12.8 months for Gemzar treated patients. The median overall survival was also improved; 54.4 months for mFOLFIRINOX versus 35.0 months for Gemzar. A subsequent clinical trial known as ESPAC-4 has also shown that 5-year survival rates are improved to 28% with adjuvant Gemzar plus Xeloda versus 20% with Gemzar alone.7
Doublet therapy with Gemzar and Xeloda or monotherapy with Gemzar alone or fluorouracil plus folinic acid alone can also be offered as an alternative.
Radiation Therapy
Radiation therapy, or radiotherapy, uses high-energy rays to damage or kill cancer cells by preventing them from growing and dividing. Similar to surgery, radiation therapy is a local treatment used to eliminate or eradicate visible cancers. Radiation therapy is not useful in eradicating cancer cells that have already spread to other parts of the body. It can be particularly effective as an adjuvant therapy (therapy given in addition to the primary treatment) to surgery by helping to eliminate any microscopic cancer cells leftover after surgery or to shrink the cancer prior to surgery making it more resectable.
Standard dose radiation therapy used alone has not consistently demonstrated benefit in the treatment of stage III pancreatic cancer. High-Dose Radiation however appears more promising.8,9
Doctors at Memorial Sloan Kettering Cancer Center (MSKCC) have developed a high-dose form of radiation therapy that can give safe, effective treatment to many patients who are unable to have surgery. Recent results published in March 2021 JAMA Oncology suggest high dose radiation may be as effective as surgery. Using the stereotactic technique for delivering radiation doctors are able to increase the dose and intensity of treatment without damaging other organs.
The publication outlines the results of 119 stage III pancreatic cancer patients who were not eligible for surgery. The patients all received chemotherapy, followed by dose intensive radiation (either 75 grays over 25 sessions or 67.5 grays over 15 sessions). Overall, 38% of these patients survived 2 years which compares favorably to a historical survival rate of less than 25% using less intensive radiation.
For most patients who qualify, surgery will remain the recommended treatment - high-dose radiation will also be used to shrink the pancreatic tumor away from blood vessels so that more people can be eligible for surgery. The biggest group to benefit from the high-dose radiation approach will be those who are not eligible for surgery. The doctors speculate that as many as 20% of stage III patients may be cured with this approach.
Adjuvant Radiation
Clinical studies that have evaluated adjuvant radiation therapy have yielded conflicting results and there currently remains no consensus whether radiation should be used as adjuvant therapy or combined with chemotherapy for the treatment of stage III pancreatic cancer although it is offered to many patients.5,9 Patients should clearly understand the risks and benefits of being treated with radiation and discuss them with their physician.
Strategies to Improve Treatment
The development of more effective cancer treatments requires that new and innovative therapies be evaluated with cancer patients. Clinical trials are studies that evaluate the effectiveness of new drugs or treatment strategies.
Development of Precision Cancer Medicines: The precision caner medicine Lynparza (olaparib) has been demonstrated to improve treatment outcomes in patients with a specific genetic mutuation known as BRCA. All patients should be tested for BRCA and other genomic biomarkers to determine if they are eligible to participate in clinical trials of new precision cancer medicines.(6)
Research is ongoing to develop new precision medications that specifically target cancer cells. These trials require a sample of the cancer or liquid biopsy to be available in order to evaluate for biomarkers. Patients should learn about options to participate in these trials prior to surgery in order to ensure that cancer tissue is obtained correctly. Learn more about development of precision cancer medicines for treatment of pancreatic cancer.
Next: Surgery for Pancreatic Cancer
References
Burris HA III, Moore MJ, Andersen J, et al. Improvements in survival and clinical benefit with gemcitabine as first-line therapy for patients with advanced pancreas cancer: A randomized trial. J Clin Oncol 1997;15:2403-2413.
Oettle H, Neuhaus P. Adjuvant therapy in pancreatic cancer: a critical appraisal. Drugs. 2007;67:2293-310.
American Society of Clinical Oncology (ASCO) 2018 Annual Meeting. Presented June 4, 2018. Abstract LBA4001
Hazard L, Tward JD, Szabo A, Shrieve DC. Radiation therapy is associated with improved survival in patients with pancreatic adenocarcinoma: results of a study from the Surveillance, Epidemiology, and End Results (SEER) registry data. Cancer. 2007;110:2191-201.
Lynparza significantly delayed disease progression as 1st-line maintenance treatment in germline BRCA-mutated metastatic pancreatic cancer
Neoptolemos J P, Palmer D H, Ghaneh P, et al. ESPAC-4: A multicenter, international, open-label randomized controlled phase III trial of adjuvant combination chemotherapy of gemcitabine (GEM) and capecitabine (CAP) versus monotherapy gemcitabine in patients with resected pancreatic ductal adenocarcinoma: Five year follow-up. Presented at: the 2020 ASCO Annual Meeting; May 29-31, 2020. Abstract 4516.
Artinyan, A., Hellan, M., Mojica-Manosa, P., et al. Improved survival with adjuvant external beam radiation therapy in lymph node negative pancreatic cancer. Cancer. 2008: 112(1). 34-42.