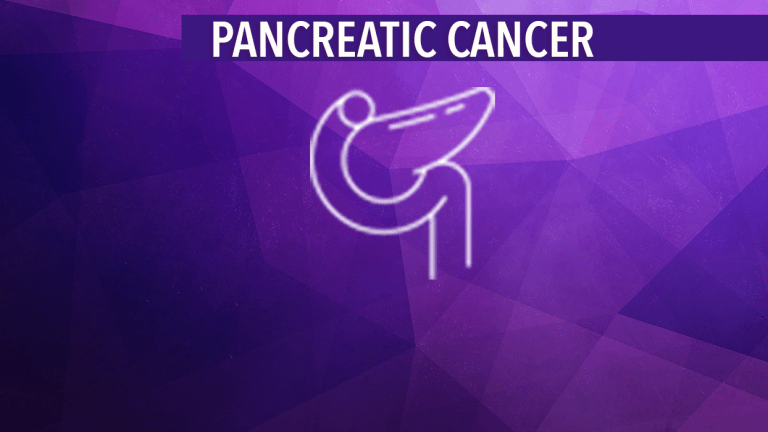 Recurrent Pancreatic Cancer
When pancreatic cancer has returned following initial treatment, it is referred to as recurrent or relapsed cancer.
Medically reviewed by Dr. C.H. Weaver 10/2020
Recurrent pancreatic cancer is very difficult to treat and treatment options are limited. Some patients are offered treatment with chemotherapy for the purpose of prolonging their duration of survival and alleviating symptoms from progressive cancer. Most patients with recurrent pancreatic cancer have already received 5-fluouracil or Gemzar®-based chemotherapy. Once a patient's cancer has returned after being treated with chemotherapy, the ability of other chemotherapy drugs to kill the cancer cells is disappointingly low.
All patients should consider participation in clinical trials evaluating novel treatment approaches and ensure they have blood based genomic testing for biomarkers that can be targeted with currently available precision cancer medicines or those being developed in clinical trials.
Patients with recurrent pancreatic cancer are also offered therapies aimed at palliation, or relief of the uncomfortable side effects of their cancer and/or cancer treatment. This approach is sometimes called supportive care. Pain relief can be achieved by destroying the nerves that provide sensation from the area around the pancreas. This is usually performed by injection of alcohol or other chemicals during an open abdominal operation or via a skin injection.
Precision Cancer Medicines
The purpose of precision cancer medicine is to define the genomic alterations in the cancers DNA that are driving that specific cancer. Precision cancer medicine utilizes molecular diagnostic testing, including DNA sequencing, to identify cancer-driving abnormalities in a cancer's genome. Once a genetic abnormality is identified, a specific targeted therapy can be designed to attack a specific mutation or other cancer-related change in the DNA programming of the cancer cells. Precision cancer medicine uses targeted drugs and immunotherapies engineered to directly attack the cancer cells with specific abnormalities, leaving normal cells largely unharmed.
Lynparza:
The "PARP inhibitor Lynparza is the first precision medicine to demonstrate improved survival for pancreatic cancer in patients with a specific genetic marker. ALL patients should ask their doctor about genomic biomarker testing to see if they are eligible to be treated with Lynparza or other precision medicines.
Herceptin® (trastuzumab): Herceptin is a monoclonal antibody, which is a type of targeted therapy that binds to the HER2 receptor, (a protein on the surface of the cancer cells) in approximately 20% of patients with pancreatic cancer. This binding action promotes anticancer benefits through two distinct processes. First, the binding of Herceptin blocks growth factors from binding to HER2, thereby eliminating their stimulating effects on cancer cells. Second, the binding action of Herceptin appears to stimulate the immune system to attack and kill the cancer cells to which Herceptin is bound.
Researchers from Brown University have found that treatment of patients with advanced pancreatic cancers that over express HER2 with Gemzar plus Herceptin appears to produce longer survival than treatment with Gemzar alone. Approximately 72% of patients treated with the combination demonstrated an anticancer response. Approximately 24% of patients lived one year or more following treatment.8
Tip- Five Things You Should Know About Pancreatic Cancer
Erbitux® (cetuximab): Another targeted monoclonal antibody therapy, Erbitux, binds to epidermal growth factor receptors (EGFR), thereby suppressing cancer growth and spread. Erbitux was FDA-approved for the treatment of colon cancer in February 2004 and is being evaluated in other cancers including pancreatic cancer.
Researchers from the M.D. Anderson Cancer Center have reported that the addition of Erbitux to Gemzar may improve survival for patients with advanced pancreatic cancer. This trial involved 40 patients with advanced pancreatic cancer who had tested positive for over expression of EGFR. Results indicate that more of the patients who received Gemzar plus Erbitux lived one year or more and were cancer-free for longer than patients who were treated with Gemzar alone.9
More recently, researchers in Italy evaluated the addition of Erbitux to Gemzar and Platinol among patients with advanced pancreatic cancer.10 Patients treated with all three drugs (Erbitux, Gemzar, and Platinol) did not have better outcomes than patients treated only with Gemzar and Platinol. Other studies, however, are continuing to evaluate the role of Erbitux in the treatment of pancreatic cancer.
Chemotherapy
Although it appears that more patients respond to combination treatment than single-agent treatment, only Tarceva has been demonstrated to improve survival when combined with Gemzar in a direct comparison. It has not been determined whether patients who receive other combinations live longer than those who receive single-agent Gemzar or Gemzar combined with Tarceva (see table 1). This is because the clinical trials evaluating the combinations in Table 1 have not been directly compared to single-agent Gemzar in a controlled clinical trial.
Strategies to Improve Treatment of Recurrent Pancreatic Cancer
The development of more-effective cancer treatments requires that new and innovative therapies be evaluated with cancer patients. Clinical trials are studies that evaluate the effectiveness of new drugs or treatment strategies. Future progress in the treatment of recurrent pancreatic cancer will result from the continued evaluation of new treatments in clinical trials. Participation in a clinical trial may offer patients access to better treatments and advance the existing knowledge about treatment of this cancer.
Targeting RAS
More than 85% of pancreatic cancers have mutations in the ras gene and several drugs are being develope that target RAS.
RAS cells contain a unique enzyme (known as farnesyl transferase) whose activity appears to be required if the cells with the mutation are to divide. Specific drugs that inhibit farnesyl transferase have been developed and are being evaluated in clinical trials. Similarly, methods are being explored through which the normal (rather than mutated) gene can be directly injected into a tumor mass with the hope that a return to the usual pattern of cell division will lead to tumor regression. Doctors evaluated the feasibility of using a specific mutant ras peptide vaccine as an adjuvant immunotherapy in pancreatic and colorectal cancer patients. Twelve patients with no evidence of disease after surgery, five with pancreatic cancer, and seven colorectal cancers were vaccinated subcutaneously with 13-mer mutant ras peptide, corresponding to their tumor's ras mutation. Vaccinations were given every four weeks, up to a total of six vaccines. No serious side effects were reported, and five out of eleven patients showed a positive immune response. The five pancreatic cancer patients had an average overall survival of more than 44 months, and the seven colorectal cancer patients had an average overall survival of over 41 months.11
References:
Colucci G, Giuliani F, Gebbia V, et al. Gemcitabine alone or with cisplatin for the treatment of patients with locally advanced and/or metastatic pancreatic carcinoma: A prospective, randomized phase III study of the Gruppo Oncologia, dell'Italia Meridionale. Cancer 2002;94:902-910.
Rocha Lima CM, Savarese D, Bruckner H, Dudek A, et al. Irinotecan plus gemcitabine induces both radiographic and CA 19-9 tumor marker responses in patients with previously untreated advanced pancreatic cancer**.***Journal of Clinical Oncology* 2002;20:1182-91.
Kindler HL, Dugan W, Hochster H, et al. Clinical outcome in patients (pts) with advanced pancreatic cancer treated with pemetrexed/gemcitabine. Proceedings of the 38th Annual Meeting of the American Society of Clinical Oncology 2002;21, Abstract #499.
Louvet C, Andre T, Lledo G, et al. Gemcitabine combined with oxaliplatin in advanced pancreatic adenocarcinoma: final results of the GERCOR multicenter phase II study. Journal of Clinical Oncology 2002;20:1512-1518.
Reni M, Passoni P, Panucci MG, Nicoletti R, et al. Definitive Results of a Phase II Trial of Cisplatin, Epirubicin, Continuous-Infusion Fluorouracil, and Gemcitabine in Stage IV Pancreatic Adenocarcinoma Journal of Clinical Oncology 2001;19:2679-2686.
Syrigos K, Michalaki B, Alevyzaki F. A phase-II study of liposomal doxorubicin and docetaxel in patients with advanced pancreatic cancer. Anticancer Research 2002;22:3583-3588.
Fine RL, Fogelman DR, Sherman W, et al.: The GTX regimen: A biochemically synergistic combination for advanced pancreatic cancer (PC). Proceedings from the 39th Annual Meeting of the American Society of Clinical Oncologists 2003, Abstract #1129.
Safran H, Ramanathan R, Schwartz J, King T, et al. Herceptin and Gemcitabine for Metastatic Pancreatic Cancers That Overexpress her-2/neu. Proceedings from the 37th Annual Meeting of the American Society of Clinical Oncology 2001, San Francisco CA, Abstract #517.
Abbruzzese JL, Rosenberg A, Xiong Q, LoBuglio A, et al. Phase II study of anti-epidermal growth factor receptor (EGFR) antibody cetuximab (IMC-C225) in combination with gemcitabine in patients with advanced pancreatic cancer. Proceedings from the 37th Annual Meeting of the American Society of Clinical Oncologists 2001, San Francisco CA, Abstract #518.
Cascinu S, Berardi R, Labianca R, et al. Cetuximab plus gemcitabine and cisplatin compared with gemcitabine and cisplatin alone in patients with advanced pancreatic cancer: a randomised, multicentre, Phase II trial. Lancet Oncology. 2008;9:39-44.
Toubaji A, Achtar M, Provenzano M et al. Pilot study of mutant ras peptide-based vaccine as an adjuvant treatment in pancreatic and colorectal cancers.Cancer Immunol Immunother. 2008 Feb 23 [Epub ahead of print],