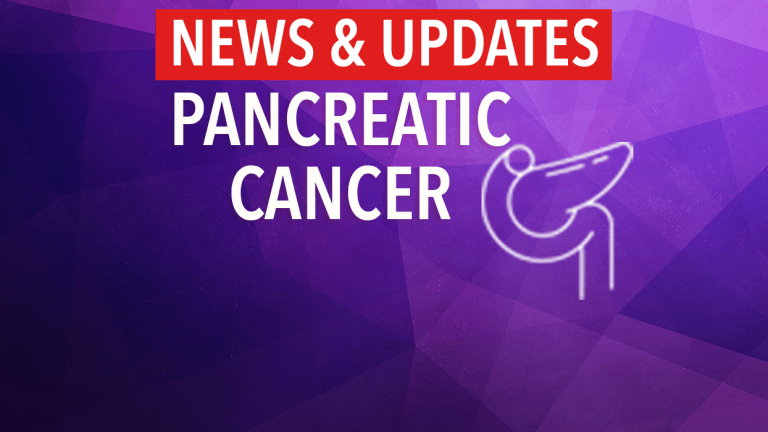 Polychemotherapy for Advanced Pancreatic Cancer Improves Responses
Polychemotherapy for Advanced Pancreatic Cancer Improves Responses.
The chemotherapy combination consisting of cisplatin, epirubicin, 5-fluorouracil and Gemzar® (PEF-G) has demonstrated improved anti-cancer responses and quality of life for patients with advanced pancreatic cancer, according to a recent study published in the Journal of Clinical Oncology.
The pancreas is an organ that is surrounded by the stomach, small intestine, bile ducts (tubes that connect the liver to the small intestine), gallbladder, liver, and spleen. The pancreas helps the body to break down food and produces hormones, such as insulin, to regulate the body's storage and use of food. Advanced pancreatic cancer refers to cancer that has spread from its site of origin to distant locations in the body, which may include the liver, lungs, or adjacent organs such as the stomach, spleen, other portions of the bowel, or large blood vessels. Advanced pancreatic cancer is generally not removable by surgery and is rarely curable. The mortality rates for advanced pancreatic cancer are reported to be 65% at 6 months following diagnosis and 90% within the first year of diagnosis. Treatment is aimed at extending survival time, improving the quality of life for patients and alleviating symptoms caused by pancreatic cancer including pain and extreme weight loss.
Gemzar® and 5-fluorouracil (5-FU) are two chemotherapy agents that are approved by the Food and Drug Administration (FDA) for the treatment of pancreatic cancer. Both of these drugs have been shown to be effective in extending survival rates and reducing symptoms when used alone or in combination as treatment for patients with pancreatic cancer. Epirubicin and cisplatin are chemotherapeutic agents with activity against a wide variety of cancers.
Researchers from Italy recently conducted a clinical trial evaluating the chemotherapy combination PEF-G in 49 patients with advanced pancreatic cancer. The anti-cancer response rate was 58% and 14 patients had a stabilization of their disease. The average duration of response was 8.5 months. The average time to cancer progression was 7.5 months. The average survival was 11 months. Overall, 78% of patients reported an improved quality of life and a decrease in pain while on treatment.
These researchers concluded that the PEF-G regimen was well tolerated and more active than previous regimens for the treatment of advanced pancreatic cancer. In addition, the majority of patients had an improved quality of life while on this regimen. Patients with pancreatic cancer may wish to speak with their physician about the risks and benefits of participating in a clinical trial further evaluating this chemotherapy combination or other promising new chemotherapy combinations. T
(Journal of Clinical Oncology, Vol 19, Issue 10, 2679-2686, 2001)