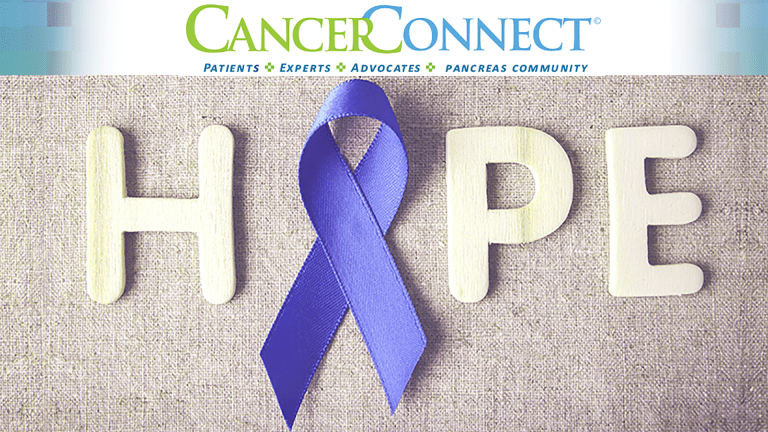 Pancreatic Cancer Awareness Month-Update
November is pancreatic cancer awareness month-new advances in treatment and genetics.
​Its National Pancreatic Cancer Awareness Month
As the month of November brings pancreatic cancer into focus, CancerConnect provides this update on screening and prevention, treatment advances, and the advocacy resources available for individuals impacted by a diagnosis of pancreatic cancer. Pancreatic cancer is often detected at an advanced stage when it is difficult to treat, highlighting the importance of research on prevention and early detection.
Featured Articles
What are the Warning Signs of Pancreatic Cancer?Pancreatic cancer is considered a "silent" disease because it does not always cause early symptoms and is often detected once it has spread beyond the pancreas.
A Healthy Lifestyle Lowers The Risk of Pancreatic Cancer
Could New Onset Diabetes Mean You Have Pancreatic Cancer?
Diagnosed with Pancreatic Cancer - Ten Tips on How to Get the Most From Your Doctor
Treatment Advances
Advocacy & Support
Lessons in Life and Love: Patrick Swayze's wife Lisa reflects on her journey as a caregiver and shares her hopes as an advocate for PanCan.
Join The CancerConnect Pancreatic Cancer Community
Provides current, comprehensive, reliable information on Pancreatic cancer and a community where Pancreatic cancer patients can exchange information and get support and inspiration.
The mission of the Lustgarten Foundation is to advance the scientific and medical research related to the diagnosis, treatment, cure and prevention of pancreatic cancer.
Bob Wright established The Suzanne Wright Foundation in November 2016, in honor of his wife Suzanne.The Foundation advocates for HARPA, the Health Advanced Research Projects Agency, to drive innovation in biomedical research.
The Pancreatic Cancer Action Network is the national organization creating hope in a comprehensive way through research, patient support, community outreach and advocacy for a cure. The Vision of Progress: Double the Pancreatic Cancer Survival Rate by 2020.
Reference:
American Cancer Society. Cancer Facts and Figures 2017. Available here. (Accessed November 16, 2017).