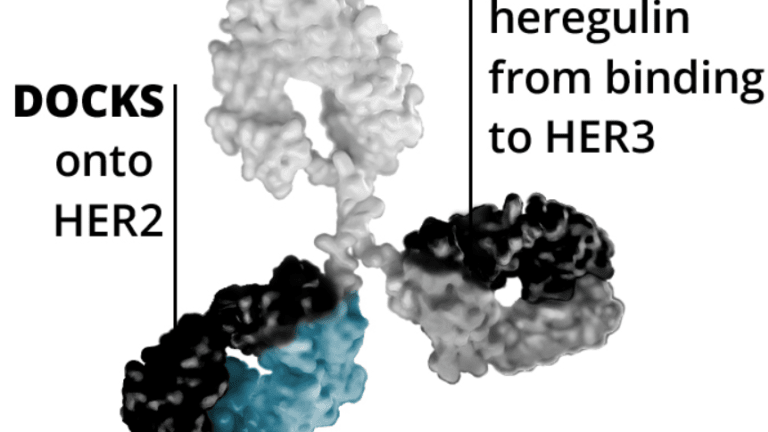 NRG 1 Fusion Genes Can be Targeted with the MCLA-128 Bispecific Antibody
Responses to MCLA-128 reported in patients with pancreatic ductal adenocarcinoma and non-small cell lung cancer.
by Dr. C.H. Weaver M.D. 11/2019
NRG1 fusion genes are present in several cancer types, and currently lack significant treatment options. When a NRG1 gene fusion protein is present in a cancer it increases the cancers growth by binding to human epidermal growth factor receptor 3 (HER3) receptors on the cell surface, which then recruit human epidermal growth factor receptor 2 (HER2). When both HER2/HER3 combine, this activates a signaling pathway that is crucial for cancer survival and causes cancer cells to grow.
Neuregulin 1 or NRG1 is a cell adhesion molecule that in humans is encoded by the NRG1 gene. NRG1 is one of four proteins in the neuregulin family that act on the EGFR family of receptors and can be targeted to decrease cancer cell growth.
About MCLA-128
MCLA-128 is a precision cancer medicine bispecific antibody construct that represents an innovative immunotherapy approach to help the body's immune system target the HER2 and HER3 protein on cancer cells. Upon intravenous administration, the bispecific antibody docks on HER2, and subsequently blocks heregulin-stimulated proliferation of tumor cells by binding HER3. In addition to inhibiting HER3-dependent signaling, simultaneous targeting of HER2 and HER3 by MCLA-128 may overcome a common way that cancers develop resistance. MCLA-128 eliminate cancer cells by activating the immune system to recruit natural killer (NK) cells to cancer cells coated with the MCLA-128 bispecific antibody.
Initial clinical data show that patients treated with MCLA-128 experienced respond to treatment with symptomatic improvement and MCLA-128 works across cancer types. Responses have been reported in patients with pancreatic ductal adenocarcinoma and non-small cell lung cancer.
The company developing MCLA-128 is Merus and they are currently evaluating MCLA-128 in both an ongoing phase 1/2 trial in patients with NRG1 fusions and a phase 2 trial in patients with metastatic breast cancer.
Reference: