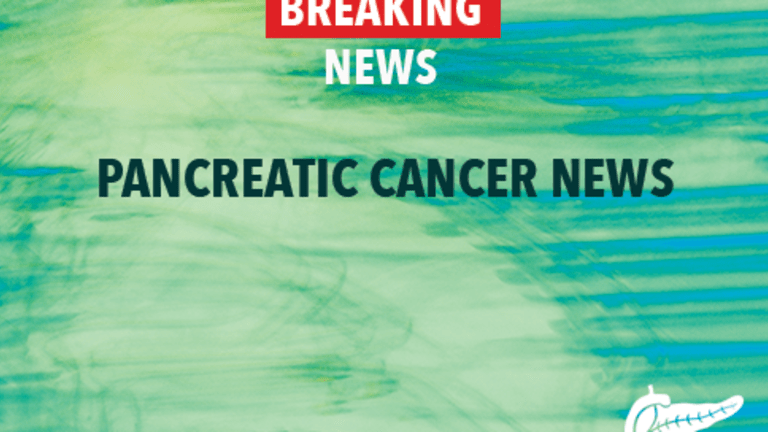 November Is National Pancreatic Cancer Awareness Month
November Is National Pancreatic Cancer Awareness Month
As the month of November brings pancreatic cancer into focus, it's time to increase public understanding of the disease, including its prevalence, approaches to screening and prevention, treatment options, and resources that offer updated pancreatic cancer information throughout the year.
Pancreatic cancer is often detected at an advanced stage when it is difficult to treat, highlighting the importance of research on prevention and early detection. The American Cancer Society estimates that 42,470 new cases of pancreatic cancer will occur in the United States in 2009, with an estimated 35,240 deaths.[1]
Staying informed with the latest news on prevention and screening is an important step in reducing your risk of developing pancreatic cancer. Access to current, in-depth treatment information can help you choose optimal care and achieve the best possible outcome.
Learning More About Pancreatic Cancer
Find informative tips on managing pancreatic cancer and its treatment at Pancreatic Cancer Tips.
To find expanded information on the prevention, screening, and treatment of pancreatic cancer, stay updated with the lasted news on the disease, and join a pancreatic cancer community, visit the Pancreatic Cancer Information Center.
Sign up to receive Cancer Consultants' free online pancreatic cancer newsletter, which provides disease-specific features, current news, tips, and nutrition and wellness information. Subscribe at .
Visit the Cancer Care Store on Cancerconsultants.com for book titles with topics ranging from personal cancer memoirs to expert nutritional guides about fueling your body to prevent and fight cancer.
Julie Fleshman knows all about the urgent need for hope that grips people facing a pancreatic cancer diagnosis; in 1999 her father was diagnosed with the disease at age 52 and passed away four months later. At the time, Julie says, she couldn't believe that there were so few options and so little good news for survivors and their loved ones. And, she says, that dire need for action has not diminished: "Since 1999 I have had the honor to meet many pancreatic cancer patients and their families. Each person I meet rekindles the urgency that something has to be done about this disease."
Now, as president and CEO of the Pancreatic Cancer Action Network, Julie works to focus national attention on the need to find a cure for pancreatic cancer. Founded in 1999 by Pam Acosta Marquardt, Paula Kim, and Terry Lierman—all of whom had lost family members to pancreatic cancer—the organization has evolved, Julie says, to "become the only national organization creating hope in a comprehensive way for the pancreatic cancer community through research, patient support, community outreach, and advocacy for a cure."
With goals that include research funding, public and professional education, awareness, and ensuring patients' access to the latest research and clinical trials, the Pancreatic Cancer Action Network has a truly far-reaching agenda. On a more basic level, Julie says, the organization is about providing that light in the darkness that she and the founders did not have. When patients contact the organization, "they are looking for hope," she says. "Too often patients are sent home and told to get their affairs in order, and we want people to know that there is hope and there are resources available to help them through their journey with pancreatic cancer."
Patients and families make their needs known when they reach out to the Pancreatic Cancer Action Network—most frequently requesting personal support about how to manage their lives after a diagnosis through the organization's Patient and Liaison Services (PALS) program, which provides patients and their families with the most current information about the disease from trained staff members. "The most sought-after resources," Julie says, "are information on diet and nutrition, treatment options, and personalized clinical trial eligibility searches, in addition to being matched to other patients and/or caregivers through our Survivor and Caregiver Network." In all cases the service is free of charge, and patient information is kept strictly confidential.
In addition to meeting patient and family needs directly, the organization works to advocate with lawmakers on behalf of the pancreatic cancer community. Right now, Julie says, the goal is to "gain support for the Pancreatic Cancer Research and Education Act,the first-ever substantive pancreatic cancer legislation focused on increasing resources and programs for pancreatic cancer." The bill is a critical step, she says, toward addressing the urgent needs of the pancreatic cancer research community. "Once enacted and fully funded, it will provide a greater focus on this disease and will provide the National Cancer Institute with the tools it needs to develop the diagnostic methods and treatments that are currently lacking for pancreatic cancer patients."
The urgency of the need for research and funding cannot be underestimated. From a scientific perspective, Julie says, "pancreatic cancer is where breast cancer was in the 1930s." In addition, the advocacy effort faces the challenge of not having a huge number of survivors on whom to call. For that reason it's critical that everyone realize the importance of the issue and make the cause their own: "We need more Americans to raise their voices against this deadly disease," Julie says, "and advocate for increased federal and private funding for pancreatic cancer research."
For more information about the Pancreatic Cancer Action Network, visit www.pancan.org or call (877) 272-6226.
Five Things You Should Know About Pancreatic Cancer
What is the pancreas, and what is pancreatic cancer? The pancreas is a gland located deep in the abdomen. It is surrounded by the stomach, small intestine, liver, and spleen. The pancreas has two main functions. One is called the exocrine function. This involves the production of enzymes that help in digestion. The second function of the pancreas is the endocrine function, which involves the production of hormones, including insulin and glucagon. Islet cells within the pancreas produce and secrete insulin and glucagon into the bloodstream. These hormones work together to maintain the proper level of sugar in the blood. When cells in the pancreas grow out of control, a tumor develops. In most cases of pancreatic cancer, the cells that line the pancreatic duct are involved. This type of pancreatic cancer is an exocrine tumor known as adenocarcinoma. A less common type of pancreatic tumor begins in the islet cells of the pancreas and is known as an endocrine or islet cell tumor.
What are the symptoms of pancreatic cancer? The symptoms of pancreatic cancer are vague and may include back or abdominal pain, digestive issues, or unexplained weight loss—symptoms that may also indicate a number of other conditions. The symptom that often triggers a pancreatic cancer diagnosis is jaundice, which is yellowing of the skin and eyes. Jaundice is caused by the buildup in the blood of a substance called bilirubin. In the case of pancreatic cancer, jaundice may occur if a tumor on the head of the pancreas obstructs the bile duct, causing this buildup of bilirubin.
Who is at risk? Recent research studies indicate that 30 percent of pancreatic cancer cases are linked to smoking and another 10 percent are said to have a hereditary (or familial) link. We also know that the incidence among African Americans is 50 to 90 percent higher than for any other ethnic group in the United States. There is an even greater risk of pancreatic cancer among Ashkenazi Jews. Some of the other risk factors scientists are currently studying include diabetes, chronic and hereditary pancreatitis (inflammation of the pancreas), obesity, physical activity, and diet.
What treatment options are available? The standard treatments for pancreatic cancer include chemotherapy and/or radiation. Some patients may be eligible for a surgery called the Whipple procedure, wherein part of the pancreas is removed. Other methods of treatment can include biological therapies and complementary and alternative therapies. Clinical trials in pancreatic cancer are also available and should be considered when selecting a treatment option. The Pancreatic Cancer Action Network has a comprehensive and up-to-date database of pancreatic cancer clinical trials throughout the country and can perform personalized clinical trials searches for patients.
There is hope for pancreatic cancer patients. Receiving the diagnosis of pancreatic cancer can be a frightening moment for both the patient and the family. It is important to realize that there is hope and resources available to help them through their journey. The Pancreatic Cancer Action Network's Patient and Liaison Services (PALS) program provides patients and their families with the most current information about the disease, from treatment options and clinical trials to diet and nutrition information and symptom management. And our Survivor and Caregiver Network puts patients and their families in touch with people who can share their experiences and offer support and inspiration. All our services and materials are free of charge.
Featured Articles:
Lessons in Life and Love: Lisa Niemi Swayze reflects on her journey as a caregiver and shares her hopes as an advocate.
Depression and Cancer: Depression often goes untreated in cancer patients
What are the Warning Signs of Pancreatic Cancer?Pancreatic cancer is considered a "silent" disease because it does not always cause early symptoms and is often detected once it has spread beyond the pancreas.
Five Things You Should Know about Pancreatic Cancer
Insights into Hospice: An insider's recommendations for managing end-of-life care more effectively
Reference:
[1] American Cancer Society. Cancer Facts and Figures 2009. Available at . (Accessed November 4, 2009).
Copyright © 2018 CancerConnect. All Rights Reserved.