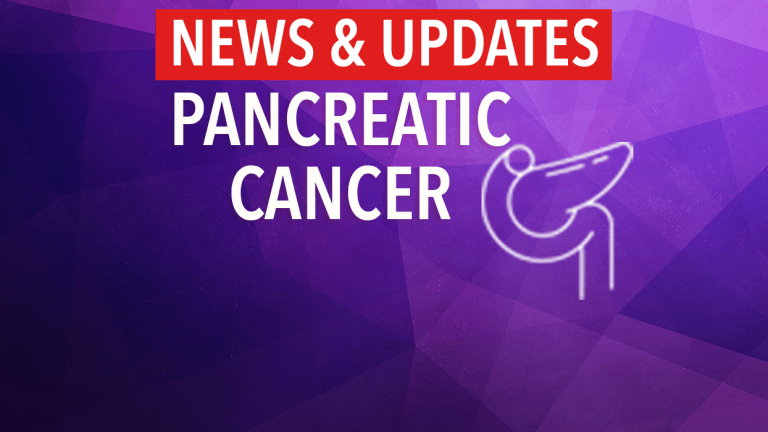 New Immunotherapy Trial in Pancreatic Cancer
Clinical trial evaluating immunotherapy and chemotherapy in pancreatic cancer begins at leading cancer centers
The Parker Institute for Cancer Immunotherapy Announces First Patients Treated in Pancreatic Cancer Clinical Trial Combining Immunotherapy and Chemotherapy
The Parker Institute for Cancer Immunotherapy has announced the first patients have begun treatment in a new pancreatic cancer multi-center clinical trial. To combat the nation's third deadliest cancer, the phase 1b/2 open-label study will explore the combination of standard chemotherapy and two immunotherapy agents: an anti-PD-1 checkpoint inhibitor and a novel antibody targeting CD40, a protein that when activated can drive the immune system to attack tumors.
To bring this project to life, the Parker Institute and Cancer Research Institute have joined forces to collaborate with industry partner Bristol-Myers Squibb (BMS) and biotech company Apexigen, Inc. The research will be conducted across the Parker Institute's network of leading cancer research centers, led by the Abramson Cancer Center of the University of Pennsylvania. The trial is expected to open imminently at Memorial Sloan Kettering Cancer Center, followed by additional Parker Institute sites, including Stanford Medicine, the University of California, Los Angeles, the University of California, San Francisco, and The University of Texas MD Anderson Cancer Center.
Leveraging the Parker Institute's unique collaborative model, the project not only unites the world's best researchers in industry and academia but exemplifies the institute's ability to develop faster and more efficient clinical studies. The Parker Institute's single IRB reliance agreement eliminates the need for multiple review boards that can cause trial delays. In fact, the study opened just months after the clinical trial collaboration agreement was signed by the Parker Institute, CRI, and BMS in late March.
"A trial of this magnitude has many moving parts: multiple contracts and co-funders, a four-drug IND, a major industry partner, a biotech firm, and six university hospitals," said Ramy Ibrahim, M.D., vice president of clinical development at the Parker Institute for Cancer Immunotherapy. "Leveraging the Parker Institute's infrastructure, we streamlined the process and successfully launched the trial in less than six months, perhaps half the time it would have taken otherwise."
"We think this clinical trial offers great hope based on what we have observed in prior studies," said the study's lead investigator, Robert Vonderheide, M.D., DPhil, director of the Abramson Cancer Center of the University of Pennsylvania. An expert in pancreatic cancer, the CD40 pathway, and immunotherapy, Dr. Vonderheide designed the study. "We have wanted to do this trial for many years. We're finally able to initiate it thanks to support from the Parker Institute and Cancer Research Institute for a boundary-pushing collaborative model and their ability to rapidly bring together the right team."
In phase 1, investigators will evaluate the safety of the combined treatments. Each patient will receive gemcitabine and nab-paclitaxel, two chemotherapy drugs that are standard of care. Those will be tested in combinations with Apexigen's APX005M, a novel monoclonal antibody that targets CD40, and Bristol-Myers Squibb's anti-PD-1 checkpoint inhibitor, nivolumab. Another cohort will receive all four drugs. For additional information on this trial (NCT03214250), please visit www.clinicaltrials.gov.
"We are excited to be a part of this important new initiative to develop novel treatment options for patients," said Ovid Trifan, M.D., Ph.D., chief medical officer of Apexigen, Inc. "APX005M is a potential best-in-class CD40 agonist that works by activating the immune system's antigen-presenting cells in the tumor microenvironment. Preclinical data strongly demonstrated that this combination provides robust and synergistic anti-tumor efficacy."
"Enabling and empowering global experts to drive disruptive innovation is central to our mission at CRI," said Aiman Shalabi, Pharm.D., MBA, Cancer Research Institute Chief Medical Officer. "I am excited to see how such collaboration can bring strong science to pancreatic cancer patients, who desperately need new options."
"Bristol-Myers Squibb is thrilled to be part of an innovative research model where each partner acts with urgency to advance potential new treatments for patients facing deadly cancers," said Awny Farajallah, M.D., vice president, head of U.S. Medical Oncology at Bristol-Myers Squibb. "We believe in the promise of combination therapy and are eager to learn more from this study evaluating potential synergies between our I-O medicine and other mechanisms of action."
About the Parker Institute for Cancer Immunotherapy
The Parker Institute is an unprecedented collaboration between the country's leading immunologists and cancer centers, including Memorial Sloan Kettering Cancer Center, Stanford Medicine, the University of California, Los Angeles, the University of California, San Francisco, the University of Pennsylvania and The University of Texas MD Anderson Cancer Center. The Parker Institute network also includes more than 40 industry and nonprofit partners, more than 60 labs and more than 300 of the nation's top researchers focused on treating the deadliest cancers.
The goal is to accelerate the development of breakthrough immune therapies capable of turning most cancers into curable diseases. The institute was created through a $250 million grant from The Parker Foundation.
About the Cancer Research Institute
The Cancer Research Institute (CRI), established in 1953, is the world's leading nonprofit organization dedicated exclusively to immuno-oncology, also called cancer immunotherapy. CRI has invested over $344 million to support research conducted by a global network of immunologists and clinical experts at the world's leading medical centers and universities. CRI's clinical program, The Anna-Maria Kellen Clinical Accelerator, is a unique academia-industry collaboration model that serves as an "incubator" for promising new immunotherapy combinations. CRI's venture philanthropy fund supports clinical trials within this program, which fosters a collaborative environment that enables scientists to advance their most ambitious clinical and translational research ideas, and accelerates studies that one group or company could not do alone. To learn more, go to www.cancerresearch.org.
About Bristol-Myers Squibb
Bristol-Myers Squibb is a global biopharmaceutical company whose mission is to discover, develop and deliver innovative medicines that help patients prevail over serious diseases. For more information about Bristol-Myers Squibb, visit or follow us on LinkedIn, Twitter, YouTube and Facebook.
About Apexigen, Inc.
Apexigen is a clinical-stage biopharmaceutical company discovering and developing a new generation of antibody therapeutics for oncology, with an emphasis on new immuno-oncology agents that could harness the patient's immune system to combat and eradicate cancer. APX005M and the Company's additional preclinical programs were discovered using APXiMABTM, Apexigen's proprietary product discovery platform. This platform has enabled the Company and its collaboration partners to discover and develop high-quality therapeutic antibodies against a variety of molecular targets, including targets that are difficult to drug with conventional antibody technologies. Seven product candidates discovered using APXiMABTM are currently in clinical development, either internally by Apexigen or by its partners.
Contact Information:
Parker Institute for Cancer Immunotherapy: Shirley Dang, sdang@parkerici.org, 415-930-4385