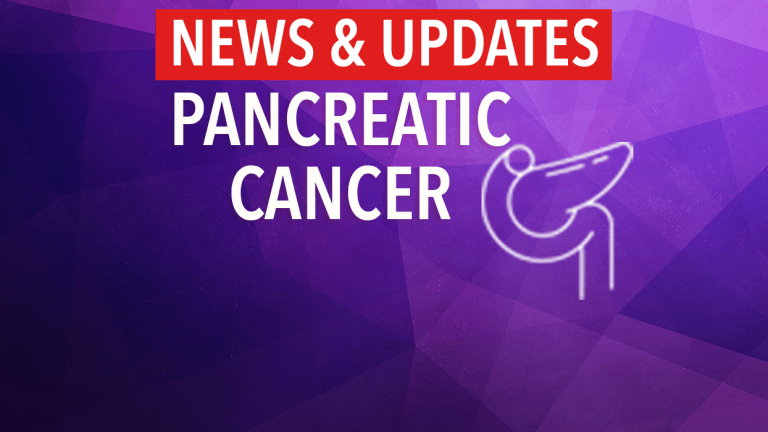 Neoadjuvant Radiation Improves Survival in Pancreatic Cancer
Neoadjuvant Chemoradiation Improves Survival in Pancreatic Cancer
Neoadjuvant therapy is therapy given prior to surgery. The concept behind neoadjuvant therapy is to help shrink the cancer enough that it may be more completely surgically removed. Furthermore, immediate systemic (full-body) treatment can begin to kill cancer cells throughout the body immediately; patients do not have to wait until they are healed from surgery to initiate systemic therapy. 
The pancreas is an organ that is surrounded by the stomach, small intestine, bile ducts (tubes that connect the liver to the small intestine), gallbladder, liver, and spleen. The pancreas helps the body to break down food and also produces hormones, such as insulin, to regulate the body's storage and use of food.
Pancreatic cancer has one of the highest mortality rates of all cancers. It accounts for approximately 2% of all newly diagnosed cancers in the United States each year but 5% of all cancer deaths. Pancreatic cancer is often called a "silent killer" because its symptoms are usually not recognizable until it has advanced and spread outside the pancreas. As a result the majority of pancreatic cancers are not diagnosed until they have reached advanced stages and are considered incurable.
If pancreatic cancer has not spread to surrounding or distant organs, it is usually considered operable. Historically, patients have been treated with surgery followed by chemotherapy and/or radiation to destroy any micrometastases (cancer cells that have spread outside the pancreas). 
Research indicates, however, that neoadjuvant therapy offers greater benefit to patients because it can potentially shrink the tumor prior to surgery, thereby ensuring a better chance of removal. 
Researchers from the Weill Cornell Medical College compared overall survival rates among patients who received neoadjuvant radiation, adjuvant radiation, or no radiation and found those who received neoadjuvant radiation survived 23 months, compared with 12 months for patients who did not receive radiation and 17 months for those who received adjuvant radiation (following surgery).
According to a study published in the Annals of Surgical Oncology, neoadjuvant chemotherapy and radiation may allow for more complete removal of early-stage pancreatic cancer.  Researchers from the Dartmouth-Hitchcock Medical Center evaluated extensive neoadjuvant therapy in patients with stages I-III pancreatic cancer. This trial included 24 patients who were initially treated with a combination of Taxotere/Gemzar, which was followed by radiation plus Gemzar. No patients experienced a progression of disease at or near the site of origin following treatment.
50% of patients had an anticancer response.
17 patients were able to undergo the surgical removal of their cancer.
13 of the surgical patients achieved "negative surgical margins", meaning there were no cancer cells found near the margins of the removed tissues; 9 of these patients were previously not considered to be surgical candidates.
At nearly 2 years follow-up, 10 patients were alive.
No recurrences of cancers were noted.
Side effects were manageable; severely low levels of blood cells were common.
Most recently results from the PREOPANC clinical trial which enrolled 246 patients with borderline resectable pancreatic cancer were released. Patients received treatment with either neoadjuvant Gemzar chemotherapy and radiation therapy followed by surgery or surgery followed by adjuvant Gemzar chemotherapy. At 5 years from initiation of treatment 20% of the neoadjuvant treated patients survived compared with only 6% of those receiving adjuvant therapy.3
References
Pipas J, Barth R, Zaki B, et al. Docetaxel/Gemcitabine Followed by Gemcitabine and External Beam Radiotherapy in Patients With Pancreatic Adenocarcinoma. Annals of Surgical Oncology. 2005; 12: 995-1004.
Stessin AM, Meyer JE, Sherr DL. Neoadjuvant radiation is associated with improved survival in patients with resectable pancreatic cancer: An analysis of data from the Surveillance, Epidemiology, and End Results (SEER) Registry. International Journal of Radiation Oncology Biology Physics. 2008; 72: 1128-1133.
Versteijne E. et. al.J Clin Oncol 2022; doi:10:1200.JCO.21.02233.