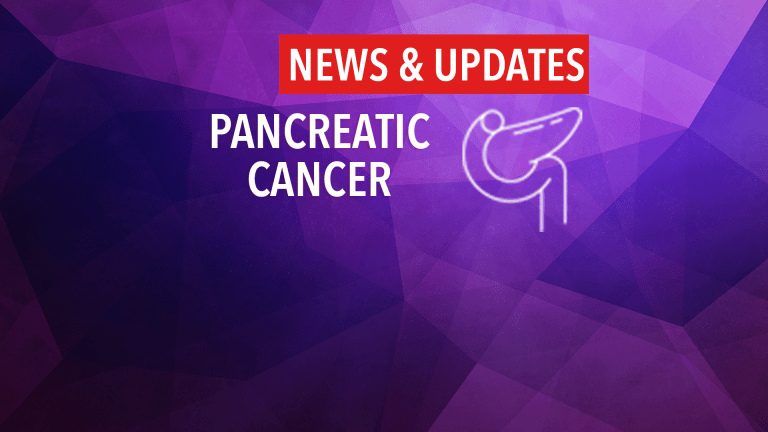 mFOLFIRINOX- A New Standard of Care For Treatment of Pancreatic Cancer
mFOLFIRINOX improves the treatment of early stage surgically treated and advanced stage pancreatic cancer.
mFOLFIRINOX The New Standard of Care For Treatment of Stage I-III Pancreatic Cancer
by C.H. Weaver M.D. updated 6/2019
The results of a clinical study presented at the June 2019 American Society of Clinical Oncology meetings suggest that more aggressive mFOLFIRINOX chemotherapy treatment improves the outcomes of non-metastatic pancreatic cancer compared to single agent Gemzar (gemcitabine) chemotherapy which has been a standard treatment for over a decade. Following the presentation the ASCO treatment guidelines were changed to state that "mFOLFIRINOX is the preferred adjuvant therapy for patients with pancreatic adenocarcinoma who have undergone surgical resection and have not received neoadjuvant chemotherapy.(1,2)
About Pancreatic Cancer
Pancreatic cancer is one of the deadliest forms of cancer and is projected to become the second leading cause of cancer death by 2020. Each year, approximately 43,000 people are diagnosed with pancreatic cancer in the United States and close to 37,000 die from the disease. The disease is often diagnosed at an advanced stage, treatment remains challenging, and new treatment approaches are required.
In the current clinical trial Dr. Conroy and colleagues evaluated the benefit of mFOLFIRINOX chemotherapy in the adjuvant setting in 493 patients with pancreatic who were enrolled in the study from 77 clinical treatment centers in France and Canada. All patients with stage I-III non-metastatic pancreatic adenocarcinoma who had all visible tumor surgically removed were treated with the standard chemotherapy drug Gemzar or a more aggressive multi-drug treatment regimen mFOLFIRINOX for 6 months and directly compared.
At a median follow-up of 33.6 months from the treatment individuals treated with mFOLFIRINOX survived without evidence of cancer an average of 21.6 months compared to only 12.8 months for Gemzar treated patients. The median overall survival was also improved; 54.4 months for mFOLFIRINOX versus 35.0 months for Gemzar.
mFOLFIRINOX Chemotherapy is administered every 2 weeks:
Oxaliplatin 65 mg/m2 IV over 3 hours on Day 1
Irinotecan 150 mg/m2 IV over 90 minutes on Day 1
Leucovorin(l-LV) 200 mg/m2 IV over 2 hours on Day 1
5-Fluorouracil 2.4 g/m2 for 46 hours continuous infusion.
mFORFIRINOX was associated with more side effects from treatment but the study authors conclude they were manageable. Dr. Conroy suggested mFOLFIRINOX should be considered the new standard of care for the treatment of pancreatic cancer following surgical resection.
Because of the superiority of mFORFIRINOX utilization of the regimen as neoadjuvant therapy prior to surgery is also appealing. Neoadjuvant therapy can increase the number of patients who are ultimately able to have their cancer removed and early treatment might have the additional benefit of eradicating some cancer cells that had already spread away from the primary cancer.
Improved survival with FOLFIRINOX compared to Gemzar for treatment of metastatic pancreatic cancer
FOLFIRINOX improves survival in metastatic pancreatic cancer over Gemzar® (gemcitabine). The results of this Phase III study were presented at the annual meeting of the American Society of Clinical Oncology and published in the New England Journal of Medicine.(3)
Gemzar® is used alone or in combination with other drugs, and has been a standard chemotherapy treatment for advanced pancreatic cancer for some time. Recent results, however, suggest that the combination known as FOLFIRINOX (5-fluorouracil, leucovorin, irinotecan, and oxaliplatin) may be more effective.
A large trial compared overall survival (OS) among patients treated with FOLFIRINOX with that of patients treated with Gemzar alone. The study involved 342 patients with metastatic pancreatic cancer.
OS among patients receiving FOLFIRINOX was just over 10 months compared with approximately seven months among those receiving Gemzar alone.
Progression-free survival was also significantly improved among the FOLFIRINOX group: six months versus three months.
Side effects of therapy with FOLFIRINOX were greater than those observed with Gemzar alone but were considered manageable.
The researchers suggest that FOLFIRINOX should become the new standard-of-care for patients with metastatic pancreatic cancer. The increased incidence of side effects may, however, be a concern for some patients and physicians.
References:
Khorana AA, McKernin SE, Berlin J, et al. Potentially curable pancreatic adenocarcinoma: ASCO clinical practice guideline update [published online June 10, 2019]. J Clin Oncol. doi: 10.1200/JCO.19.00946
Conroy T, Hammel P, Hebbar M, et al. FOLFIRINOX or gemcitabine as adjuvant therapy for pancreatic cancer.N Engl J Med. 2018;379(25):2395-2406.
American Society of Clinical Oncology (ASCO) 2018 Annual Meeting. Presented June 4, 2018. Abstract LBA4001
Conroy T, Desseigne F, Ychou M, et al. Randomized phase III trial comparing FOLFIRINOX (F: 5FU/leucovorin [LV], irinotecan [I], and oxaliplatin [O]) versus gemcitabine (G) as first-line treatment for metastatic pancreatic adenocarcinoma (MPA): Preplanned interim analysis results of the PRODIGE 4/ACCORD 11 trial. Presented at the 2010 annual meeting of the American Society of Clinical Oncology. June 4-8, 2010. Chicago, IL. Abstract 4010.