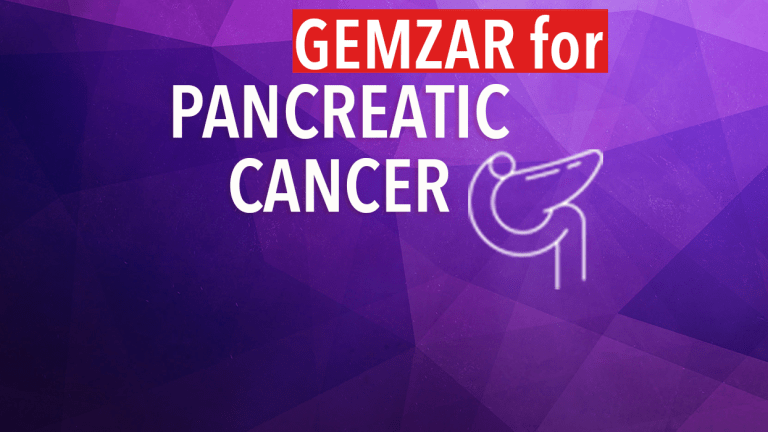 Gemzar® Improves Survival with Early Pancreatic Cancer
Gemzar® Improves Survival with Early Pancreatic Cancer
Adjuvant (post-surgery) chemotherapy with Gemzar® (gemcitabine) significantly improves disease-free and overall survival among patients with early pancreatic cancer. These findings were presented at the 2008 annual meeting of the American Society of Clinical Oncology.
There will be an estimated 37,680 new cases of pancreatic cancer diagnosed in the United States in 2008 and 34,290 deaths from the disease.[1] Pancreatic cancer is the fourth leading cause of cancer death in this country. Treatment for early pancreatic cancer typically includes surgery to remove as much of the cancer as possible and the administration of adjuvant Gemzar or 5-fluorouracil (F-FU). A recent multicenter U.S. and Canadian trial has shown that the addition of Gemzar to 5-FU may modestly improve survival among patients undergoing surgery for early pancreatic cancer.[2]
The current study (CONKO-001) compared six months of adjuvant Gemzar with observation in patients with early-stage pancreatic cancer.[3] This study was carried out between 1998 and 2008 and involved 369 patients.
Three-year disease-free survival was 23.5% among patients treated with Gemzar versus 8.5% among patients treated with observation.
Three-year overall survival was 36.5% among patients treated with Gemzar versus 19.5% among patients treated with observation.
These results confirm the effectiveness of adjuvant Gemzar for early pancreatic cancer.
References:
[1] American Cancer Society. Cancer Facts & Figures 2008. Available at: Accessed June 10, 2008.​
[2] Regine W, Winter K, Abrams R, et al. Fluorouracil vs gemcitabine chemotherapy before and after fluorouracil-based chemoradiation following resection of pancreatic adenocarcinoma*. Journal of the American Medical Association*. 2008; 299:1019-1026.​
[3] Neuhaus P, Riess H, Post K, et al. CONKO-001: Final results of the randomized, prospective, multicenter phase III trial of adjuvant chemotherapy with gemcitabine versus observation in patients with resected pancreatic cancer (PC). Journal of Clinical Oncology 2008;26:abstract LBA4504.