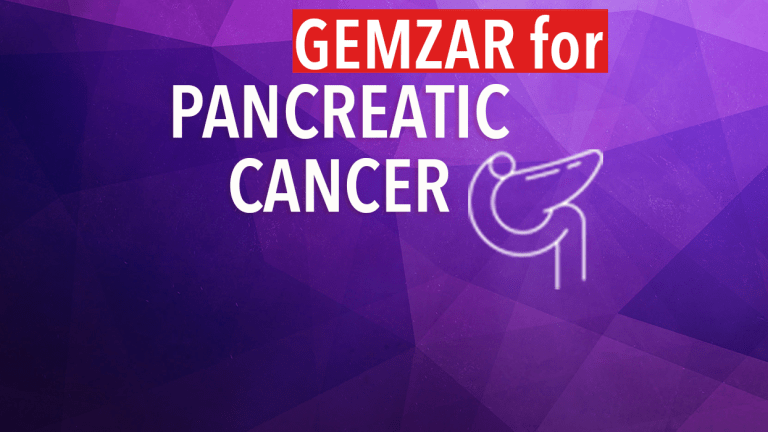 Gemzar® Delays Recurrences in Early Pancreatic Cancer
Gemzar® Delays Recurrences in Early Pancreatic Cancer
According to an article recently published in the Journal of the American Medical Association, treatment with Gemzar® (gemcitabine) following the surgical removal of pancreatic cancer delays the time to a cancer recurrence.
The pancreas is an organ that is surrounded by the stomach, small intestine, bile ducts (tubes that connect the liver to the small intestine), gallbladder, liver, and spleen. The pancreas helps the body to break down food and produces hormones, such as insulin, to regulate the body's storage and use of food.
There are approximately 33,730 new cases of pancreatic cancer diagnosed in the United States every year, with 32,200 deaths attributed to this disease annually. Pancreatic cancer is the fourth leading cause of cancer deaths in the U.S.
Early pancreatic cancer refers to cancer that has not spread from the pancreas to distant sites in the body. Treatment for early pancreatic cancer typically includes surgery to remove as much of the cancer as possible. There are no recommended treatment standards in terms of chemotherapy; however, some studies have suggested that treatment with Gemzar may improve outcomes for patients with early pancreatic cancer.
Researchers from Germany and Austria recently conducted a multi-center Phase III clinical trial (phase prior to FDA review) to further evaluate the use of Gemzar in the treatment of early pancreatic cancer. This trial included 368 patients who had their pancreatic cancer completely removed by surgery and had not received prior therapy with chemotherapy or radiation therapy. One group of patients was then treated with Gemzar, while the other group underwent observation only. Follow-up was 53 months.
Cancer-free survival time was doubled in the group treated with Gemzar compared with the observation group (13.4 months with Gemzar and 6.9 months without).
At three and five years, the estimated cancer-free survival was 23.5% and 16.5%, respectively, in the group treated with Gemzar, compared with 7.5% and 5.5%, respectively, in the observation group.
The researchers concluded that the use of Gemzar following surgery significantly delays the time to a recurrence among patients with early pancreatic cancer. The authors state, "Theseresults support the use of gemcitabine [Gemzar] as adjuvant chemotherapyin resectable carcinoma of the pancreas."
Patients with early pancreatic cancer may wish to speak with their physician regarding their individual risks and benefits of treatment with Gemzar.
Reference: Oettle H, Post S, Neuhaus P, et al. Adjuvant chemotherapy with gemcitabine vs observation in patients undergoing curative-intent resection of pancreatic cancer. Journal of the American Medical Association. 2007;297:267-277.