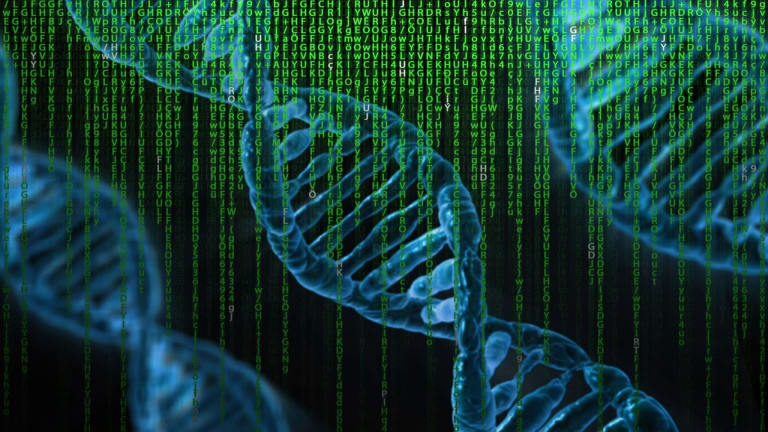 Drugs in Development for Advanced GI Cancers
BRCA, RAS, KRAS, NRG, ATM and other colon and pancreatic cancer causing mutations are being targeted with precision cancer medicines.
by Dr. C.H. Weaver M.D.  8/2022
Not all pancreatic cancers are the same. Pancreatic cancers may differ from one another based on what genes have mutations, and "genomic testing" can be performed on a biopsy sample of the cancer and sometimes with a "blood biopsy" to identify the specific genetic abnormality driving the growth of the cancer. Once the cancer driving mutation is identified a specific precision cancer medicine or immunotherapy can be developed to attack that specific mutation or other cancer-related change in the DNA programming of the cancer cells.
It is estimated that over 25% of pancreatic cancers have mutations for which there is clinical or strong preclinical evidence of a predictive benefit from a specific therapy that can be targeted with a precision cancer medicine. All patients should undergo genomic biomarker testing at the time of diagnosis or cancer recurrence in order to determine if they have a treatable mutation or are eligible for participation in a clinical trial evaluating newer precision cancer medicines and immunotherapies.
A program called Precision Promise clinical trials will is currently enrolling patients with advanced pancreatic cancer who have either received no treatment in the metastatic setting (first line), or who have only received one prior treatment for their cancer in the metastatic setting (second line). Precision Promise is an adaptive clinical trial design, that seeks to match patients with precision medicines that may be of benefit. This adaptive clinical trial design provides the opportunity for new treatments to be approved more quickly than in traditional trials. Precision PromiseSM – For Patients
Precision Cancer Medicines for Pancreatic Cancer
BRCA1/BRCA2
BRCA is the first identifiable mutation with an approved precision cancer medicine called a "PARP" inhibitor for the treatment of pancreatic cancer.
Targeting RAS
RAS is an oncogene —a gene that encodes proteins that function as switches to turn on various genes for cell growth and division. The natural, unchanged form of the KRAS gene is called wild-type KRAS. Knowing whether a patient's tumor has a wild-type or mutated KRAS gene may help plan cancer treatment. Mutations in the RAS genes result in permanently "turned on" switches that in turn result in uninhibited cell division, which can lead to cancer. There are three types of RAS oncogenes, designated NRAS, GRAS, and KRAS. 
Although mutations in all three can cause cancer. KRAS mutations are the most common oncogenic alteration in all of human cancers and there are currently no effective treatments available for patients with KRAS-mutant cancers. The majority of patients with pancreatic adenocarcinoma carry a mutation in or have amplification of KRAS. Several drugs are in development to target RAS.
Adagrasib targets KRAS
Sotorasib targets KRAS mutations across several tumor types.  A total of 38 patients with advanced pancreatic cancer and a KRASG12C mutation were treated on the CodeBreak 100 clinical trial. The trial included patients who had received at least one prior systemic therapy and patients who were not eligible or not able to tolerate available therapies.

Eight patients (21.1%) had a confirmed partial response to treatment. The percentage of patients in which the cancer improved or remained stable was 84.2%. Sotorasib was well-tolerated with no treatment-related side effects that were fatal or that resulted in discontinuation of therapy.

Berzosertibe ATM mutant tumors may also be considered for treatment with ATR inhibitors.
ELI-002 is a structurally novel investigational vaccine targeting KRAS-driven cancers. ELI-002 is comprised of AMP-modified mutant KRAS peptide antigens and ELI-004, an AMP-modified immune-stimulatory oligonucleotide adjuvant. The AMP mKRAS peptides and AMP CpG are targeted to the lymph node where they potentially enhance action on key immune cells. ELI-002 targets the seven most common KRAS mutations and has the potential to become a multi-targeted mKRAS therapy that can prevent disease recurrence in patients with KRAS-driven tumors.
VS-6766 blocks tumor growth signaling downstream of mutant KRAS potentially creating a more complete and durable anti-tumor response through maximal RAS pathway inhibition. VS-6766 is being evaluated alone and with the FAK inhibitor defactinib which blocks KRAS signaling. FAK has been identified pre-clinically and clinically as a potential resistance mechanism to RAF and MEK inhibition. 
"Wild Type KRAS"
Wild-type KRAS represent about 10% of all cases, maybe even more among younger patients.
Nimotuzumab is an antibody that targets epidermal growth factor receptor (EGFR) and blocks the EGFR pathway, inhibiting tumor growth – it is currently available in China and Germany but not the U.S. The results of 92 patients with wild-type KRAS advanced pancreatic cancer treated with nimotuzumab + Gemzar (gemcitabine) compared to Gemzar alone were reported at ASCO 2022.  Nimotuzumab-Gemzar treated patients had a longer average overall survival duration of 10.9 months compared with 8.5 months for Gemzar alone, and 43.6% of nimotuzumab treated patients survived one year compared with 2.7% with Gemzar.

BRAF is mutated in approximately 3% of patients with pancreatic cancer and can be treated with BRAF/MEK inhibitor combinations. The BRAF and MEK genes are known to play a role in cell growth, and mutations of these genes are common in several types of cancer. A combination of a BRAF and a MEK inhibitor appears to decrease the emergence of disease resistance that occurs in patients treated with a BRAF mutation.9
ALK+ Cancers: Anaplastic lymphoma kinase (ALK) mutation. The ALK mutation is responsible for initiating and promoting cancer growth.
ROS-1+ Cancers: The ROS-1 mutation is an uncommon mutation and plays a role in the development and progression of some cancers and can be targeted with several drugs.10
Tissue Agnostic Targets
TRK + Cancers: Tropomyosin receptor kinases (TRK) fusions are rare chromosomal abnormalities that occur when one of the NTRK genes (NTRK1, NTRK2, NTRK3) becomes abnormally connected to another, unrelated gene (e.g. ETV6, LMNA, TPM3). This abnormality results in uncontrolled TRK signaling that can lead to cancer. (12.13) Several disease agnostic treatments have been shown to induce responses, occasionally durably, in patients with pancreatic cancer. Tropomyosin receptor kinase inhibitors which target TRKA, TRKB, TRKC, ROS1 and ALK encoded by NTRK1, NTRK2, NTRK3, ROS1 and ALK, respectively are associated with response rates exceeding 75%.
Additional targets of interest
CD40 is expressed on and can trigger activation in a variety of immune cell types, including macrophages and dendritic cells. It is also expressed in some tumor types, including some pancreatic tumors, in which antibody-dependent cytotoxicity can be induced. Phase 1 trials have demonstrated anti-cancer activity of these agents in combination with chemotherapy, supporting further study in several ongoing phase 2 trials.
Devimistat (CPI-613) is a novel lipoate analog that inhibits pyruvate dehydrogenase and alpha-ketoglutarate dehydrogenase. Combining this agent with modified FOLFIRINOX chemotherapy in patients with metastatic pancreatic cancer appeared promising however the combination failed to improve outcomes in a phase 3 trial.15
Novel inherited mutations are also being identified....
References:
Alistar A, et al. Lancet Oncol. 2017;doi:10.1016/S1470-2045(17)30314-5.
The Cancer Genome Atlas Research Network. Cancer Cell. 2017;doi:10.1016/j.ccell.2017.07.007.
Golan T, et al. N Engl J Med. 2019;doi:10.1056/NEJMoa1903387.
Moore MJ, et al. J Clin Oncol. 2007;doi:10.1200/JCO.2006.07.9525.
Pishvaian MJ, et al. Lancet Oncol. 2020;doi:10.1016/S1470-2045(20)30074-7.
Tempero MA, et al. Abstract 638. Presented at: Gastrointestinal Cancers Symposium; Jan. 23-25, 2020; San Francisco.
Herbst RS, Lopes G, Kowalski DM, et al. Association of KRAS mutational status with response to pembrolizumab monotherapy given as first-line therapy for PD-L1-positive advanced non-squamous NSCLC in KEYNOTE-042.
Gadgeel S, Rodriguez-Abreu D, Felip E, et al. KRAS mutational status and efficacy in KEYNOTE-189: Pembrolizumab (pembro) plus chemotherapy (chemo) vs placebo plus chemo as first-line therapy for metastatic non-squamous NSCLC.
Kwak EL, Bang Y-J, Camidge DR et al. Anaplastic lymphoma kinase inhibition in non-small-cell lung cancer. New England Journal of Medicine.2010;363:1693-1703.
Lancet Oncol. 2019 May 20. Epub ahead of print.
mrknewsroom.com/news-release/prescription-medicine-news/fda-approves-mercks-keytruda-pembrolizumab-first-line-combin
Oettle H, Post S, Neuhaus P, Gellert K, Langrehr J, Ridwelski K, Schramm H, Fahlke J, Zuelke C, Burkart C, Gutberlet K, Kettner E, Schmalenberg H, Weigang-Koehler K, Bechstein WO, Niedergethmann M, Schmidt-Wolf I, Roll L, Doerken B, Riess H. Adjuvant chemotherapy with gemcitabine vs observation in patients undergoing curative-intent resection of pancreatic cancer: a randomized controlled trial. JAMA. 2007 Jan 17;297(3):267-77. doi: 10.1001/jama.297.3.267. PMID: 17227978.
Rafael Pharmaceuticals provides update on pivotal phase 3 clinical trial in patients with metastatic pancreatic cancer and interim analysis of pivotal phase 3 clinical trial in patients with relapsed or refractory acute myeloid leukemia. News release. Rafael Pharmaceuticals, Inc. October 28, 2021. Accessed October 29, 2021. https://bit.ly/3GC93AE

Strickler JH, Satake H, Hollebecque A, et al. First data for sotorasib in patients with pancreatic cancer with KRAS p.G12C mutation: A phase I/II study evaluating efficacy and safety. Presented at: ASCO Plenary Series: February 2022 Session; February 15, 2022.