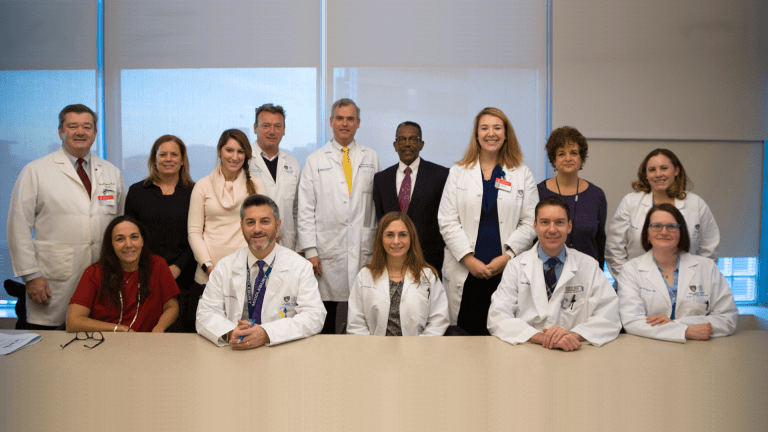 Doctors from BIDMC answered your questions about pancreatic cancer
Dr Moser & colleagues from Beth Israel Deaconess Medical Center Pancreatic Cancer Multidisciplinary program, in Boston
CancerConnect partnered with the Beth Israel Deaconess Medical Center (BIDMC) to provide you with the opportunity to engage with Pancreatic Cancer expert Dr. A. James Moser M.D, and his multidisciplinary colleagues. Dr. Moser is the Co-Director of The Pancreas and Liver Institute, and an associate professor at Harvard Medical School. Numerous providers from the Pancreatic Cancer Multidisciplinary program, along with Dr Moser, have answered your submitted questions about the management of pancreatic cancer.
**Pancreatic Cancer MultiD Program **
Pancreatic Cancer Program pancreas@bidmc.harvard.edu
Are there any new precision cancer medicines in development for the treatment of pancreatic cancer that appear promising?
Historically, drugs have been developed on a 'one size fits all' basis – meaning all patients with a particular disease receive virtually the same treatment. We know this approach is imperfect - a drug that works well for some patients may have only negligible therapeutic benefit for others, or may cause substantial side effects.
Precision medicine goes beyond simply targeting the disease; it aims to understand the individual, by identifying specific DNA and protein pathways that are abnormal in the individual, and tailoring the treatment accordingly. The objective is for all patients to receive precisely the right medical care that will benefit them the most, as individuals.
For the patient, precision medicine starts with a molecular analysis of his or her tumor and the gene mutations and proteins that make it unique. The doctor then uses the analysis to match the tumor with the treatment that is most likely to be successful.
In 2019 the first precision cancer medicine that could be used to target pancreatic cancer was identified. PARP Inhibitor medications can be used to treat the 7% to 10% of pancreatic cancer patients with a BRCA mutation identified by genomic testing.
There are numerous researchers conducting genome-targeted treatment research in pancreatic cancer, at many academic medical centers and more treatable mutations will be identified.
Is there any evidence that eliminating sugar, cannabis or mega vitamins can slow the growth of the cancer?
There will always be anecdotal experiences, recommendations, and advice about alternative and holistic approaches to treating all cancers, including pancreatic cancer. I have not seen any clinical data to support that eliminating sugars and adding mega vitamins will halt, or have impact upon, the growth of cancer cells. And while cannabis has been suggested to help symptomatically with side effects of cancer treatment, and is often used by patients as an adjunct to standard medications, there is no research suggesting cannabis use can slow the growth of cancer cells. In addition, further study is still needed to determine whether cannabis use provides true benefit for patients in terms of anorexia, nausea, and pain relief. I tell my patients that I don't object if they wish to use it, but we cannot say that it has known benefits. To date, all evidence of such is anecdotal.
Research regarding cancer prevention is targeted at lifestyle changes rather than specific nutrients or vitamins. What we do know is that sugar feeds all of our body's cells to make sure that we have the energy and stamina, including brain power, to feel our best during cancer treatment and beyond. When possible, we recommend consuming sugar in its healthiest form which includes fruits, veggies, and whole grains—giving us the life sustaining carbohydrates our bodies need in addition to vitamins, minerals, fiber, and other nutrients shown to reduce risk of cancers and relapse. With pancreatic cancer and treatment side effects, it is not always feasible to eat a high fiber diet and so it's important to modify the diet as needed to avoid exacerbating digestive discomfort.
Mega-vitamins, specifically antioxidants and herbal supplements, are rarely recommended during cancer treatment as it is thought that these will interact with the anticancer treatments and negate any positive effect. Please always check with your oncologist and pharmacist before adding anything in pill form to your regimen. And it's always a good to bear in mind that anything that promises a cure or positive outcome may equally be harmful to the body or cancer treatment.
I have read about vaccines being developed for the treatment of pancreatic cancer and I have low volume of disease. Are there any currently available?
At present, vaccines for treatment of pancreatic cancer are being tested and studied only as part of clinical trials. They are not FDA approved as main-line treatment for pancreatic cancer.
BIDMC has a robust cancer vaccine research program. If there is a vaccine under study for your disease, your care team will discuss this with you as an option.
If a pancreatic cancer can be surgically removed is it better to get chemotherapy/radiation before or after the whipple surgery?
There are a number of factors that play a role in deciding whether to offer patients "neo adjuvant" or "before surgery" treatment for pancreatic cancer. This often depends on how likely it is to remove the tumor surgically without leaving any disease behind. In cases where this is in question, we call the tumor "borderline resectable." In this setting, data from a recently presented clinical trial, the PREOPANC-1 study, demonstrates that a combination of chemotherapy and radiation therapy may improve long-term outcomes for patients undergoing surgical resection.
At BIDMC, radiotherapy is delivered before surgery using a technique called "CyberKnife Stereotactic Body Radiation Therapy." This is a highly specialized technique that allows the delivery of high doses of radiotherapy with sub-millimeter accuracy, all while tracking the motion of the tumor in real time. This allows the radiation oncologist to "paint" radiation dose to areas that would be at risk of recurrence, to improve the surgical outcome with a low risk of toxicity. The specific duration of preoperative treatment before surgery, as well as the specifics of which chemotherapy to give and how much radiation to administer, remain an area of active investigation.
I am currently in remission is there anything I should take or do to prevent recurrence while the cancer is controlled?
Unfortunately, there is nothing specifically that can be done to prevent or delay the recurrence of pancreatic cancer. It is recommended that you do your best to live a healthy, active life and maintain a well-balanced diet.
Assuming patients are receiving active care such as chemo or immuotherapy, what attitudes and behaviors help pancreatic cancer patients thrive emotionally and physically beyond medical norms in the midst of adversity in your experience?Are there any attitudes and behaviors are counterproductive?
It is very important to try to "remain in the moment" as much as possible, if possible. We appreciate this can be very challenging when learning of a new cancer diagnosis, and embarking upon a treatment regimen, but we do find that when patients remain hopeful, and focus on one step at a time, without leaping to conclusions, it can be beneficial to their emotional health.
In my experience, trying to keep one's usual routine can be very helpful. While the need to attend medical appointments may pose challenges, even small things such as getting enough sleep, eating healthy foods and staying hydrated can help. Meditation, relaxation exercises and easy exercise-like taking a short walk outside can also be very helpful.
I often hear patients say that they fear their worry and anxiety will adversely affect their prognosis. I do not believe this to be true - and I think it is an added burden for cancer patients to carry. Anyone with a cancer diagnosis will be scared, worried and anxious. Identifying supports, early on, to help you process your fear is crucial.
All Cancer Centers have professional social workers who work with patients and families; at BIDMC you will meet with a social worker your first visit. This is a very helpful resource that you have the option to utilize during and after your care.
In addition to talking one-on–one with a social worker, many people find participating in a support group to be extremely helpful. Having the opportunity to discuss what you are experiencing with others who are in a similar situation is invaluable. At Beth Israel Deaconess Medical Center, we feel so strongly about the benefit of support groups, that starting in January, 2019, we will be opening up two new pancreatic cancer support groups, one for pancreatic cancer patients, as well as one for their families.
My 55 yr old sister was diagnosed 6 months ago with stage 3 PC. She did 5 rounds of chemo which didn't shrink the tumor. She has stopped chemo & they are going to do radiation by placing gold clips around the tumor & use a robot that only 2 hospitals in Boston have. What are your thoughts on this type of radiation?
This type of radiation is called "CyberKnife Stereotactic Body Radiation Therapy." This is a highly specialized technique that allows the delivery of high doses of radiotherapy with sub-millimeter accuracy. Prior to this procedure, small gold markers are placed into the tumor endoscopically to allow for tumor motion tracking in real time. This allows the radiation oncologist to keep the tumor target as small as possible in order to deliver near ablative doses to the tumor while protecting critical nearby organs, such as the bowel and stomach. At Beth Israel Deaconess Medical Center, we have extensive experience using this technique in the treatment of both resectable and unresectable disease, offering excellent local control with a low morbidity profile. The treatment is also easily integrated with systemic chemotherapy, which is also critical in the treatment of pancreatic cancer. Work is ongoing at BIDMC to improve the effectiveness and side effect profile of this technique, and to test new combinations with systemic therapies.
What are the most promising new treatments for metastatic pancreatic cancer?
New clinical trial opportunities come and go quite frequently. In most academic medical centers, when appropriate, clinical trials will be offered to you, when needed, and when the open trials are relevant to your specific scenario. If they are not offered, don't hesitate to ask your provider what is currently available and relevant to your specific medical needs. These trials involve novel chemotherapeutic, targeted, and immune therapies, all of which are under investigation and show promise in improving care for patients facing pancreatic ductal adenocarcinoma (PDAC), the most common malignancy of the pancreas. Goal of novel treatments is to increase the likelihood that patients live longer and live better while facing PDAC.
Pancreatic Cancer Program pancreas@bidmc.harvard.edu
The Ask The Expert Series is made possible by support fromThe Personalized Medicine Foundation, Incyte Oncology, Abbvie, and CancerConnect. The "Ask The Expert" series is not medical advice nor is it a substitute for your doctor. It should serve as a guide to facilitate access to additional information and enhancement of a shared decision making process with your treating physician.