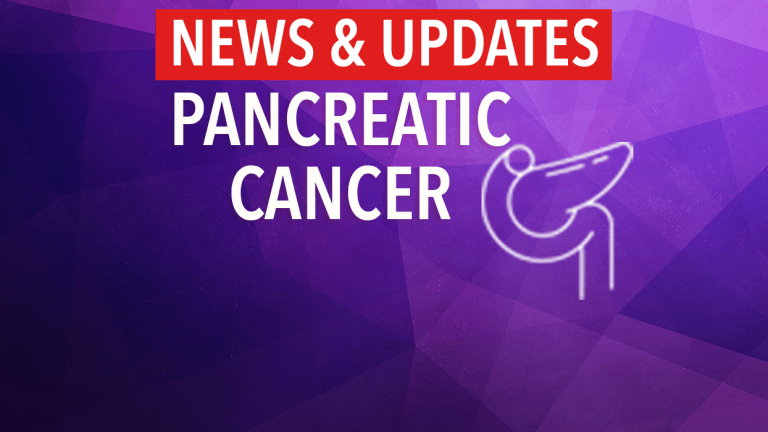 CA 19-9 Levels Useful for Monitoring Pancreatic Cancer?
CA 19-9 Tumor Marker and Pancreatic Cancer Outcomes
It has been noted that the tumor marker CA 19-9 may be an important determinant in the prediction of long-term outcomes following therapy in patients with pancreatic cancer.1-6 CA (cancer antigen) 19-9 is a small carbohydrate that can be found in circulating blood, with high levels indicative of pancreatic cancer. 
CA 19-9 is associated with pancreatic cancer and is found circulating in the blood. Physicians have often used CA 19-9 levels to determine whether a patient is responding to therapy. Typically, CA 19-9 levels are measured from a blood sample prior to therapy, as well as during and following therapy. If levels fall while on therapy, it is considered an indication of anticancer responses to treatment. Conversely, if CA 19-9 levels do not change during therapy or became elevated, it is thought to indicate that therapy is not producing anticancer responses.
Studies have suggested that patients with pancreatic cancer who have a reduced level of CA 19-9 during therapy experience improved survival compared with patients who have higher levels.
Researchers from England evaluated levels of CA19-9 and associated outcomes of patients with pancreatic cancer. This study included 154 patients who were receiving chemotherapy and had their CA19-9 levels monitored before and during treatment. Levels of CA19-9 were highly associated with outcomes of these patients:
Survival at one year was 19% for those with high CA19-9 levels, compared with 46% for those with normal CA19-9 levels.
A decline of 20% in CA19-9 levels during treatment was associated with significantly greater survival compared to no decline of CA19-9 during treatment.8
To further test this theory they evaluated whether a decrease of at least 50% in CA 19-9 levels during therapy had any relation to survival outcomes.
This study included 247 patients with advanced pancreatic cancer who were enrolled in a clinical trial to compare chemotherapy regimens including Gemzar® (gemcitabine) plus Xeloda® (capecitabine) to Gemzar only. Levels of CA 19-9 were measured before therapy began. Of these patients 157 also had CA 19-9 levels tested during treatment.
Patients with a CA 19-9 level prior to therapy that was at least 59 times higher that normal had a median overall survival of 5.8 months.
In comparison, patients with a CA 19-9 level prior to therapy that was less than 59 times higher that normal had a greater median overall survival of 10.3 months.
Neither a decrease in CA 19-9 levels early in treatment nor a decrease in levels of at least 50% during therapy were associated with survival.
The researchers concluded that higher levels of CA 19-9 prior to therapy are associated with reduced overall survival among patients with pancreatic cancer. However, reductions in CA 19-9 in response to therapy were not associated with survival and therefore do not provide a valid marker for survival once a patient begins therapy.
References: 
Ziske C, Schlie C, Gorschluter M, et al. Prognostic Value of CA 19-9 Levels in Patients with Inoperable Adenocarcinoma of the Pancreas Treated with Gemcitabine.
British Journal of Cancer. 2003;89:1413-1417.
Montgomery RC, Hoffman JP, Riley LB et.al.: Prediction of recurrence and survival by post-resection CA 19-9 values in patients with adenocarcinoma of the pancreas
Annals of Surgical Oncology. 4: 55-556, 1997.
Ko A, Renshw FG, Hwang J, et al.: Prognostic value of CA19-9 in patients with advanced pancreatic cancer receiving fixed-dose rate gemcitabine. Proceedings of the American Society of Clinical Oncol. 2003. Abstract #1039.
Wolff RA, Ayers GD, Crane CH, et al.: Serum CA19-9 levels in patients receiving preoperative gemcitabine (GEM)-based chemoradiation for resectable pancreatic adenocarcinoma. Proceedings of the American Society of Clinical Oncology. 2003. Abstract #1071.
Hess V, Glimelius B, Grawe P, et al. CA 19-9 tumour-marker response to chemotherapy in patients with advanced pancreatic cancer enrolled in a randomised controlled trial. The LancetOncology. 2008; 9:132-138.
Maisey N, Norman A, Hill A ,et al. CA19-9 As A Prognostic Factor in Inoperable Pancreatic Cancer: the Implication for Clinical Trials. British Journal of Cancer. 2005;93:740-743.