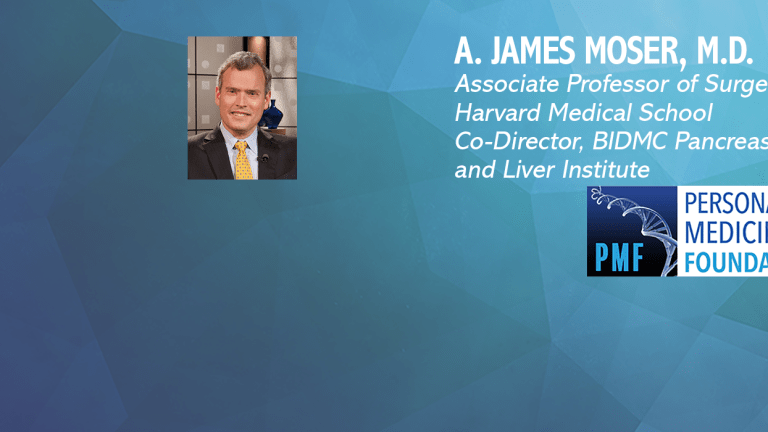 Ask The Expert About Pancreatic Cancer Dr James Moser Answered Your Questions
Dr. James Moser, Ass Prof of Surgery Harvard Medical School - Co Director Pancreatic Inst, BIDMC
by Cancer Connect and Harvard-BIDMC
Cancer Connect has partnered with the Beth Israel Deaconess Medical Center to provide you with the opportunity to engage with Pancreatic Cancer expert Dr. James Moser M.D. Dr. Moser is the Co-Director of The Pancreas Institute and an associate professor at Harvard Medical School. Dr. Moser will answer your submitted questions about the management of pancreatic cancer.
Questions About Pancreatic Cancer Answers...
Are there any new precision cancer medicines in development for the treatment of pancreatic cancer that appear promising?
I have heard of all sorts of advice for treatment of recurrent metastatic pancreatic cancer "out there" and some success stories, but don't know what to listen to and consider and what to disregard. Is there any evidence that eliminating sugar, cannabis or mega vitamins can slow the growth of the cancer?
I have read about vaccines being developed for the treatment of pancreatic cancer and I have low volume of disease. Are there any currently available?
If a pancreatic cancer can be surgically removed is it better to get chemotherapy/radiation before or after the whipple surgery?
I am currently in remission a second time following chemotherapy treatment of pancreatic cancer – since its likely to come back is there anything should take or do to prevent recurrence while the cancer is controlled?
My 55 yr old sister was diagnosed 6 months ago with stage 3 PC. She did 5 rounds of chemo which didn't shrink the tumor. She has stopped chemo & they are going to do radiation by placing gold clips around the tumor & use a robot that only 2 hospitals in Boston have. What are your thoughts on this type of radiation?
Assuming patients are receiving active care such as chemo or immuotherapy, what attitudes and behaviors help pancreatic cancer patients thrive emotionally and physically beyond medical norms in the midst of adversity in your experience? Are there any attitudes and behaviors are counterproductive?
In your opinion what are the most promising new treatments for metastatic pancreatic cancer?
​
About Dr. James Moser M.D.
Dr. A. James Moser, M.D., F.A.C.S., is Co-Director of the Pancreas and Liver Institute at Beth Israel Deaconess Medical Center (BIDMC) and associate professor of surgery at Harvard Medical School.
Dr. Moser graduated from Princeton University and received his medical degree from Washington University School of Medicine in St. Louis, MO. He completed general surgery residency and a research fellowship in membrane biology at the UCLA Center for Health Sciences and UCLA School of Medicine in Los Angeles, CA.
Dr. Moser is a leader in complex, advanced surgical oncology including vascular resection, and minimally-invasive surgery of the pancreas and liver. He is Co-Director of the multidisciplinary Pancreas and Liver Institute with Michael Curry, M.D., Director, Liver Transplantation, and Chief, Hepatology. The Pancreas and Liver Institute combines BIDMC's key strengths in advanced endoscopy with advanced minimally-invasive and robotic surgery, integrated patient-centered multidisciplinary care for pancreas and liver diseases, and leadership of innovative clinical trials within the Dana- Farber/Harvard Cancer Center.
He also co-directs BIDMC's Pancreatic Cancer Research Program with Dr. Manuel Hidalgo. Dr. Moser has been principal investigator of grants funded by the National Institutes of Health and investigator-initiated clinical trials for pancreatic cancer.
He is currently principal investigator for Project SurvivalTM, a mult-isite collaborative research effort to develop early prognostic and therapeutic bio-markers for pancreatic cancer. His current research group is supported by a large community of grateful patients and families funding patient-centered care for pancreatic cancer through the Alliance of Families Fighting Pancreatic Cancer. Dr. Moser has been published more than 100 times and is an active participant in multiple national and international societies including the American Surgical Association.