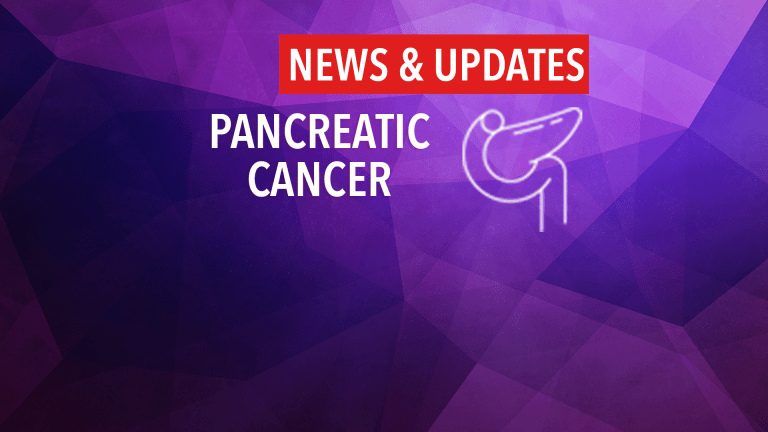 APX005M Combination Immunotherapy Promising for Pancreatic Cancer
U Penn doctors report combination immunotherapy with Opdivo, APX005M very active against pancreatic cancer.
by Dr. C.H. Weaver M.D. 4/2/2019
A novel combination of immunotherapy and chemotherapy being evaluated in pancreatic cancer has been reported to shrink cancer in the majority of patients. The interim analysis of a phase 1b clinical trial was reported at the 2019 AACR meeting in Atlanta and the early findings provide hope that the strategy of combining the APX00fM CD40 antibody with a checkpoint inhibitor and standard chemotherapy could be effective for treating pancreatic cancer.
Patients with previously untreated metastatic pancreatic cancer were treated with standard chemotherapy consisting of Gemzar (gemcitabine) and Abraxane (nab-paclitaxel) plus APX005M an experimental precision cancer medicine that targets the CD40 to enhance the immune system and half the patients also received the "checkpoint inhibitor" Opdivo (nivolumab).
About APX005M
APX005M is a humanized monoclonal antibody designed to stimulate the anti-tumor immune response. APX005M targets CD40, a co-stimulatory receptor that is essential for activating both innate and adaptive immune systems. Binding of APX005M to CD40 on antigen presenting cells (i.e., dendritic cells, monocytes and B-cells) is believed to initiate a multi-faceted immune response that enables multiple components of the immune system (e.g., T cells, macrophages) to work in concert against cancer.
At the time of the clinical trials interim analysis, 20 of 24 patients (83%) experienced a response to treatment and side effects from the treatment, were reported to be both expected and manageable. Several patients continued on the treatment for more than a year.
Join CancerConnect Pancreatic Cancer Community: Connect With Others & Keep Current
The clinical trial is currently ongoing at Parker Cancer Inst for Immunotherapy and member institutions including Memorial Sloan Kettering Cancer Center; The University of Pennsylvania, The University of Texas MD Anderson Cancer Center; University of California, Los Angeles; University of California, San Francisco; Stanford University; and Dana-Farber Cancer Institute.
Reference: Plenary Session Presentation Title: A Phase 1b Study of CD40 Agonistic Monoclonal Antibody APX005M Together with Gemcitabine (Gem) and nab-Paclitaxel (NP) with or without Nivolumab (Nivo) in Untreated Metastatic Ductal Pancreatic Adenocarcinoma (PDAC) Patients (Abstract #CT004)