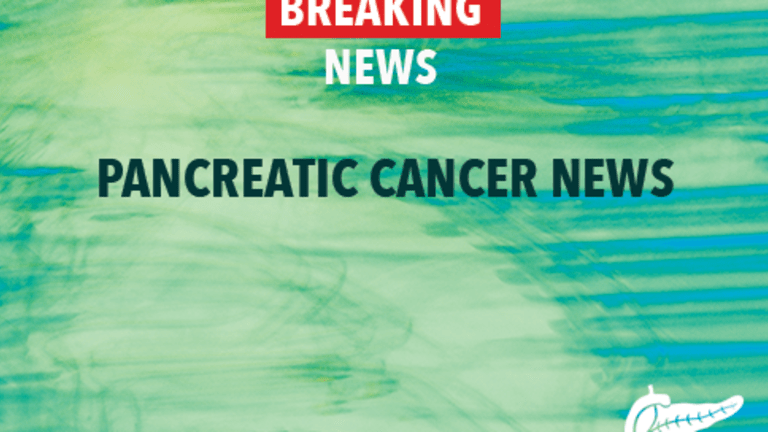 Addition of Tarceva™ to Gemzar® Improves Survival in Advanced Pancreatic Cancer
Addition of Tarceva™ to Gemzar® Improves Survival in Advanced Pancreatic Cancer
According to results presented at the Second Annual Gastrointestinal Cancers Symposium, the addition of the targeted agent Tarceva™ (erlotibinib) to the chemotherapy agent Gemzar® (gemcitabine) improves survival in patients with advanced pancreatic cancer.
The pancreas is an organ that is surrounded by the stomach, small intestine, bile ducts (tubes that connect the liver to the small intestine), gallbladder, liver and spleen. The pancreas helps the body to break down food and produces hormones, such as insulin, to regulate the body's storage and use of food. The American Cancer Society estimates that approximately 32,000 individuals will be diagnosed with pancreatic cancer in 2005 in the United States, and approximately 31,000 individuals will die of the disease. Advanced pancreatic cancer refers to cancer that has spread outside of the pancreas to distant and/or several sites in the body. Treatment for advanced pancreatic cancer is aimed at improving the duration of survival and/or quality of life for patients. The chemotherapy agent Gemzar® remains the standard treatment choice for advanced pancreatic cancer.
Tarceva™ is an epidermal growth factor receptor (EGFR) inhibitor. EGFRs are small proteins that are found on the surface of all cells. EGFR binds exclusively to small proteins circulating in the blood called growth factors. The binding action between EGFR and growth factors stimulates biological processes within the cell to promote growth of a cell in a strictly controlled manner. However, in many cancer cells, EGFR is either abundantly overexpressed or the EGFR biological processes that normally stimulate cell growth are constantly active, leading to the uncontrolled and excessive growth of the cancer cell. Tarceva™ is currently approved by the FDA for the treatment of advanced non-small cell lung cancer in patients who have received at least one prior therapeutic regimen.
A recent clinical trial that included multiple medical centers from around the world to evaluate the addition of Tarceva™ to Gemzar® in the treatment of advanced pancreatic cancer. The trial included 569 patients, approximately half of whom were treated with Tarceva™ plus Gemzar® and the other half of whom were treated with Gemzar® alone. Outcomes of the patients were directly compared. At one year, survival was 24% for patients who were treated with Tarceva™/Gemzar®, compared to 17% for those treated with Gemzar® alone. The average duration of survival was approximately 6.4 months for those treated with Tarceva™/Gemzar®, compared with 5.9 months for those treated with Gemzar® alone. Anti-cancer responses were achieved in approximately 9% of patients in both treatment groups. Rash and diarrhea were the most common side effects associated with treatment with Tarceva™.

Researchers concluded that the addition of Tarceva™ to Gemzar® improves survival in patients with advanced pancreatic cancer. Tarceva™ is the only EGFR inhibitor that has demonstrated an improvement in survival for the treatment of pancreatic cancer. Patients with advanced pancreatic cancer may wish to speak with their physician about their individual risks and benefits of participation in a clinical trial further evaluating Tarceva™ or other novel therapeutic approaches.
Reference: Genentech. Data From Phase III Study Show Tarceva Plus Gemcitabine Significantly Improves Survival Compared To Gemcitabine Alone In Advanced Pancreatic Cancer Patients. Available at: . Accessed January 2005.
Copyright © 2018 CancerConnect. All Rights Reserved.