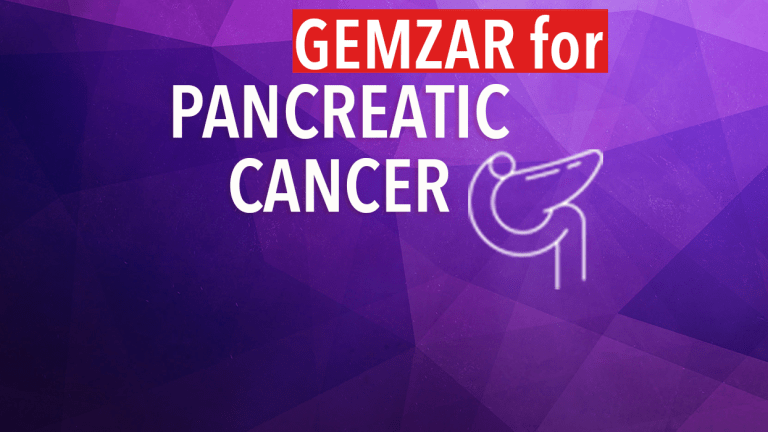 Addition of Gemzar® Improves Survival in Early Pancreatic Cancer
Addition of Gemzar® to Adjuvant Therapy Improves Survival in Early Pancreatic Cancer.
According to results presented at the 42nd annual meeting of the American Society of Clinical Oncology (ASCO), the addition of the chemotherapy agent Gemzar® (gemcitabine) to 5-fluorouracil (5-FU) and radiation therapy significantly improves survival in patients with operable pancreatic cancer.
The pancreas is a gland located in the abdomen and is responsible for producing juices that help digest foods, as well as the hormones glucagons and insulin, both of which help regulate blood sugar levels. Pancreatic cancer is the fourth leading cause of cancer deaths in the U.S.
Single-agent Gemzar has been the standard of care for patients with advanced or inoperable pancreatic cancer; however, studies continue evaluating optimal treatment strategies for patients with earlier stage pancreatic cancer that is considered surgically removable. Gemzar is currently approved for treatment of locally advanced or metastatic pancreatic cancer.
Researchers conducted a phase III trial, the phase of trials prior to FDA review, to further evaluate the addition of Gemzar in the treatment of operable pancreatic cancer. This trial, referred to as the RTOG 9704 trial, directly compared treatment including Gemzar/5-FU and radiation therapy to the same treatment without Gemzar. The trial included over 400 patients, all of whom underwent surgical removal of their cancer prior to additional therapy.1
Patients with tumors of the pancreatic head, which is the most common location of pancreatic cancer, had a significantly improved survival with in the Gemzar regimen.
Median survival for those with pancreatic head tumors was 20.6 months for those treated with the addition of Gemzar, compared with 16.9 months for those not receiving Gemzar.
At three years, survival for those with pancreatic head tumors was 32% among those treated with Gemzar, compared with 21% in the non-Gemzar group.
Patients with tumors in the pancreatic body or pancreatic tail did not achieve a significantly improved duration of survival with the addition of Gemzar.
There were no significant differences in serious non-hematologic (non-blood-related) side effects between the two treatment groups.
Severe blood-related side effects were greater among patients who received treatment with Gemzar; however, no differences in low levels of immune cells accompanied by fever were seen.

Researchers from Germany and Austria also conducted a multi-center Phase III clinical trial to evaluate the use of Gemzar in the treatment of early pancreatic cancer. This trial included 368 patients who had their pancreatic cancer completely removed by surgery and had not received prior therapy with chemotherapy or radiation therapy. One group of patients was then treated with Gemzar, while the other group underwent observation only. Follow-up was 53 months.
Cancer-free survival time was doubled in the group treated with Gemzar compared with the observation group (13.4 months with Gemzar and 6.9 months without).
At three and five years, the estimated cancer-free survival was 23.5% and 16.5%, respectively, in the group treated with Gemzar, compared with 7.5% and 5.5%, respectively, in the observation group.2
The studies demonstrate that the use of Gemzar following surgery significantly delays the time to a recurrence among patients with early pancreatic cancer. The authors state, "These results support the use of Gemzar as adjuvant chemotherapy in resectable carcinoma of the pancreas."
The researchers concluded that the addition of Gemzar to 5-FU-based therapy including radiation therapy improves survival among patients with pancreatic head cancers who are eligible for surgery. These results provide further evidence of the benefits of incorporating Gemzar into therapy for earlier stages of pancreatic cancers.
References: 
Regine W, Winter K, Abrams R, et al. RTOG 9704 a Phase III Study of Adjuvant Pre and Post Chemoradiation (CRT) 5-FU vs. Gemcitabine (G) for Resected Pancreatic Adenocarcinoma. Proceedings from the 42nd annual meeting of the American Society of Clinical Oncology. June 2006. Atlanta, GA. Abstract # 4007.
Oettle H, Post S, Neuhaus P, et al. Adjuvant chemotherapy with gemcitabine vs observation in patients undergoing curative-intent resection of pancreatic cancer. Journal of the American Medical Association. 2007;297:267-277.