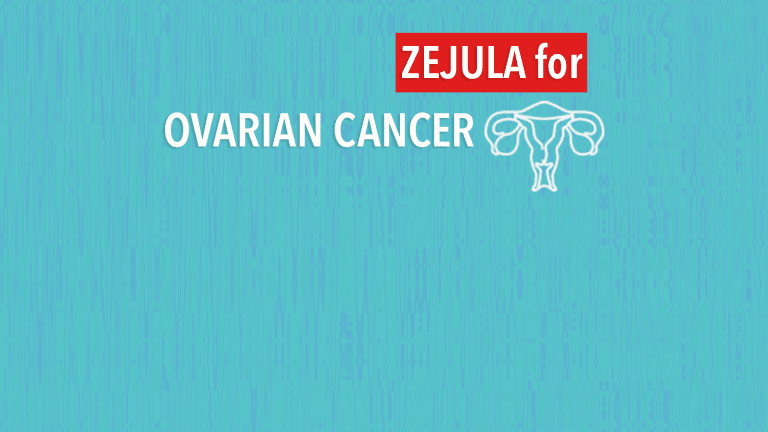 Zejula (Niraparib) Improves Progression-Free Survival in Ovarian Cancer
The PARP inhibitor Zejula is a precision cancer medicine that delays ovarian cancer progression and prolongs survival.
by Dr. C.H. Weaver M.D. updated 1/2022
Zejula (niraparib) maintenance therapy delays epithelial ovarian, fallopian tube, or primary peritoneal cancer progression when used in women who are in complete or partial response to platinum-based chemotherapy. Zejula is a poly ADP-ribose polymerase (PARP) inhibitor, but unlike other drugs in this class, it is active both in patients with and those without BRCA mutations.1,2 The BRCA gene plays a role in repairing DNA repair via homologous recombination (HR), and mutation of this gene is one way that individuals become HR deficient (HRD).
Each year in the United States, approximately 22,000 women are diagnosed with ovarian cancer, and is the fifth most common cause of cancer-related deaths among women. Since there are no generalized screening methods for the early detection of ovarian cancer, the majority of ovarian cancer is detected in advanced stages, once it has spread from the ovaries.3
About Zejula® (Niraparib)
Zejula is a poly (ADP-ribose) polymerase (PARP) inhibitor indicated for the maintenance treatment of adult patients with epithelial ovarian, fallopian tube, or primary peritoneal cancer who are in a complete or partial response to platinum-based chemotherapy. The PARP enzyme plays a role in DNA repair, including the repair of DNA damage from chemotherapy. Precision cancer medicines that target and inhibit this enzyme contribute to cancer cell death and increase sensitivity to chemotherapy and are called PARP inhibitors. By blocking this enzyme, DNA inside the cancerous cells is less likely to be repaired, leading to cell death and possibly a slow-down or stoppage of tumor growth. More about Zejula.
PRIMA Clinical Trial - First Line Treatment
The PRIMA clinical trial evaluated maintenance therapy with the PARP inhibitor Zejula in women with high-grade predominantly serous or endometrioid ovarian cancer, fallopian tube cancer, or primary peritoneal cancer who had completed frontline platinum-based chemotherapy and achieved a partial or complete remission. Women with mucinous or clear cell ovarian cancer were ineligible for enrollment in the trial.
The PRIMA trial revealed that the addition of Zejula maintenance following chemotherapy delayed cancer progression and prolonged survival. Overall 42% of women treated with Zejula remained cancer free 18 months from initiation of treatment compared to only 28% of those not treated with Zejula maintenance. The benefit was seen in all women irrespective of biomarker status.
​
​
​
Those testing positive for the BRCA mutation or HRD experienced the greatest benefit. Sixty percent of HRD positive patients survived without cancer progression 18 months from treatment compared to only 35% for women who were HRD negative.9
NOVA Clinical Trial - Recurrent Ovarian Cancer
The initial FDA approval was based on results from a clinical trial known as NOVA, which demonstrated a significant delay in the time to cancer progression for patients in remission treated with Zejula.
The trial was conducted in 553 patients with recurrent epithelial ovarian, fallopian tube, or primary peritoneal cancer who had received at least two prior treatments of platinum-based chemotherapy and were in a complete or partial response to the most recent chemotherapy treatment.
Patients in the NOVA trial were divided into two groups – those with germline BRCA mutation (n = 203) and those without (n = 350). The results showed a significant improvement in patients with or without the germline BRCA mutation.
One group of patients in the trial had a BRCA1 or BRCA2 germline gene mutation, which predisposes individuals to a significantly increased risk of developing ovarian cancer within their lifetime; one group of patients had homologous recombination deficiency (HRD) without germline BRCA1 or BRCA2 mutations; and one group of individuals had neither BRCA1 or BRCA2 germline mutations nor HRD.
Among patients with germline BRCA1 or 2 mutations, median survival time without progression of cancer (progression-free survival, PFS) was 21 months among patients treated with Zejula, compared with only 5.5 months for those who received placebo.
Among patients without germline BRCA1 or 2 mutations who were HRD-positive, the median PFS was 12.9 months for those treated with Zejula, compared with only 3.8 months for those who received placebo.
Among patients without germline BRCA1 or 2 mutations who had either HRD-positive or HRD-negative cancers, median PFS was 9.3 months for those treated with Zejula, compared with 3.9 months for who received placebo.
The most common serious side effects associated with Zejula were low blood cell levels.
Zejula appears to significantly improve PFS when used as maintenance therapy among patients with recurrent ovarian cancer who respond to platinum-based chemotherapy. Patients with BRCA1 and BRCA2 germline mutations appear to derive the greatest benefit; however, all patients in the NOVA trial experienced an improved PFS from treatment with Zejula.1
Zejula Combination Therapies
Zejula + Avastin
According to a small comparative clinical trial presented at the 2019 ASCO Annual Meeting, Zejula (niraparib) administered in combination with Avastin (bevacizumab) delayed the time to cancer progression compared with Zejula alone in women with platinum-sensitive recurrent ovarian cancer.
Patients were treated with either Zejula 300 mg once daily or the combination of Zejula 300 mg once daily and Avastin 15 mg/kg every 3 weeks until disease progression.
Patients treated with eh combination survived without cancer progression an average of 11.9 months compared to 5.5 months for those receiving Zejula alone.2
Zejula + Keytruda
Data from the TOPACIO trial of Zejula in combination with an anti-PD-1 monoclonal antibody, Keytruda® (pembrolizumab) were featured at the 2018 Society for Gynecologic Oncology (SGO) Annual Meeting on Women's Cancer in New Orleans, Louisiana. Preliminary results from the study suggest that the combination of Zejula and Keytruda could provide meaningful clinical benefit to patients with platinum resistant ovarian cancer, regardless of biomarker status.3
About Keytruda (pembrolizumab)
The cancer immunotherapy strategy known as programmed cell death 1 (PD-1) has generated great excitement for its ability to help the immune system recognize, and attack cancer. Keytruda is a fully humanized monoclonal antibody that binds with high-affinity to the PD-1 receptor that helps to restore the body's immune system in fighting cancer. It creates its anti-cancer effects by blocking a specific protein used by cancer cells called PD-L1, to escape an attack by the immune system. PD-1 is a protein that inhibits certain types of immune responses. Drugs that block PD-1 are called checkpoint inhibitors and enhance the ability of the immune system to fight cancer. Once PD-L1 is blocked, cells of the immune system are able to identify cancer cells as a threat, and initiate an attack to destroy the cancer.
TOPACIO is an early stage clinical trial designed to evaluate the safety and potential effectiveness of Zejula combined with the checkpoint inhibitor Keytruda in patients with recurrent, platinum-resistant ovarian cancer. Initial results for 62 patients were presented at the SGO meeting. Patients were heavily pretreated; 45% had been treated with 3 or more prior lines of chemotherapy, 97% with a prior taxane, 63% received prior Avastin (bevacizumab), and 29% were platinum refractory.
The combination of Zejula with Keytruda was well tolerated. Overall 25% of patients experienced a response to treatment and a disease control rate of 68% was reported. Response rates were not dependent on BRCA or HRD biomarker status. Duration of response was immature, with 9 of 15 (60%) of responders remaining on treatment, and over one-half of patients with disease control continuing on treatment or having already received treatment for over 6 months.The response rate of 25% compares favorably with other developed treatment options. Patients with platinum-resistant or refractory ovarian cancer have response rate of less than 15% to currently available therapies.2,4
Historical response to Zejula and other PARP inhibitors is 5-10% in patients without BRCA mutations who have platinum resistant disease3 and 0-14% in those with BRCA mutations and platinum refractory disease4. Response rates of 10-15% have been reported with anti-PD-1 antibodies in this ovarian cancer population5.Currently a registration study is being planned to confirm these early results of Zejula and a PD-1 inhibitor. The trial will use TSR-042, another anti-PD-1 antibody instead of keytruda.
About Platinum Resistant Ovarian Cancer
Each year in the United States, roughly 22,000 women are diagnosed with ovarian cancer and more than 15,000 die of the disease. Treatment for ovarian cancer commonly involves surgery and/or chemotherapy. Women who experience cancer progression during or within six months of treatment with a platinum-based chemotherapy regimen are considered to have platinum-resistant cancer. Patients with platinum-resistant or platinum-refractory ovarian cancer have limited treatment options available to them. Approximately 10,000 women in the US begin treatment for platinum-resistant or refractory ovarian cancer each year.(3)
References:
Mansoor R. Mirza, M.D et. al. Niraparib Maintenance Therapy in Platinum-Sensitive, Recurrent Ovarian Cancer N Engl J Med 2016; 375:2154-2164
Avall-Lundqvist E, Birrer MJ, et al. Combination of Zejula and bevacizumab versus Zejula alone as treatment of recurrent platinum-sensitive ovarian cancer: A randomized controlled chemotherapy-free study—NSGO-AVANOVA2/ENGOT-OV24. Presented at: the 2019 ASCO Annual Meeting; May 31-June 4, 2019; Chicago, IL. Abstract 5505.
Data From TOPACIO Trial Reported at SGO Demonstrates Compelling Clinical Activity of ZEJULA in Combination With an Anti-PD-1 Antibody in Patients With Platinum Resistant/Refractory Ovarian Cancer
NCCN clinical practice guidelines in oncology. Ovarian cancer, including fallopian tube cancer and primary peritoneal cancer. Version 2. 2018. nccn.org/professionals/physician_gls/pdf/ovarian.pdf [accessed 03.25.18]
Gelmon, et al. Lancet Oncol 2011; Sandhu, et al. Lancet Oncol
Fong J Clin Onocol2010, Domchek, et al. Gyn Oncol
Hamanishi, et al. ASCO2015 (some patients had clear cell cancer); Varga, et al. ASCO
Tesaro Inc., press release. Tesaro's niraparib significantly improved progression-free survival for patients with ovarian cancer in both cohorts of the phase 3 NOVA trial. Available at: Tesaro is now part of GSK. Accessed July 6, 2016.