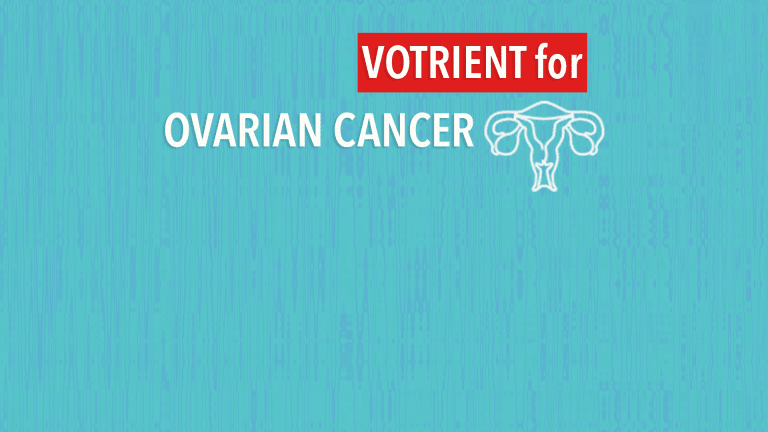 Votrient Maintenance Therapy in Ovarian Cancer
Maintenance therapy with Votrient delays cancer progression but does not appear to improve survival duration.
by Dr. C.H. Weaver M.D. updated 12/2019
In a Phase III clinical trial, treatment with Votrient® (pazopanib) after initial chemotherapy initially appeared to delay cancer progression among women with advanced ovarian cancer however longer follow up did not demonstrate an improvement in overall survival.
Ovarian cancer is often diagnosed at an advanced stage, highlighting the importance of finding new and more effective ways of treating this stage of the disease.
Votrient is an oral drug that blocks several biological pathways involved in the growth of tumors and new blood vessels. It is used for the treatment of advanced kidney cancer and advanced soft-tissue sarcoma.
To evaluate Votrient for the treatment of ovarian cancer, researchers conducted a Phase III clinical trial among 940 women with Stage III or Stage IV ovarian cancer, fallopian tube cancer, or primary peritoneal cancer. All of the study participants had undergone surgery and initial chemotherapy. Women were only included in the study if chemotherapy had successfully prevented their cancer from worsening.
After completion of chemotherapy, study participants received either Votrient or a placebo daily for up to two years. Treatment that is given after a patient responds to initial treatment, but before cancer progression, is called maintenance treatment.
Maintenance treatment with Votrient initially improved progression-free survival (survival without the cancer worsening). Progression-free survival was 17.9 months among women treated with Votrient and 12.3 months among women treated with placebo.
As of the final analysis however there were no differences observed in overall survival between patients given Votrient versus compared to placebo. The average survival duration was 59.1 months for Votrient and 64 months for placebo.
These results suggest that maintenance treatment with Votrient delays cancer progression among women with advanced ovarian cancer but does not ultimately contribute to an overall survival benefit.
Side effects of Votrient included high blood pressure, diarrhea, nausea, headache, and fatigue.
References:
Du Bois A, Floquet A, Kim JW et al. Randomized, double-blind, phase III trial of pazopanib versus placebo in women who have not progressed after first-line chemotherapy for advanced epithelial ovarian, fallopian tube, or primary peritoneal cancer (AEOC): results of an international Intergroup trial (AGO-OVAR16). Presented at the 49th Annual Meeting of the American Society of Clinical Oncology. May 31-June 4, 2013; Chicago, IL. Abstract LBA5503.
OS; Gynecol Oncol. 2019;155[2]:186-191