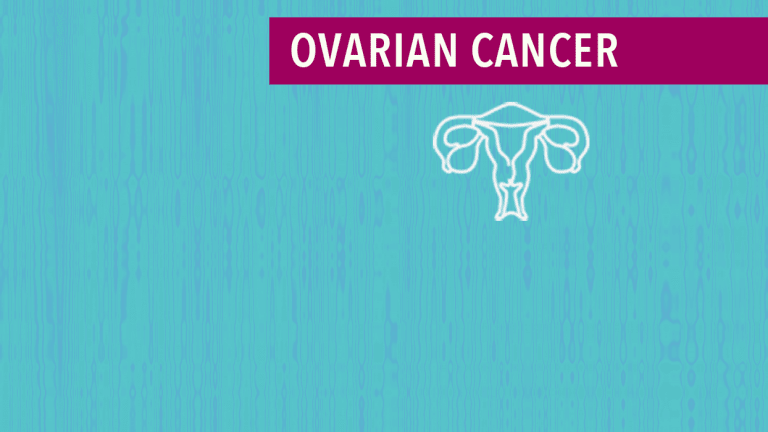 Update on PARP Inhibitors & Other Precision Cancer Medicines for Ovarian Cancer
PARP inhibitor treatment in ovarian cancer - updated results on risk of MDS and AML
by Dr. C.H. Weaver M.D. updated 10/2022
Each year in the United States, roughly 22,000 women are diagnosed with ovarian cancer and more than 15,000 die of the disease. Treatment for ovarian cancer commonly involves surgery and/or chemotherapy.
There is no longer a "one-size-fits-all" approach to ovarian cancer treatment - the behavior of the cancer and its response to treatment can vary widely. By exploring the reasons for this variation, researchers have begun to pave the way for more personalized cancer treatment. It is becoming increasingly clear that specific characteristics of cancer cells and cancer patients can have a profound impact on prognosis and treatment outcome. Although factoring these characteristics into treatment decisions makes cancer care more complex, it also offers the promise of improved outcomes.
Not all cancer cells are alike
Cancer cells may differ from one another based on what genes have mutations. Precision cancer medicine utilizes molecular diagnostic testing, including DNA sequencing, to identify cancer-driving abnormalities in a cancer's genome. This "genomic testing" is performed on a biopsy sample of the cancer and increasingly in the blood using a "liquid biopsy"
Once a genetic abnormality is identified, a specific precision cancer medicine or targeted therapy can be designed to attack a specific mutation or other cancer-related change in the DNA programming of the cancer cells.
Precision cancer medicine uses targeted drugs and immunotherapies engineered to directly attack the cancer cells with specific abnormalities, leaving normal cells largely unharmed.
Precision cancer medicines can be used both instead of and in addition to chemotherapy to improve treatment outcomes.
By testing an individual's ovarian cancer for specific unique biomarkers doctors continue to develop new precision medicines. Individuals not previously tested undergo genomic testing to determine whether newer precision cancer medicines are a treatment option.
PARP Inhibitors for Ovarian Cancer with BRCA Mutations
The poly ADP-ribose polymerase (PARP) enzyme plays a role in DNA repair, including the repair of DNA damage from chemotherapy. Precision cancer medicines that target and inhibit this enzyme may contribute to cancer cell death and increased sensitivity to chemotherapy and are called PARP inhibitors. By blocking this enzyme, DNA inside the cancerous cells is less likely to be repaired, leading to cell death and possibly a slow-down or stoppage of tumor growth.1-9
PARP inhibitors have the greatest effect in women with mutations of the BRCA genes, who represent about 15% of ovarian-cancer patients. But recent research, still ongoing, indicates that the drugs may benefit an additional 35% of patients with different genetic profiles.
2022 ASCO Guidelines for PARP Inhibitors
Updated guidelines recommend PARP inhibitor maintenance for patients with newly diagnosed, stage III-IV, high-grade serous or endometrioid ovarian cancer who responded to first-line platinum-based chemotherapy.
Lynparza and Zejula are options for patients with germline or somatic pathogenic or likely pathogenic variants in BRCA1/2.
Rubraca and Zejula are options for patients who are homologous recombination deficiency (HRD)-positive or those who are HRD-negative and do not have BRCA mutations.
The guidelines state that second-line or later maintenance with a PARP inhibitor is an option for patients with recurrent epithelial ovarian cancer who have not already received a PARP inhibitor and who responded to platinum-based therapy, regardless of BRCA mutation status.
Lynparza (olaparib): The first PARP inhibitor approved for treating recurrent ovarian cancer, Lynparza (olaparib) was approved for patients with specific mutations in the BRCA genes (gBRCAm) which can be identified in blood samples from patients with ovarian cancer.1
The Paola-1 clinical trial evaluated the addition of Lynparza to Avastin maintenance in women with stage III or IV ovarian cancer following a partial or complete remission to chemotherapy treatment. Women treated with Lynparza + Avastin delayed cancer progression and prolonged survival on average 22 months compared to 16 months if treated with Avastin without Lynparza. The benefit was even greater in women who tested positive for the BRCA mutation and women who were HRD-positive but no benefit was seen in HRD negative patients.9
Zejula (Niraparib): when used as maintenance therapy following platinum-based chemotherapy delays the time to cancer progression and prolongs survival as part of initial treatment and among patients with recurrent ovarian cancer. All patients appear to benefit from Zejula treatment but those with BRCA 1 or 2 germline mutations or HRD appear to derive the greatest benefit.
Results of the PRIMA clinical trial evaluating maintenance therapy with Zejula in women with high-grade predominantly serous or endometrioid ovarian cancer, fallopian tube cancer, or primary peritoneal cancer who had completed frontline platinum-based chemotherapy and achieved a partial or complete remission were released at the Oct. 2019 ESMO meetings. Women with mucinous or clear cell ovarian cancer were ineligible for enrollment in the trial.

The PRIMA trial revealed that the addition of Zejula maintenance following chemotherapy delayed cancer progression and prolonged survival. Overall 42% of women treated with Zejula remained cancer free 18 months from initiation of treatment compared to only 28% of those not treated with Zejula maintenance. The benefit was seen in all women irrespective of biomarker status. Those testing positive for the BRCA mutation or HRD experienced the greatest benefit. Sixty percent of HRD positive patients survived without cancer progression 18 months from treatment compared to only 35% for women who were HRD negative.8
Researchers have also reported the results of approximately 500 women who had responded to platinum-based chemotherapy for recurrent ovarian cancer who were then treated with Zejula.3
One group of patients in the trial had a BRCA1 or BRCA2 germline gene mutation, which predisposes individuals to a significantly increased risk of developing ovarian cancer within their lifetime; one group of patients had without germline BRCA1 or BRCA2 mutations; and one group of individuals had neither BRCA1 or BRCA2 germline mutations nor HRD.
Among patients with germline BRCA 1 or 2 mutations, median survival time without progression of cancer (progression-free survival, PFS) was 21 months among patients treated with Zejula, compared with only 5.5 months for those who received placebo.
Among patients without germline BRCA1 or 2 mutations who were homologous recombination deficiency (HRD) positive, the median PFS was 12.9 months for those treated with naraparib, compared with only 3.8 months for those who received placebo.
Among patients without germline BRCA1 or 2 mutations who had either HRD-positive or HRD-negative cancers, median PFS was 9.3 months for those treated with naraparib, compared with 3.9 months for who received placebo.
Rubraca™ (rucaparib): In patients with BRCA - positive ovarian cancer that had returned after previous treatment more than half of the patients treated with Rubraca responded to treatment for an overall response rate of 65%. Patients who had the longest time to cancer progression before the study had the highest response rates. The ARIEL clinical trial demonstrated that Rubraca® treated patients survived on average 13.7 months without cancer progression compared to 5.4 months for those not receiving Rubraca® leading to FDA approval as maintenance therapy.4
Veliparib: The Velia clinical trial evaluated the addition of the PARP inhibitor veliparib to front-line chemotherapy and maintenance in women with high-grade serous carcinoma of ovarian, fallopian tube, or primary peritoneal origin.6
In Velia previously untreated patients with stage III-IV ovarian cancer were treated with six cycles of carboplatin plus paclitaxel following primary cytoreduction or neoadjuvant chemotherapy with interval cytoreduction. Patients were treated with chemotherapy plus veliparib then veliparib maintenance, chemotherapy plus veliparib then placebo maintenance, or chemotherapy plus placebo then placebo maintenance, and directly compared.
Veliparib added to front-line chemotherapy and continued as maintenance significantly delayed cancer recurrence and prolonged survival in all patients, regardless of BRCA or HRD status. Average survival duration without cancer recurrence was 23.5 months compared to 17.3 in women not receiving Velia treatment and maintenance therapy. The benefit of Velia was greater in BRCA-positive patients but provided no additional benefit in HRd patients.
Can a PARP be Used in Relapsed Ovarian Cancer Previously Treated With A PARP?
Rechallenge with maintenance olaparib following response to platinum-based chemotherapy significantly improved progression-free survival in heavily pretreated patients with relapsed ovarian cancer, irrespective of BRCA status, according to results of the phase 3 OReO/ENGOT Ov-38 study -  results presented during the 2021 ESMO Congress.10
What About MDS & AML?
PARP inhibitors appear to increase risk for myelodysplastic syndromes and acute leukemia.
Concern over PARP, inhibitors increasing the risk for secondary myelodysplastic syndrome and acute myeloid leukemia led researchers to conduct a review and safety meta-analysis of 28 randomized controlled clinical trials including 7,307 patients treated with a PARP inhibitor or placebo. Trials evaluating Lynparza, Zejula, and Rubraca were included in the analyses. The analysis found 99 women who developed myelodysplastic syndrome and 79 with AML associated with PARP inhibitor use. MDS or AML occurred a median of 18 months from initiation of treatment.
This represents an incidence of 3.1% and an almost doubling of risk compared to placebo. On an individual bases the incidence of MDS/AML is 8% in the SOLO 2 and 1.5% in the SOLO 1 clinical trials. Individuals considering treatment with a PARP inhibitor should discuss this potential risk which their physicians and balance it against the benefit of treatment.
Checkpoint Inhibitors
Checkpoint inhibitors are a novel precision cancer immunotherapy that helps to restore the body's immune system in fighting cancer by releasing checkpoints that cancer uses to shut down the immune system. PD-1 and PD-L1 are proteins that inhibit certain types of immune responses, allowing cancer cells to evade detection and attack by certain immune cells in the body. A checkpoint inhibitor can block the PD-1 and PD-L1 pathway and enhance the ability of the immune system to fight cancer. By blocking the binding of the PD-L1 ligand these drugs restore an immune cells' ability to recognize and fight the lung cancer cells.
The rationale for combining a PARP and checkpoint inhibitor in ovarian cancer comes from pre-clinical evidence that PARP inhibition increases PD-L1 expression, and that increased PARP inhibitor–induced DNA damage might enhance immune recognition.
Currently available checkpoint inhibitors:
Keytruda® (pembrolizumab)
Opdivo (nivolumab)
Imfinzi (durvalumab)
Tecentriq® (atezolizumab)
What do the studies show?
References:
fda.gov/newsevents/newsroom/pressannouncements/ucm427554.htm
Shapira-Frommer R, Oza AM, Domchek SM, et al. A phase II open-label, multicenter study of single-agent rucaparib in the treatment of patients with relapsed ovarian cancer and a deleterious BRCA mutation. Journal of Clinical Oncology. 33, 2015 (supplement; abstract 5513).
Tesaro Inc., press release. Tesaro's niraparib significantly improved progression-free survival for patients with ovarian cancer in both cohorts of the phase 3 NOVA trial. Available at: Tesaro is now part of GSK. Accessed July 6, 2016.
U.S. Food and Drug Administration. (2016.) FDA grants accelerated approval to new treatment for advanced ovarian cancer. [Press release.
Shapira-Frommer R, Oza AM, Domchek SM, et al. A phase II open-label, multicenter study of single-agent rucaparib in the treatment of patients with relapsed ovarian cancer and a deleterious BRCA mutation. Journal of Clinical Oncology. 33, 2015 (supplement; abstract 5513).
Tesaro Inc., press release. Tesaro's niraparib significantly improved progression-free survival for patients with ovarian cancer in both cohorts of the phase 3 NOVA trial. Available at: . Accessed July 6, 2016.
Phase 3 PRIMA trial of Zejula® (niraparib) is the first study to show a PARP inhibitor significantly improves PFS, regardless of biomarker status, when given as monotherapy in women with first-line platinum responsive advanced ovarian cancer
OVARIAN CANCER: MORE WOMEN BENEFIT FROM MAINTENANCE COMBINED TARGETED THERAPY [ESMO 2019 PRESS RELEASE
Pujade-Lauraine E, Selle F, Scambia G, et al. Maintenance olaparib rechallenge in patients (pts) with ovarian carcinoma (OC) previously treated with a PARP inhibitor (PARPi): phase IIIb OReO/ENGOT Ov-38 trial. Presented at: 2021 ESMO Congress; September 16-21, 2021; virtual. Abstract LBA33.
Tew WP, Lachetti C, Kohn EC, et al. Poly(ADP-ribose) polymerase inhibitors in the management of ovarian cancer: ASCO Guideline Rapid Recommendation Update. J Clin Oncol. Published online September 23, 2022. doi:10.1200/JCO.22.01934