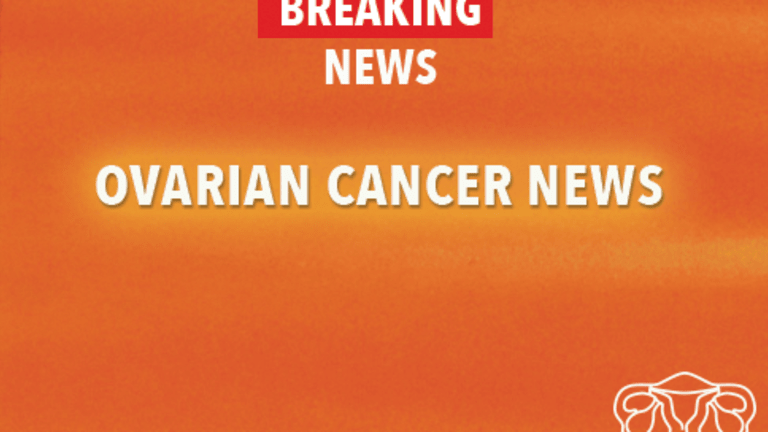 Telcyta™ Promising in Refractory Ovarian Cancer
Telcyta™ Promising in Refractory Ovarian Cancer
According to results presented at the 2004 annual meeting of the American Society of Gynecologic Oncologists, the novel agent Telcyta™ (TLK286) as a single agent appears to produce anti-cancer responses and stabilize cancer progression in patients with ovarian cancer that has stopped responding to standard chemotherapy.

1
Ovarian cancer is a common malignancy, with about 25,000 new cases diagnosed each year in the United States. The ovary makes female hormones and stores all of the eggs that are released once a month during ovulation. There are two ovaries, one on each side of the uterus. The earlier ovarian cancer is detected, the higher the cure rate. Unfortunately, because ovarian cancer begins deep in the pelvis and often does not cause any specific symptoms until advanced stages, the disease often goes unnoticed until it has spread and is considered incurable. Ovarian cancer is known as the "silent killer". Advanced ovarian cancer refers to cancer that has spread from the ovaries to distant or several sites in the body.
Standard therapy for advanced ovarian cancer may consist of surgery to remove as much of the cancer as possible, and chemotherapy. The standard chemotherapy agents used for treatment of ovarian cancer are a platinum (carboplatin, cisplatin) and/or a taxane (paclitaxel, docetaxel). Once the cancer stops responding to chemotherapy, it is referred to as refractory (cancer progresses within 6 months of therapy) or resistant (cancer progresses after 6 months of therapy). At present, patients with refractory or resistant ovarian cancer are left with few effective treatment options. Research is ongoing to evaluate new therapeutic approaches for patients with this disease.
Telcyta™ is an agent that is still in clinical trials, but is proving to be effective in various cancers. Telcyta™ is a molecule that is activated by an enzyme (protein and/or carbohydrate) called glutathione S-transferase P1-1 (GSTP1-1). GSTP1-1 is overexpressed in many cancer cells, but not in normal cells. In addition, overexpression of GSTP1-1 is associated with cells being resistant to anti-cancer effects of chemotherapy agents. When activated by GSTP1-1, Telcyta™ initiates processes in the cell that ultimately lead to cellular death. A benefit of this treatment approach is that Telcyta™ tends to target and kill only cancerous cells, resulting in minimal side effects. A previous clinical trial has demonstrated that the combination of Telcyta™ and carboplatin produces anti-cancer responses in patients with ovarian cancer that had stopped responding to treatment with carboplatin alone.

2
A multi-center clinical trial was recently conducted to evaluate Telcyta™ as a single agent in patients who had stopped responding to therapy with a platinum agent. This trial included 66 patients who had been treated with an average of 3 prior treatment regimens. Patients were divided into two groups – one group was treated with a lower-dose of Telcyta™ (960 mg/ m2 weekly), and the second group was treated with a higher-dose of Telcyta™ (1,000 mg/m2 weekly). Following treatment with Telcyta™, cancer stabilization occurred in 50% of patients. Anti-cancer responses occurred in 15% of patients treated at the higher dose, and in 19% of patients treated at the lower dose. Treatment with Telcyta™ was well tolerated. Telcyta™ is currently in the last phase of clinical trials prior to FDA approval for the treatment of ovarian cancer.

The researchers concluded that Telcyta™ appears to produce anti-cancer responses in patients with advanced ovarian cancer who have stopped responding to standard chemotherapy. Patients with refractory ovarian cancer may wish to speak with their physician about the risks and benefits of participation in a clinical trial further evaluating treatment with Telcyta™ or other promising therapeutic approaches. Two sources of information regarding ongoing clinical trials include the National Cancer Institute (cancer.gov) and www.cancerconsultants.com. Personalized clinical trials are also performed by cancerconsultants.com.
References:
1.Kavanagh J, Kudelka A, Gershenson D, et al. Phase 2 Study of TLK286 (TELCYTATM, A GST P1-1 Activated Glutathione Analog) in Patients with Platinum and Paclitaxel Refractory or Resistant Ovarian Cancer. Proceedings from the 35th annual meeting of the American Society of Gynecologic Oncologists. February 2004.
2.Telik. Telik's Telcyta™ demonstrated 63% objective response rate in combination with carboplatin in platinum refractory or resistant ovarian cancer in a phase 1-2A trial. Available at: . Accessed November 2003.
Copyright © 2018 CancerConnect. All Rights Reserved.