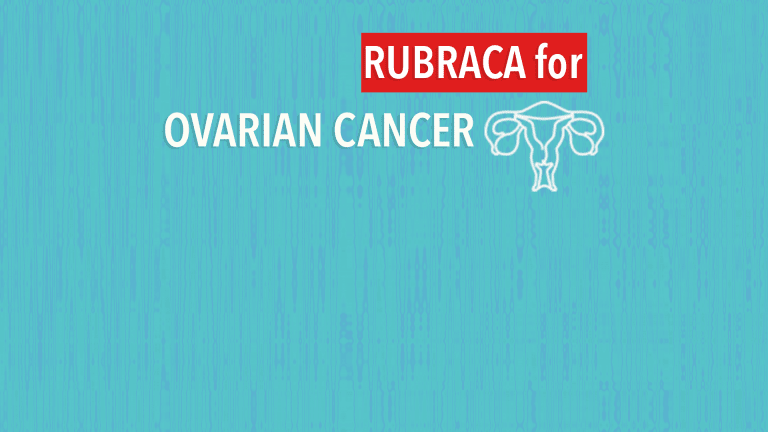 Rubraca Significantly Improves Survival Ovarian Cancer
The PARP Inhibitor Rubraca significantly improves ovarian cancer treatment-results as first line therapy just published.
by Dr. C.H. Weaver M.D. updated 4/2022
Rubraca® (rucaparib) is approved for the maintenance treatment of adult patients with recurrent epithelial ovarian, fallopian tube, or primary peritoneal cancer who are in a complete or partial response to platinum-based chemotherapy.1-3 Results of the ATHENA clinical trial released in April 2022 demonstrate the Rubraca monotherapy is also very effective when used as part of the initial overall treatment strategy for patients with ovarian cancer.9
Rubraca® is an orally taken poly ADP-ribose polymerase (PARP) inhibitor that works by blocking PARP1, PARP2 and PARP3 enzymes involved in repairing damaged DNA. By blocking these enzymes, DNA inside the cancer cells with damaged BRCA genes may be less likely to be repaired, leading to cell death and possibly a slow-down or stoppage of tumor growth.
Ovarian cancer patients can be classified based on their cancers genetic biomarker status: those with homologous recombination deficiencies, or HRD-positive, include those with a mutation of the BRCA gene (BRCAm), inclusive of germline and somatic mutations of BRCA, which represent approximately 25 percent of patients; and those with a range of genetic abnormalities other than BRCAm, which result in other homologous recombination deficiencies that represent an additional estimated 25 percent of patients (HRD-positive, BRCAwt); in addition, those whose test results show no deficiencies in homologous recombination repair (HRD-negative) represent the remaining approximate 50 percent of patients.5-8
Rubraca® Improves Progression-Free Survival as First-Line Maintenance Treatment in Women with Ovarian Cancer
The ATHENA-MONO clinical trial is an international, randomized, phase III trial evaluating Rubraca monotherapy in women with newly diagnosed ovarian cancer who responded to their first-line chemotherapy. ATHENA-MONO enrolled 538 women with high-grade ovarian, fallopian tube, or primary peritoneal cancer. Compared to placebo, Rubraca monotherapy improved the duration of cancer free survival in all patient groups evaluated.
20.2 months vs 9.2 months for all patients
28.7 months vs 11.3 months HRD-positive patients
Not Reached vs 14.7 months BRCA positive patients
ATHENA-MONO Side Effects: The most common side effects were anemia/decreased hemoglobin, neutropenia and thrombocytopenia (7.1%). The rate of treatment-emergent myelodysplastic syndrome (MDS)/acute myeloid leukemia (AML) in the Rubraca arm was 0.2%, and no patients on the placebo arm experienced treatment-emergent MDS/AML.
Advanced Ovarian Cancer The ARIEL3 Clinical Trial
The ARIEL3 clinical trail evaluating Rubraca enrolled 564 patients with high-grade epithelial ovarian, fallopian tube or primary peritoneal cancer previously treated with at least two prior platinum-based chemotherapy treatment regimens, and achieved a complete or partial response to their most recent platinum-based regimen. There were no genomic selection criteria for this study. Half the patients were treated with Rubraca given as a maintenance treatment and their outcomes were compared to those not receiving maintenance.
The trial evaluated two prospectively defined molecular sub-groups of individuals:
Tumor BRCA mutant (tBRCAmut) patients, inclusive of germline and somatic mutations of BRCA;
HRD-positive patients, including BRCA-mutant patients and BRCA wild-type with high loss of heterozygosity, or LOH-high patients;
Rubraca® demonstrated significant improvement for all 564 patients enrolled in the study. Rubraca® treated patients survived on average 13.7 months without cancer progression compared to 5.4 months for those not receiving Rubraca®.1
These and other data led to the U.S. Food and Drug Administration (FDA) granting accelerated approval to Rubraca™ for the treatment of women with advanced ovarian cancer who have been treated with two or more chemotherapies and whose tumors have a BRCA gene mutation.
The FDA evaluated two, single-arm clinical trials involving 106 patients with BRCA gene mutations whose tumors progressed after two or more chemotherapy regimens. BRCA mutations were confirmed in 96% of patients by using FDA approved Foundation Focus™ CDxBRCA companion diagnostic. Fifty-four percent of the participants who received Rubraca in the trials experienced complete or partial shrinkage of their tumors lasting a median of 9.2 months.
References:
phx.corporate-ir.net/phoenix.zhtml?c=247187&p=irol-newsArticle&ID=2281511
U.S. Food and Drug Administration. (2016.) FDA grants accelerated approval to new treatment for advanced ovarian cancer. [Press release.]

Monk BJ et al. ATHENA (GOG-3020/ENGOT-ov45): a randomized, phase III trial to evaluate rucaparib as monotherapy (ATHENA–MONO) and rucaparib in combination with nivolumab (ATHENA–COMBO) as maintenance treatment following frontline platinum-based chemotherapy in ovarian cancer. Int J Gynecol Cancer. 2021

Quesada S, Fabbro M, Jerome Solassol. Toward more comprehensive homologous recombination deficiency assays in ovarian cancer part 2: medical perspectives, Cancers. 2022; 14, 1098.

Konstantinopoulos PA, Ceccaldi R, Shapiro GI, D'Andrea AD. Homologous recombination deficiency: exploiting the fundamental vulnerability of ovarian cancer. Cancer Discov. 2015;5(11):1137-1154

Pennington KP, Walsh T, Harrell MI, et al. Germline and somatic mutations in homologous recombination genes predict platinum response and survival in ovarian, fallopian tube, and peritoneal carcinomas. Clin Cancer Res. 2014;20(3):764-775.

Pal T, Permuth-Wey J, Betts JA, et al. BRCA1 and BRCA2 mutations account for a large proportion of ovarian carcinoma cases. Cancer. 2005;104(12):2807-2816.

https://ir.clovisoncology.com/investors-and-news/news-releases/press-release-details/2022/Clovis-Oncologys-Rubraca-Rucaparib-Significantly-Improves-Progression-Free-Survival-in-First-line-Maintenance-Treatment-in-Women-with-Ovarian-Cancer-Regardless-of-Their-Biomarker-Status-in-Phase-3-ATHENA-MONO-Trial/default.aspx