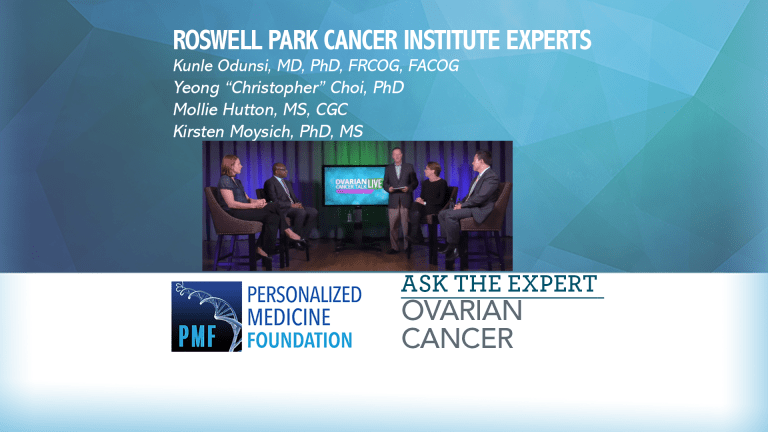 Roswell Park Cancer Institute Experts Discuss Ovarian Cancer Research
Roswell Park Cancer Institute Experts Discuss Ovarian Cancer Research, Immunotherapy, and Personalized Medicine
The multidisciplinary panel of Roswell Park Cancer Institute clinicians, researchers and genetic specialists discuss the latest in ovarian cancer research and new discoveries in immunotherapy and personalized medicine that are translating into new hope for patients. Topics also include early detection for those at high risk, genetic predisposition for the disease, resources and advice for survivors and the latest in prevention.
Panel Members
Kunle Odunsi, MD, PhD, FRCOG, FACOG
Dr. Adekunle "Kunle" Odunsi is Chair of the Department of Gynecologic Oncology, Executive Director of the Center for Immunotherapy and Co-Leader of the Tumor Immunology and Immunotherapy research program at Roswell Park Cancer Institute. Dr. Odunsi is the principle investigator for the Roswell Park and University of Pittsburgh Cancer Institute (UPCI) Ovarian Cancer SPORE grant, which aims to develop a comprehensive, translational approach to improving survival for ovarian cancer patients.
Yeong "Christopher" Choi, PhD
Dr. Choi is an Assistant Professor of Oncology and Director of the Center for Immunotherapy Good Manufacturing Practice (GMP) Therapeutic Cell Production Facility at Roswell Park. He has spent a decade in the development of cell and gene-based therapies to improve the medical outcome of life-threatening diseases.
Mollie Hutton, MS, CGC
Mollie Hutton is a Certified Genetic Counselor in the Clinical Genetics Service Department at Roswell Park. She identifies genetic factors associated with hereditary cancer syndromes and calculates increased familial risk.
Kirsten Moysich, PhD, MS
Kirsten Moysich, PhD, MS, is a Professor of Oncology in the Department of Cancer Prevention and Control and Department of Immunology. She is the Co-Principal Investigator of the RPCI-UPCI Ovarian Cancer SPORE project, and is the Co-Leader of the RPCI Gynecological Cancer Disease Site Research Group, which focuses on translational ovarian cancer research.