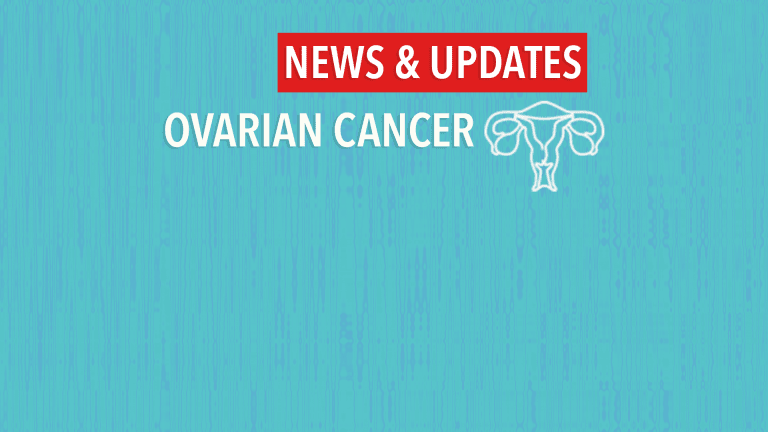 PARP – Checkpoint Inhibitor Combo Promising in Ovarian Cancer
Combination of novel precision cancer medicines represents future direction of ovarian cancer treatment.
by Dr. C.H. Weaver M.D. Updated 6/2019
The combination of a PARP inhibitor and a checkpoint inhibitor appears promising as treatment for patients with ovarian cancer, according to results of a clinical study reported at the 2018 Society for Gynecologic Oncology Annual Meeting on Women's Cancer in New Orleans, Louisiana. Preliminary results from the study suggest that the combination could provide meaningful clinical benefit to patients with platinum sensitive ovarian cancer, regardless of biomarker status.
Precision cancer medicines and immunotherapy are rapidly advancing the treatment of cancer. PARP inhibitors are increasingly used in the management of ovarian cancer and checkpoint inhibitors have improved treatment outcomes across a number of cancer types but have not been widely evaluated in ovarian cancer.
Checkpoint inhibitors: The cancer immunotherapy strategy known as programmed cell death 1 (PD-1) has generated great excitement for its ability to help the immune system recognize, and attack cancer. This precision cancer immunotherapy helps to restore the body's immune system in fighting cancer by releasing checkpoints that cancer uses to shut down the immune system. PD-1 and PD-L1 are proteins that inhibit certain types of immune responses, allowing cancer cells to evade detection and attack by certain immune cells in the body. A checkpoint inhibitor can block the PD-1 and PD-L1 pathway and enhance the ability of the immune system to fight cancer. By blocking the binding of the PD-L1 ligand these drugs restore an immune cells' ability to recognize and fight the cancer cells.
Currently available checkpoint inhibitors:
Keytruda® (pembrolizumab)
Opdivo (nivolumab)
Imfinzi (durvalumab)
Tecentriq® (atezolizumab)
AboutLynparza (olaparib)
Lynparza is a poly (ADP-ribose) polymerase (PARP) inhibitor indicated for the treatment of selected patients with ovarian, fallopian tube, or primary peritoneal cancer. The PARP enzyme plays a role in DNA repair, including the repair of DNA damage from chemotherapy. Precision cancer medicines that target and inhibit this enzyme may contribute to cancer cell death and increased sensitivity to chemotherapy and are called PARP inhibitors. By blocking this enzyme, DNA inside the cancerous cells is less likely to be repaired, leading to cell death and possibly a slow-down or stoppage of tumor growth.
The rationale for combining a PARP and checkpoint inhibitor in ovarian cancer comes from preclinical evidence that PARP inhibition increases PD-L1 expression, and that increased PARP inhibitor–induced DNA damage might enhance immune recognition.
In the current study investigators enrolled 34 patients with relapsed, BRCA-mutated, platinum-sensitive ovarian cancer, treated with as many as four prior lines of therapy and treated them with a combination of Lynparza and Imfinzi. The treatment was generally well tolerated and overall 72% of patients experienced a response to treatment with the combination. Three additional patients experienced stabilization of their cancer, which resulted in a 12-week disease control rate of 81%. The combination's activity appeared unrelated to PD-L1 tumor expression or tumor-infiltrating lymphocytes.
Zejula in Combination With Keytruda Appears Promising in Patients With Platinum Resistant/Refractory Ovarian Cancer
About Platinum Sensitive Ovarian Cancer
Each year in the United States, roughly 22,000 women are diagnosed with ovarian cancer and more than 15,000 die of the disease. Treatment for ovarian cancer commonly involves surgery and/or chemotherapy. Women who experience cancer progression after six months of treatment with a platinum-based chemotherapy regimen are considered to have platinum-sensitive ovarian cancer.
Reference: Drew Y, et al "An open-label, phase II basket study of olaparib and durvalumab (MEDIOLA): Results in germline BRCA-mutated platinum-sensitive relapsed ovarian cancer" SGO 2018; Late-Breaking Abstract 4.