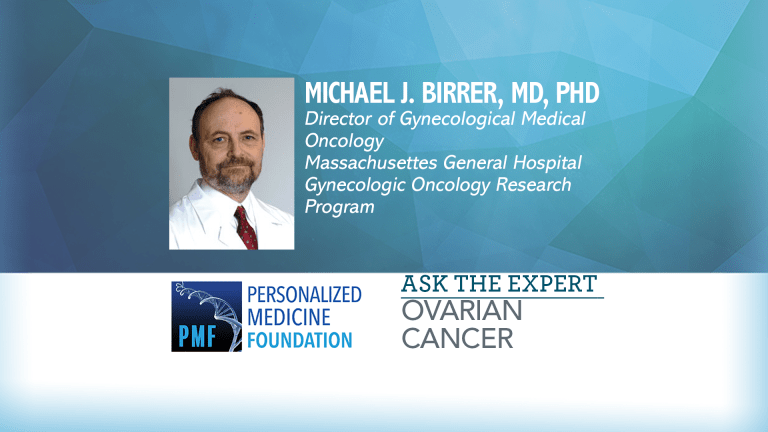 Ovarian Cancer Clinical Trials: What, Where, Why
Dr. Birrer M.D. of Mass General Hospital answers common questions about clinical trials for ovarian cancer.
​
Ovarian Cancer Clinical Trials: What, Where, Why
by Michael J. Birrer, MD, PhD
The National Ovarian Cancer Coalition® (NOCC) recently sat down with Michael J. Birrer, MD, PhD for an Ask the Expert session to discuss ovarian cancer clinical trials. Dr. Birrer is recognized nationally and internationally as an expert in gynecologic oncology. In this informative video, Dr. Birrer answers common questions and discusses the what, where and why of clinical trials for ovarian cancer.
Clinical trials are research studies designed to find ways to improve health and cancer care. Each study tries to answer scientific questions and to find better ways to prevent, diagnose, or treat cancer. Many women undergoing treatment for ovarian cancer choose to participate in clinical trials. Through participation in these trials, patients may receive access to new therapy options that are not available to women outside the clinical trial setting.
Share your story and connect with other ovarian cancer patients in the NOCC CancerConnect Community here.
About Dr. Birrer:
In November 2008, Dr. Birrer was appointed Professor of Medicine at the Harvard School of Medicine. Dr. Birrer assumed the position of Director of Gynecologic Medical Oncology at Massachusetts General Hospital and the Gynecologic Oncology Research Program. This program integrates important new discoveries in translational research into clinical trials.
​
He has served in leadership positions within the greater gynecologic oncology community. He has been the Chair and Chair Emeritus of the DOD Ovarian Cancer Research Program, Chair of the Committee for Experimental Medicine of the Gynecologic Oncology Group, a member of the Gynecologic Cancer Steering Committee, and Chair of the Translational Science Working Group of the Gynecologic Cancer Intergroup. Dr. Birrer has been a member of the Society of Gynecologic Oncology, American Society of Clinical Oncologists, American Association of Cancer Research, and the International Gynecologic Cancer Society. He has been on the program committees of ASCO, SGO and IGCS, and has published over 270 peer-reviewed manuscripts and another 27 book chapters and review articles.
The Ask The Expert Series is made possible by support fromThe Personalized Medicine Foundation, Incyte Oncolgy, Abbvie, and CancerConnect. The "Ask The Expert" series is not medical advice nor is it a substitute for your doctor. It should serve as a guide to facilitate access to additional information and enhancement of a shared decision making process with your treating physician.