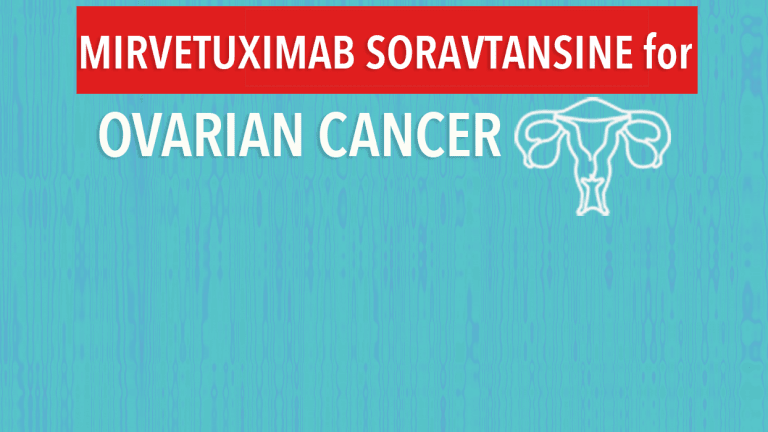 Mirvetuximab Soravtansine
The Antibody Drug Conjugate Mirvetuximab soravtansine appears promising for treatment of certain patients with ovarian cancer.
by Dr. C.H. Weaver M.D. Updated 3/2022
The ADC Mirvetuximab soravtansine (IMGN853) is a novel precision cancer medicine that has promising anti-cancer activity in certain ovarian cancer patients both as a single agent and in combination with Avastin (bevacizumab).1 Clinical trial results were updated at the Society for Gynecologic Oncology's (SGO) Annual Meeting on Women's Cancer in March 2022.
About Mirvetuximab
Mirvetuximab is a precision cancer medicine known as an antibody drug conjugate (ADC). An ADC joins an antibody to a drug molecule that targets a key structure in cancer cells. Mirvetuximab targets the folate receptor alpha (FRα) on cancer cells and delivers tubulin-targeting DM4 directly to the cancer. Mirvetuximab has demonstrated promising activity in women with platinum-resistant ovarian cancer.2-4
Platinum Resistant Ovarian Cancer
The SORAYA clinical trial evaluated mirvetuximab in patients with platinum-resistant ovarian cancer whose tumors express high levels of FRα and who had been treated with up to three prior regimens – at least one of which included Avastin (bevacizumab). The SORAYA clinical trial enrolled 106 patients with a median of three prior lines of therapy. All patients had received prior Avastin and 48% had received a prior PARP inhibitor. Overall 32% of patients experienced a response to treatment with mirvetuximab and 5 patients experienced a complete disappearance of their cancer. The median DOR is currently 5.9 months.6
Mirvetuximab + Avastin
The FORWARD II clinical trial was designed to assess the combination of mirvetuximab and Avastin (bevacizumab) in patients with ovarian, primary peritoneal, or fallopian tube cancer. Avastin was selected based on its known effectiveness in treating ovarian cancer. The trial enrolled patients with recurrent ovarian cancer who had previously received up to 3 prior regimens and allowed for previous treatment with Avastin. Patients also had tumors with medium or high FRα membrane staining with immunohistochemistry PS2-positive scoring. On the study, patients received 6 mg/kg of mirvetuximab that was adjusted for ideal body weight, and 15 mg/kg of Avastin, which was administered intravenously on day 1 of every 3-week cycle.

The total patient population of the study had a median duration of response to treatment of 9.7 months. Individuals with medium and high FRα expression had median response durations of 8.3 and 11.8 months, respectively. Platinum-sensitive patients had a median response duration of 12.7 months, and the researchers reported that many of the responses continue beyond 12 months. The high FRα subgroup, specifically, demonstrated a 12 month survival rate without cancer progression of 42%, and some patients' responses are ongoing more than 2 years from treatment initiation. 
"These data have the potential to be transformative for ovarian cancer patients and their physicians," said Ursula Matulonis, MD, chief of the Division of Gynecologic Oncology at Dana-Farber and co-principal investigator of the SORAYA study, who will present the findings at the SGO. "In the platinum- resistant setting and particularly in later-line treated patients, response rates with available therapy are in the single digits with significant toxicities. With an objective response rate above 30%, a duration of response of around six months, and a treatment-related discontinuation rate of 7%, mirvetuximab shows impressive activity and tolerability for patients with platinum-resistant ovarian cancer. These data support the future of mirvetuximab as the potential standard of care for patients with folate receptor alpha positive ovarian cancer." 
Keep Current With The CancerConnect Community Newsletter
References

O'Malley DM, Oaknin A, Matulonis UA, et al. Mirvetuximab soravtansine, a folate receptor alpha (FRα)-targeting antibody-drug conjugate (ADC), in combination with bevacizumab in patients (pts) with platinum-agnostic ovarian cancer: final analysis. J Clin Oncol. 2021;39(supple 15; abstr 5504). doi:10.1200/JCO.2021.39.15_suppl.5504
Moore KN, Matulonis UA, O'Malley DM, et al. Mirvetuximab soravtansine (IMGN853), a folate receptor alpha (FRα)-targeting antibody-drug conjugate (ADC), in platinum-resistant epithelial ovarian cancer (EOC) patients (pts): Activity and safety analyses in phase I pooled expansion cohorts. J Clin Oncol. 2017;35(suppl 15):5547-5547. doi:10.1200/JCO.2017.35.15_suppl.5547
Moore KN, Oza AM, Oaknin A, et al. FORWARD I (GOG 3011): A Phase III study of mirvetuximab soravtansine, a folate receptor alpha (FRa)-targeting antibody-drug conjugate (ADC), versus chemotherapy in patients (pts) with platinum-resistant ovarian cancer (PROC). Ann Oncol. 2019;30(aupple 5):v403-v434. doi:10.1093/annonc/mdz250
O'Malley DM, Matulonis UA, Birrer MJ, et al. Phase Ib study of mirvetuximab soravtansine, a folate receptor alpha (FRα)-targeting antibody-drug conjugate (ADC), in combination with bevacizumab in patients with platinum-resistant ovarian cancer. Gyn Oncol. 2020;157(2):P379-385. doi:10.1016/j.ygyno.2020.01.037
Pujade-Lauraine E, Hilpert F, Weber D, et al. Bevacizumab combined with chemotherapy for platinum-resistant recurrent ovarian cancer: the AURELIA open-label randomized phase III trial. J Clin Oncol. 2014;32(13):1302-1308. doi:10.1200/JCO.2013.51.4489