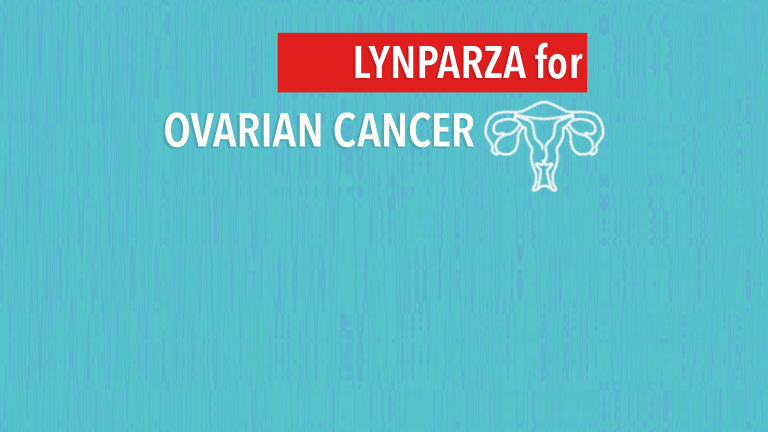 Lynparza Delays Progression & Significantly Prolongs Survival in Ovarian Cancer
5 Year follow up data - Lynparza maintenance therapy effective for women with BRCA + and other mutated ovarian cancers.
by Dr. C.H. Weaver M.D. updated 9/2022
The role of maintenance therapy in frontline ovarian cancer has undergone significant change in the past few years. The premise of maintenance is that since the majority of women with advanced ovarian cancer will recur, why not try to interdict prior to the recurrence and either delay or even prevent the recurrence? The SOLO-1 clinical trial demonstrated the value of adding maintenance PARP inhibition with Lynparza to the frontline management of patients with ovarian cancer who had a germline or somatic BRCA mutation. The most recent follow up data for SOLO-1 was published in the November 2021 Lancet and 2022 ESMO showing continued benefit without an increase in secondary leukemias or myelodysplastic syndrome.1,13,17
About Lynparza (olaparib)
Lynparza (olaparib) is a poly (ADP-ribose) polymerase (PARP) inhibitor indicated for the treatment of selected patients with ovarian, fallopian tube, or primary peritoneal cancer. Lynparza was the first PARP inhibitor approved for treating ovarian cancer and can be effectively used as part of initial treatment or in women with recurrent disease.
The PARP enzyme plays a role in DNA repair, including the repair of DNA damage from chemotherapy. Precision cancer medicines that target and inhibit this enzyme may contribute to cancer cell death and increased sensitivity to chemotherapy and are called PARP inhibitors. By blocking this enzyme, DNA inside the cancerous cells is less likely to be repaired, leading to cell death and possibly a slow-down or stoppage of tumor growth.
PARP inhibitors are thought to have the greatest effect in women with mutations of the BRCA genes which occur in about 15% of ovarian-cancer patients. But recent research, still ongoing, indicates that the drugs may benefit an additional 35% of patients with different genetic profiles as well.
Genomic analyses for BRCA and other genomic abnormalities can be performed with a companion diagnostic that will detect the presence of mutations in the BRCA genes (gBRCAm) in blood samples from patients with ovarian cancer.1-4
Join the National Ovarian Cancer Coalition-Cancer Connect Community of over 2000 Ovarian Cancer Patients
The initial studies indicated that approximately 41% of women with advanced BRCA mutated ovarian cancer achieved objective responses. and over 60% of women with "platinum sensitive" disease responded to treatment with Lynparza. Furthermore, the objective response rate among women with ovarian cancer, but without BRCA mutations, was 23%.2,4 A series of comparative trials know as SOLO were initiated to confirm the benefits of Lynparza.
SOLO-1 Clinical Trial: Lynparza as initial treatment in women with a BRCA 1 or 2 mutation
Two-year maintenance therapy with Lynparza significantly delays time to cancer progression and prolongs survival when used as part of the initial treatment strategy for advanced ovarian cancer in women with a BRCA 1 or 2 mutation. The initial results were presented at the European Society of Medical Oncology (ESMO) 2018 annual meeting, published in the prestigious New England Journal of Medicine, and updated in September 2022.  
In the "SOLO-1" clinical trial women with newly diagnosed BRCA positive advanced ovarian cancer who were either in remission or with stable disease after platinum based chemotherapy were treated with either Lynparza 300 mg twice daily or a placebo for 2 years or until their cancer progressed, which ever came first. Patients with no evidence of disease at 2 years stopped treatment, while those with a partial response could continue treatment.
Overall the therapy was well tolerated. Patients treated with Lynparza did not experience a change in health-related quality of life scores while on treatment. Importantly 60% of Lynparza treated patients survived without cancer progression 3 years from the initiation of treatment compared to only 27% of those treated without the maintenance therapy.3,4 
At seven years after their initial diagnosis, 67% of Lynparza treated patients survive compared to 46% in the placebo arm. Moreover, 45% of patients receiving Lynparza did not received further treatment, compared with 21% in the placebo arm.  The benefit was seen whether patients had a BRCA1 or BRCA2 mutation and whether they had high or low clinical risk.18
The most common side effects were anemia and neutropenia - the long-term safety data from SOLO2 which enrolled platinum sensitive recurrent ovarian cancer patients has shown a concerning 8% rate of myelodysplastic syndrome/acute myelogenous leukemia (MDS/AML).3 This concern will need to be monitored in the SOLO1 population as well, but at this juncture the authors reported no new cases of MDS/AML.14,17
The study authors believe that Lynparza maintenance when used as part of initial may actually lead to the cure of additional patients improving the overall outlook for ovarian cancer treatment. It also shifts how physicians must think about ovarian cancer treatment; genetic testing for BRCA will need to be done much earlier as part of the initial treatment evaluation.
What is the best maintenance therapy?
Standard first-line therapy in many countries includes chemotherapy plus Avastin (bevacizumab) maintenance but the question remains whether maintenance with Lynparza alone or in combination with Avastin could be preferable. This question is being addressed by the PAOLA-1 clinical trial.
About PAOLA-1
PAOLA-1 is a randomized phase III clinical trial testing the effectiveness and safety of Lynparza + Avastin compared to Avastin alone, as a 1st-line maintenance treatment for newly-diagnosed advanced stage III-IV high grade serous or endometroid ovarian, fallopian tube, or peritoneal cancer patients who had a complete or partial response to 1st-line treatment with platinum-based chemotherapy and Avastin.
Maintenance therapy with the PARP inhibitor Lynparza added to Avastin resulted in a significant and clinically meaningful delay in cancer progression in patients with advanced stage III-IV ovarian cancer according to the results of the phase 3 PAOLA-1/ENGOT-ov25 study presented at the European Society for Medical Oncology (ESMO) Congress,9,10
The clinical trial enrolled 537 women with newly diagnosed ovarian cancer who had been treated with platinum-based chemotherapy plus Avastin. Patients were then additionally treated with maintenance therapy consisting of Lynparza tablets plus Avastin or Avastin alone and directly compared.
Overall the progression-free survival was 22.1 months for Lynparza + Avastin compared with 16.6 months for Avastin alone demonstrating that the combination benefits all ovarian cancer patients to some extent.
PARP inhibitors are known to have their greatest impact in women with BRCA or homologous recombination deficiency (HRD) and sub-group analyses of the trial confirmed this.
Patients with BRCA mutations treated with Lynparza had a median progression-free survival of 37.2 months compared with 21.7 months for Avastin alone.
Patients with HRD had a median progression-free survival of 37.2 months with Lynparza plus Avastin compared to 17.7 months for Avastin alone.  Lynparza + Avastin extended survival; 65% of HRD-positive patients survived greater than 5 years compared with 48% of those treated with Avastin alone. 
Lynparza and Avastin maintenance therapy appears to benefit most patients with advanced ovarian cancer. The benefit was greatest in women who tested positive for the BRCA mutation and women who were HRD-positive but no benefit was seen in HRD negative patients.All women with ovarian cancer should ensure they undergo testing for BRCA, HRD and other mutations that can help determine the role of PARP maintenance therapy.
Strategies to Improve Ovarian Cancer Treatment with Lynparza Combinations
SOLO-2 Clinical Trial: Lynparza™ Demonstrates Survival Benefit in Relapsed Ovarian Cancer
The phase III SOLO-2 clinical trial was designed to determine the effectiveness of Lynparza oral therapy for the maintenance treatment of platinum-sensitive relapsed, BRCA-mutated ovarian cancer. SOLO-2 demonstrated a clinically-meaningful improvement in survival free of cancer progression. The median survival without cancer progression for Lynparza treated patients was 30 months compared to 5.5 months for women not treated with Lynparza.7
SOLO-3 Clinical Trial: Lynparza superior to chemotherapy for treatment of BRCA-mutated relapsed ovarian cancer
In the SOLO-3 clinical trial 200 women with BRCA-mutated, platinum-sensitive relapsed ovarian cancer were treated with Lynparza (n = 178) or the physician's choice of chemotherapy (n = 88) until evidence of cancer progression. Physician choice included paclitaxel (n = 20), topotecan (n = 8), gemcitabine (n = 13) or pegylated liposomal doxorubicin (n = 47).5,6
Overall Lynparza treatment was well tolerated and 72% of Lynparza treated patients responded to treatment compared to 51% of those receiving chemotherapy. The time until cancer progression was 13.4 months with Lynparza compared to 9.2 months with chemotherapy.
To assess the safety and efficacy of Lynparza in ovarian cancer, researchers initially conducted a phase II clinical trial of 265 women with relapsed, platinum-sensitive, serous ovarian cancer. After treatment with chemotherapy, women were assigned to further treatment (maintenance therapy) with either Lynparza or a placebo.
Women in the Lynparza group remained free of cancer progression longer than women in the placebo group: median progression-free survival was 8.4 months in the Lynparza group and 4.8 months in the placebo group.
Join the National Ovarian Cancer Coalition-Cancer Connect Community of over 2000 Ovarian Cancer Patients
What about MDS/AML?
PARP inhibitors may increase risk for myelodysplastic syndrome, AML
Concern over PARP, inhibitors increasing the risk for secondary myelodysplastic syndrome and acute myeloid leukemia led researchers to conduct a review and safety meta-analysis of 28 randomized controlled clinical trials including 7,307 patients treated with a PARP inhibitor or placebo. Trials evaluating Lynparza, Zejula, and Rubraca were included in the analyses. The analysis found 99 women who developed myelodysplastic syndrome and 79 with AML associated with PARP inhibitor use. MDS or AML occurred a median of 18 months from initiation of treatment.
This represents an incidence of 3.1% and an almost doubling of risk compared to placebo. On an individual bases the incidence of MDS/AML is 8% in the SOLO2 and 4% in PLBO clinical trial. Individuals considering treatment with a PARP inhibitor should discuss this potential risk which their physicians and balance it against the benefit of treatment.
References:
National Institutes of Health. Olaparib Treatment in BRCA Mutated Ovarian Cancer Patients After Complete or Partial Response to Platinum Chemotherapy. Available here. Last accessed October 2016.
Gelmon KA, Hirte HW, Robidoux A, et al. Can we define tumors that will respond to PARP inhibitors? A phase II correlative study of olaparib in advanced serous ovarian cancer and triple-negative breast cancer. Presented at the 2010 annual meeting of the American Society of Clinical Oncology. June 4-8, 2010. Chicago, IL. Abstract 3002.
FDA Approval Letter. U.S. Food and Drug Administration, Silver Spring, MD. Available Online. Accessed July, 2016.
Fong PC, Yap TA, Boss DS, et al. Poly (ADP)-Ribose Polymerase Inhibition: Frequent Durable Responses in BRCA Carrier Ovarian Cancer correlating With Platinum-Free Interval. Journal of Clinical Oncology [early online publication]. April 20, 2010.
abstracts.asco.org/239/AbstView_239_256099.html
Ledermann J, et al. NEJM. 2012;366:1382-1392.
Penson RT, et al. Abstract 5506. Presented at: ASCO Annual Meeting; May 31-June 4, 2019; Chicago.
Lynparza Phase III PAOLA-1 trial met primary endpoint as 1st-line maintenance treatment with bevacizumab for advanced ovarian cancer
Ray-Coguard IL, Pautier P, Pignata S, et al. Phase III PAOLA-1/ENGOT -ov25trial: Olaparib plus bevacizumab (bev) as maintenance therapy in patients (pts) with newly diagnosed, advanced ovarian cancer (OC) treated with platinum-based chemotherapy (PCh) plus bev. Presented at: European Society of Medical Oncology (ESMO) Congress 2019; September 27-October 1, 2019: Barcelona, Spain. Abstract LBA2_PR.
European Society of Medical Oncology (ESMO). Ovarian cancer: more women benefit from maintenance combined targeted therapy. Published September 28, 2019.
Moore K, Colombo N, Scambia G, Kim BG, Oaknin A, Friedlander M, Lisyanskaya A, Floquet A, Leary A, Sonke GS, Gourley C, Banerjee S, Oza A, Gonzalez-Martin A, Aghajanian C, Bradley W, Mathews C, Liu J, Lowe ES, Bloomfield R, DiSilvestro P. Maintenance Olaparib in Patients with Newly Diagnosed Advanced Ovarian Cancer. N Engl J Med 2018; 379: 2495-2505.
Banerjee S, Moore KN, Colombo N, et al. Maintenance olaparib for patients with newly diagnosed advanced ovarian cancer and a BRCA mutation: 5-year follow-up from SOLO1. ESMO 2020 virtual.
Poveda A, Floquet A, Ledermann JA. Final overall survival (OS) results from SOLO2/ENGOT-ov21: A phase III trial assessing maintenance olaparib in patients (pts) with platinum-sensitive, relapsed ovarian cancer and a BRCA mutation.JCO Vol 28, Issue 15 Suppl. ASCO 2020.
[Morice PM, et al. Lancet Haematol. 2020;doi:10.1016/S2352-3026(20)30360-4.](https://www.thelancet.com/journals/lanhae/article/PIIS2352-3026(20%2930360-4/fulltext)
[Tinker AV, et al. Lancet Haematol. 2020;doi:10.1016/S2352-3026(20)30375-6.](https://www.thelancet.com/journals/lanhae/article/PIIS2352-3026(20%2930375-6/fulltext)
Banerjee S, Moore KN, Colombo N, et al. Maintenance olaparib for patients with newly diagnosed advanced ovarian cancer and a BRCA mutation (SOLO1/GOG 3004): 5-year follow-up of a randomised, double-blind, placebo-controlled, phase 3 trial. Lancet Oncol. Published online October 26, 2021. doi:10.1016/S1470-2045(21)00531-3
https://oncologypro.esmo.org/meeting-resources/esmo-congress/overall-survival-os-at-7-year-y-follow-up-f-u-in-patients-pts-with-newly-diagnosed-advanced-ovarian-cancer-oc-and-a-brca-mutation-brcam
​