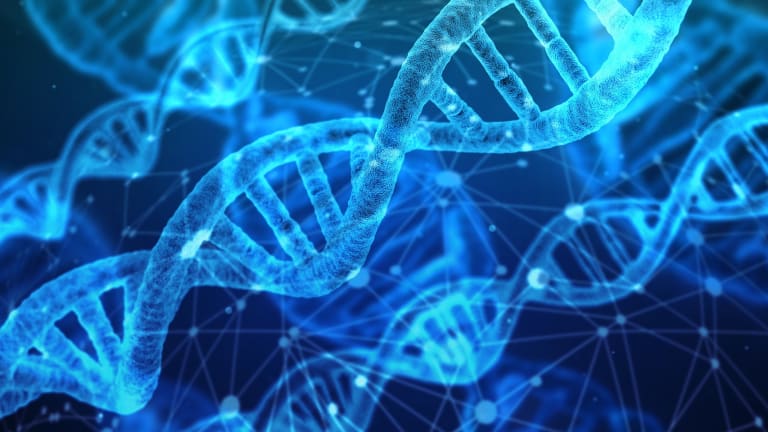 It's in the Genes: Genetic Testing for Ovarian Cancer
Understand the role of genetic and genomic testing for individuals with ovarian cancer and their families.
by Genetic Counselors Shivani Nazareth, and Kaylene Ready; updated 11/2022
Ovarian cancer is often dubbed as the "silent killer" of women. The symptoms are vague—including bloating, fatigue, irregular bleeding, frequent urination, and back pain—making it difficult to diagnose early.1 By way of comparison, detection and treatment of breast cancer has progressed tremendously. This is demonstrated by the five-year relative survival rate, which is 90% for breast cancer and only 46% for ovarian cancer.2,3 Women may dislike the experience of mammography, but it remains an excellent screen for breast cancer. Unfortunately, there is not a similarly successful screen for ovarian cancer. In fact, the US Food and Drug Administration issued a safety watch advising women to be wary of tests that are marketed as ovarian cancer screens.4
The good news is only about 1 in 75 women will develop ovarian cancer in her lifetime—that's a 1.3% risk. If we flip the number, there is a greater than 98 percent chance that a woman will not develop ovarian cancer in her lifetime. Your individual risk could be significantly higher, however, if you have a family history or a genetic predisposition.5
For example, women with Hereditary Lynch syndrome have up to a 12% risk of ovarian cancer, and women with a BRCA1 or BRCA2 mutation have up to a 50% risk of ovarian cancer.6,7 You might recall actor Angelina Jolie talking about her decision to undergo preventive surgery to reduce her ovarian cancer risk.8 She did so because she inherited a BRCA1 mutation from her mother. Many women opt for similar preventive surgeries when they learn of an inherited high risk of ovarian cancer, but it's important to know that there are also less invasive options, like taking birth control pills.7 The path is different for each woman, but having access to the information allows you to be proactive.
If you're wondering whether DNA testing for ovarian cancer makes sense for you, your family history is a good place to start gathering information. If you notice that several family members have colon, uterine, or ovarian cancers, that could indicate Lynch syndrome; if you notice a family history of breast and ovarian cancers, that could suggest a BRCA1 or BRCA2 mutation. Keep in mind these are just clues; if you have a small family or there are not many women in it, a pattern may be hard to see. In fact, more than half the women[9]) with a genetic predisposition to ovarian cancer are the first women in their families to develop the cancer.
How is Genetic Testing Performed?
Germline testing is performed on a blood sample or with buccal cells from a saliva sample. Somatic variants are detected by either testing the cancer directly or with a "liquid biopsy" of a blood sample with circulating tumor cells to identify the DNA sequencing changes driving cancer cell growth.
Germline Testing Recommended for Women Diagnosed with Ovarian Cancer
Approximately 25% of ovarian cancers are associated with underlying pathogenic mutations in heritable genes (ie, germline mutations), such as BRCA1,BRCA2, as well as genes associated with homologous recombination and the Fanconi anemia pathway.
Detection of one or more of these germline mutations in patients with ovarian cancer can reveal prognostic information, potentially facilitate selection of optimal therapeutic approaches, and have implications for family members of the patient.
All women with ovarian cancer should undergo germline testing for mutations in BRCA1/2 — as well as other genes shown to increase susceptibility to ovarian cancer at the time of disease diagnosis and genetic counseling should be provided to patients. In addition an individualized assessment of genetic risk should be offered to first- or second-degree relatives of patients with epithelial ovarian cancer characterized by a pathogenic germline mutation known to increase risk of epithelial ovarian cancer.10
Ask the Doctor: Am I at Genetic Risk for Ovarian Cancer?
Q: There are several women in my family who have had breast cancer and one who had ovarian cancer. How do I find out if I am at risk of developing ovarian cancer and whether I should have my ovaries removed prophylactically?
A: Most women who get ovarian cancer have no known hereditary factors for developing the disease. The others however, are tied to hereditary factors, so being aware of your family history is certainly important.
We've learned that there are at least two hereditary cancer syndromes linked to genetic mutations. The most common are the breast cancer gene mutations, referred to as BRCA1 and BRCA2. While women in the general population have a 2 percent chance of developing ovarian cancer by age 70, women with the BRCA1 mutation have an approximate 40 percent chance, and those with BRCA2 have a 10 percent chance.
Equally as common are genes related to Lynch syndrome, also known as hereditary non-polyposis colorectal cancer (HNPCC), which is associated with families in which members have had colon cancer, uterine cancer, or ovarian cancer at a young age. Women who inherit HNPCC-related genetic mutations have a 12 percent lifetime risk of ovarian cancer as well as increased risk of colon, stomach, and uterine cancers.
To fully understand your risk of ovarian cancer, it is important to conduct a formal risk assessment with a genetic counselor who is specially trained to provide information and advice about inherited conditions. The counseling should include analysis of your family tree, education about genetic-testing options, testing if appropriate, discussion of test results, and further counseling about risk-reducing options if you are found to be at high risk.
It is important to remember that even if you have a strong family history of ovarian cancer, you may test negative for the BRCA1/2 or Lynch syndrome mutations. If these mutations have been confirmed in your relative with ovarian cancer yet your test is negative, you did not inherit the gene that runs in your family and your risk is considered the same as that of women in the general population.
If these mutations have not been confirmed in your family, however, you are still considered to be at higher risk of developing ovarian cancer than women in general, based on your family history.
Genetic testing can be expensive—the cost for the first person in the family to be tested for BRCA1/2 can exceed $3,000—but most insurance companies cover the cost if the criteria are met. If the first person tested in a family has a positive result, the rest of the family is tested just for that mutation, and the cost goes down to about $300 to $400.
If you are found to be at increased risk of ovarian cancer, your doctor may recommend prophylactic oophorectomy, or removal of the ovaries and the fallopian tubes. Expert organizations such as the National Cancer Institute traditionally recommend that high-risk women consider this surgery by age 35 or after childbearing is completed. They qualify this recommendation, however, by stressing that the decision should be made on a case-by-case basis.
Women consider this surgery because ovarian cancer is a serious disease that tends to be diagnosed at a later stage after it has spread beyond the ovaries, which makes it difficult to cure. Also, because the ovaries are located deep in the body, early-stage tumors are difficult to detect through physical examination or imaging. A third reason is because the blood test for the CA-125 protein is not always reliable.
Risk-reducing surgery has been proven in research studies to be effective in reducing the risk of ovarian cancer by 75 to 95 percent (primary peritoneal cancer remains a risk) and the risk of breast cancer by 50 percent. Women also find that surgery is a way to take control of an anxiety-producing situation.
Prophylactic oophorectomy is not without side effects, particularly for premenopausal women. For this reason some women opt not to have surgery or to delay it. For women who are premenopausal, the surgery can cause sudden rather than gradual symptoms of menopause, including hot flashes, vaginal dryness, and reduced libido. The absence of ovaries and the reduced estrogen may also cause such symptoms as insomnia, muscle pain, and mood swings as well as a long-term risk of osteoporosis and cardiovascular disease. Many of these symptoms can be addressed with exercise, medication, and other interventions. In the face of this choice, some premenopausal women choose a "wait and watch" strategy, with regular pelvic ultrasounds and CA-125 blood tests.
If you choose risk-reducing surgery, you may want to consider a gynecologic oncologist trained in surgery and oncology because occasionally women are found to have ovarian cancer at the time of the surgery, and the surgeon can convert the prophylactic surgery to a therapeutic surgery.
Decision-making about risk-reducing surgery is a complex process, and what feels right for one woman may not be right for another. Consult with family members, physicians, genetic counselors, and support organizations. Take the time you need to have your questions answered and become comfortable in your plan.
Resources and Support for Women Facing Genetic Risk
Decisions about cancer treatment and prevention can be difficult. With the advent of personalized medicine, many new resources are available to aid women in those decisions. Below is a list of organizations that offer a variety of information on genetic risk factors and ovarian cancer.
Learn More About Genetics and Cancer
Shivani Nazarethis the director of medical affairs at Counsyl, a DNA-testing and genetic-counseling service. She worked as a clinical genetic counselor for more than 10 years in New York City, most recently at Weill Cornell Medical College. Shivani obtained her graduate degree from the Icahn School of Medicine at Mount Sinai in New York City and currently serves on the National Society of Genetic Counselors' Public Policy Committee.
Kaylene Readyis the clinical product director of cancer screening at Counsyl, a DNA-testing and genetic-counseling service. Prior to joining Counsyl, she worked at MD Anderson Cancer Center. Kaylene obtained her graduate degree from the University of Texas Graduate School of Biomedical Sciences and currently serves on the Board of Directors of the National Society of Genetic Counselors.
References:
What Are the Signs & Symptoms of Ovarian Cancer? National Ovarian Cancer Coalition website. Available here. Accessed January 14, 2017.
Cancer Stat Facts: Female Breast Cancer. National Cancer Institute website. Available here. Accessed January 14, 2017.
Cancer Stat Facts: Ovarian Cancer. National Cancer Institute website. Available here. Accessed January 14, 2017.
Ovarian Cancer Screening Tests: Safety Communication—FDA Recommends against Use. US Food and Drug Administration website. Available here. Accessed January 14, 2017.
NOCC Delivers Hard Hitting Message for September National Ovarian Cancer Month. National Ovarian Cancer Coalition website. Available here. Accessed January 14, 2017.
Lynch Syndrome. Cancer.Net website. Available here. Accessed January 14, 2017.
Hereditary Breast and Ovarian Cancer. Cancer.Net website. Available here. Accessed January 14, 2017.
Pitt AJ. Angelina Jolie Pitt: Diary of a Surgery. New York Times. March 24, 2015. Available here. Accessed January 14, 2017.
Finch A, Bacopulos S, Rosen B, et al. Preventing ovarian cancer through genetic testing: A population-based study. Clinical Genetics. 2014;86(5):496-99. doi: 10.1111/cge.12313.
Konstantinopoulos PA, Norquist B, Lacchetti C, et al. Germline and somatic tumor testing in epithelial ovarian cancer: ASCO Guideline [published online January 27, 2020]. J Clin Oncol. doi: 10.1200/JCO.19.02960