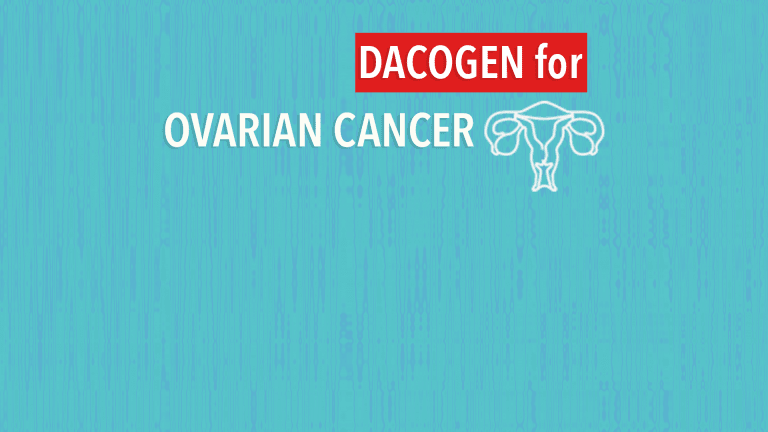 Dacogen Helps Recurrent Ovarian Cancer Respond to Vaccine
Dacogen Helps Recurrent Ovarian Cancer Respond to Vaccine
Treatment with Dacogen® (decitabine) prior to the administration of Adriamycin® (doxorubicin) and a cancer vaccine yielded clinical benefit for women with recurrent ovarian cancer, according to a study published in Cancer Immunology Research.
Ovarian cancer has the highest mortality rate of all gynecologic cancers. It is the fifth leading cause of cancer death among U.S. women, with roughly 22,000 new cases and 15,000 deaths predicted for 2012. Outcomes for women diagnosed with advanced disease remain poor, and researchers continue to evaluate new approaches to treatment.
Tumor antigens are proteins that are not normally found in healthy cells and they can be good targets for anticancer vaccines. NY-ESO-1 is a tumor antigen expressed in epithelial ovarian cancers and other solid tumors. Expression of NY-ESO-1 is regulated by an epigenetic process called DNA methylation.
Dacogen is a demethylating agent. Researchers theorized that they could "reprogram" recurrent ovarian cancers by delivering Dacogen in order to force the expression of NY-ESO-1 on ovarian cancer cells, thereby allowing the immune system to recognize and attack them.
Preclinical analysis indicated that the optimal sequence of drug administration was Dacogen followed by chemotherapy with Adriamycin and finally the vaccine. The researchers noted that Dacogen was ineffective if it was given after chemotherapy.
The researchers conducted a phase I dose-escalation trial of Dacogen that included 12 women with epithelial ovarian cancer that had not responded to multiple lines of chemotherapy, with an estimated progression-free survival time of three months. All patients received Dacogen on day one, the chemotherapy drug Adriamycin on day eight, and the cancer vaccine (NY-ESO-1 protein with Montanide and GM-CSF) on day 15. Patients were randomly assigned to receive a low, middle, or high dose of Dacogen.
Of the 10 patients evaluable for clinical response, five had stable disease for up to 7.8 months, and one had a partial response with disease remission that lasted 5.8 months. All patients from the low- and middle-dose cohorts of Dacogen showed clinical benefit, whereas one-third of the patients who received the high dose showed benefit—suggesting that the lower doses of Dacogen were associated with improved clinical response. The treatment was well tolerated.
The researchers observed evidence of clinical benefit in up to 60 percent of the patients with chemotherapy-resistant tumors. What's more, they saw what they referred to as "antigen spreading"—meaning that although they immunized against a single target (NY-ES0-1), they saw immune responses against three other antigens as well.
The researchers are now planning a phase II trial to determine whether this treatment approach prolongs progression-free survival in patients with ovarian cancer.
Reference:
Odunsi K, Matsuzaki J, James SR, et al. Epigenetic Potentiation of NY-ESO-1 Vaccine Therapy in Human Ovarian Cancer. Cancer Immunology Research. 2014; 2(1): 37-49.