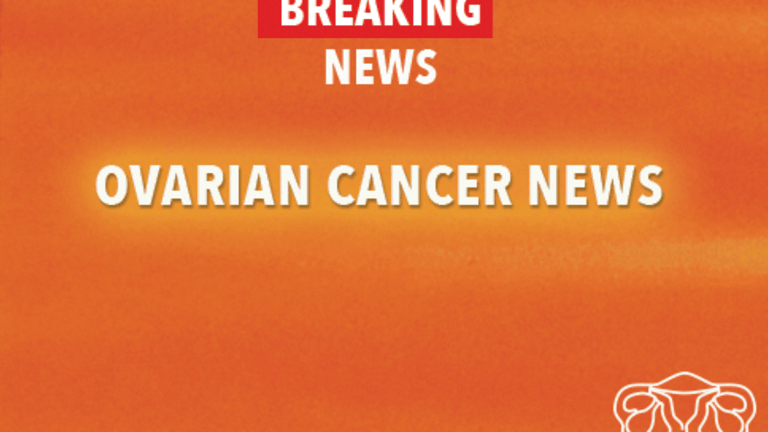 Cisplatin & Topotecan Combo Is Effective as Initial Treatment for Advanced O.C.
Cisplatin and Topotecan Combo Is Effective as Initial Treatment for Advanced Ovarian Cancer
Women who have advanced cancer of the ovary are often treated with surgery, followed by a chemotherapy combination that includes the drug cisplatin. Previous studies have shown that cisplatin combined with a new drug, topotecan, is effective against ovarian cancer that recurs (returns) 6 months or more after treatment. Now, the combination of cisplatin and topotecan appears to also be effective as an initial treatment for ovarian cancer, according to U.S. researchers presenting at the May 2000 American Society of Clinical Oncology annual convention in New Orleans.
Cancer of the ovary is characterized by the presence of cancer cells in 1 or both ovaries, which are located on either side of the uterus, or womb. Most cancers of the ovary are in the lining, or epithelium, of the ovary and are sometimes referred to as ovarian epithelial cancer. Treatment options for ovarian epithelial cancer depend on the stage of disease (extent of disease at diagnosis).
Stage III ovarian cancer is defined as cancer that is found in 1 or both ovaries and has spread to the nearby lymph nodes or other areas in the abdomen.
Stage IV ovarian cancer consists of cancer that is found in 1 or both ovaries and has spread to other parts of the body outside of the abdomen. Treatment for stage III and stage IV ovarian cancer commonly involves
surgery to remove the ovaries, uterus, fallopian tubes, and as much of the cancer as possible. Nearby lymph nodes and other tissues in the abdomen and/or pelvis area may also be removed to determine whether the cancer cells have spread to these areas. After the surgery, many women receive chemotherapy with cisplatin and paclitaxel, with or without radiation therapy. Despite this aggressive therapy, many women will still develop a recurrence of cancer; therefore, researchers continue to develop and study new and hopefully more effective drugs and drug combinations to treat this disease.
Fifty-one previously untreated women with stage III or IV ovarian cancer underwent surgery as needed and then received a chemotherapy combination of cisplatin and topotecan, administered by prolonged infusion. Almost half of the patients had a complete response to the treatment. The average time until the cancer began to grow again (called
time to progression) was about 14 months, and more than 50% of the patients remain alive. The average survival time for these patients has not yet been determined.
The researchers concluded that this chemotherapy combination is highly active against ovarian cancer. They plan to extend the current regimen by using cisplatin with oral topotecan and adding followup chemotherapy with carboplatin and paclitaxel. Persons who have ovarian cancer may wish to talk with their doctor about the risks and benefits of participating in a clinical trial in which cisplatin and topotecan or other promising new treatments are being studied.
(Proceedings of the American Society of Clinical Oncology, Vol 19, Abstract 1503, p380a, 2000)
Copyright © 2018 CancerConnect. All Rights Reserved.