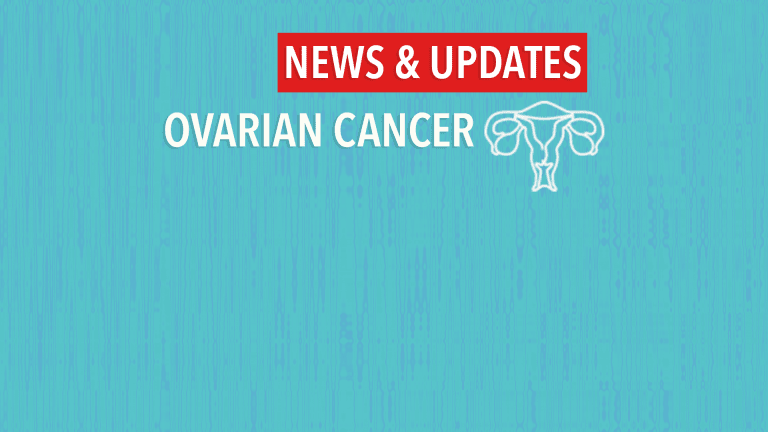 Cediranib Combined with Olaparib in Ovarian Cancer
Early promise for Cediranib not confirmed by final GY004 clinical trial.
by Dr. C.H. Weaver M.D. 3/2020
The addition of the antiangiogenic agent cediranib to the PARP inhibitor olaparib in women with recurrent platinum-sensitive ovarian cancer was initially thought to improve time to cancer progression and survival based on a report published in The Lancet Oncology but subsequent trials did not confirm these results.
Each year in the United States, roughly 22,000 women are diagnosed with ovarian cancer and more than 15,000 die of the disease. Treatment for ovarian cancer commonly involves surgery and/or chemotherapy. Women who experience cancer progression after six months of treatment with a standard platinum-based chemotherapy regimen are considered to have platinum-sensitive cancer. Researchers continue to study new approaches for improving the outcomes of all women affected by ovarian cancer.
Currently there are several new drugs being developed for the treatment of ovarian cancer. Cediranib is s novel drug that binds to and inhibits all three vascular endothelial growth factor receptor (VEGFR-1,-2,-3) tyrosine kinases, thereby blocking VEGF-signaling. angiogenesis, and tumor cell growth. VEGF plays a key role in the development of new blood vessels. By blocking VEGF, cediranib deprives the cancer of nutrients and oxygen and inhibits its growth.
The clinical trail evaluated 90 women with platinum-sensitive, recurrent ovarian cancer from nine U.S. centers. Women were assigned treatment with cediranib with or without olaparib and directly compared.
At the time of reporting with patients having been followed for almost 17 months the combination therapy appears to have significantly improved survival. Overall patients treated with the combination have survived without cancer progression 17.7 months compared to only 9 months for those treated with olaparib alone.
ICON6 was an international randomized controlled trial that involved 456 patients with relapsed platinum-sensitive ovarian cancer. This was the first trial to examine the activity of an oral VEGF inhibitor in combination with platinum-based chemotherapy and as maintenance therapy in recurrent ovarian cancer. Patients were randomized to one of three treatment arms:
Platinum-based chemotherapy plus placebo, followed by placebo maintenance therapy
Platinum-based chemotherapy plus cediranib, followed by placebo maintenance therapy
Platinum-based chemotherapy plus cediranib, followed by cediranib maintenance therapy
Women received treatment for 18 months or until disease progression, whichever occurred first. The results were groundbreaking. Cediranib plus platinum-based chemotherapy improved progression-free survival by 30 percent. When cediranib was continued as maintenance therapy, it significantly improved both progression-free and overall survival. Among patients who received cediranib with chemotherapy and as maintenance therapy, median progression-free survival was 11.1 months, compared to 8.7 months among patients who received chemotherapy alone. What's more, patients who received cediranib maintenance had a median overall survival of 26.3 months compared to 20.3 for those who received chemotherapy alone with no maintenance therapy.
A third open-label, randomised, multicentre, phase III trial, GY004 evaluated cediranib added to Lynparza, versus Lynparza monotherapy versus standard platinum-based chemotherapy in patients with recurrent platinum-sensitive ovarian cancer, fallopian tube, or primary peritoneal cancer patients, with or without a BRCA mutation also showed to show a survival advantage for cdeiranib.
Side effects of treatment were more common with combination therapy. The addition of cediranib was associated with more hypertension, fatigue, diarrhea, nausea, and headache compared to treatment with olaparib alone.
Despite the promising results, the future of cediranib in ovarian cancer is uncertain, as the drug's manufacturer (AstraZeneca) has ceased development of this drug because it did not reach the endpoint that they require to move forward for licensing.
References:
Liu J, Barry W, Birrer M, et al. Combination cediranib and olaparib versus olaparib alone for women with recurrent platinum-sensitive ovarian cancer: a randomised phase 2 study. The Lancet Oncology, Volume 15, Issue 11, Pages 1207 – 1214, October 2014.
Ledermann JA, Perren JG, Raja FA, et al. Randomised double-blind phase III trial of cediranib (AZD 2171) in relapsed platinum sensitive ovarian cancer: Results of the ICON6 trial. Presented at the 38th Congress of the European Society for Medical Oncology (ESMO), Amsterdam, Netherlands, September 27-October 1, 2013. Abstract LBA10.