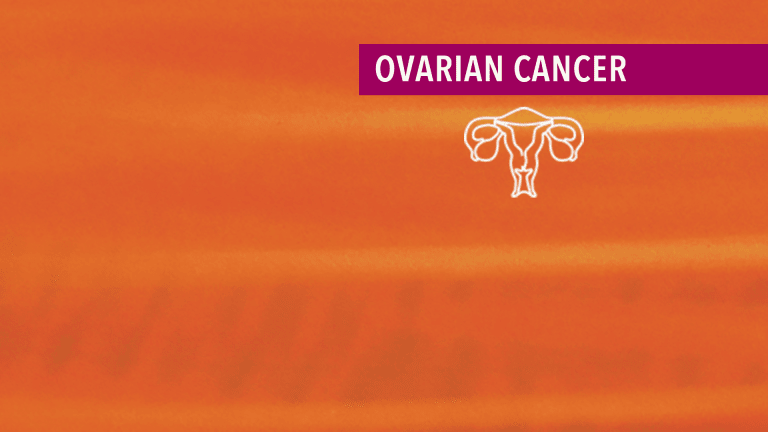 Berzosertib - A Novel ATR Inhibitor in Development
ATR Inhibitor M6620 (VX-970) as monotherapy or in combination with chemotherapy in Colon and Ovarian Cancer
by Dr. Thomas Herzog M.D. Reviewed by CH Weaver M.D. 6/2021
Discovering novel therapeutics to target the myriad of pathways and mutations that have been identified as hallmarks of tumorigenesis is critical in advancing care of solid tumor cancer patients. To this end, investigators have focused on the DNA damage response pathway (DDR) as a means to modulate platinum resistance and to perhaps restore the response to platinum and other DNA damaging cytotoxic chemotherapy and targeted agents such as PARP inhibitors. The DDR pathway is regulated by ATM (ataxia-telangiectasia mutated) and ATR (ATM and Rad3 related proteins). ATR is activated in response to persistent single-stranded DNA breaks that are a common intermediate formed during DNA damage detection and repair.
This interest has peaked in ATM and Rad3-related (ATR) kinase where multiple compounds are in development including M6620 (VX-970) also known as berzosertib. These compounds leverage synthetic lethality and thereby offer a novel platform in the treatment of platinum resistance in solid tumors including ovarian cancer. With this goal in mind, a phase I trial was initiated with the ATR inhibitor M6620 alone and in combination with carboplatin in patients with recurrent solid tumors.
A total of 40 patients were enrolled in this phase I clinical study with 23 receiving the combination of the ATR inhibitor along with carboplatin while 17 received only monotherapy with the M6620 ATR inhibitor. A total of 11 patients had colorectal cancer followed by 5 with mesothelioma, 4 with ovarian, 4 with melanoma, and 4 with adenocarcinoma not specified. Other cancers included with 2 or less included breast, cholangiocarcinoma, and gastric cancer.
In the combination cohort with 23 patients, one patient with high grade serous platinum resistant ovarian cancer had a partial response and a total of 15 of 23 patients (65%) in this combination group demonstrated stable disease. There was one complete response in a colorectal cancer patient with ATM loss and an ARID1A mutation which translated into 29 months of survival without cancer progression treated with the single agent M6620.
The main side effects reported with the combination regimen included neutropenia, anemia, and nausea.
The ATR inhibitor M6620 (VX-970) appears safe and well tolerated and appears to have some anti-cancer activity, most notably in an individual with ARM loss and a nARID1A mutation. Therapeutic targeting of the DDR pathway has gained significant attention as an appropriate treatment strategy. Other investigators have reported on the combination of another ATM inhibitor berzosertib with gemcitabine in platinum resistant ovarian cancer (2). A total of 70 patients were randomized in this phase II trial, and those in the combination arm that included the ATM inhibitor had prolonged PFS (5.3 versus 3.4 months) and OS (13.9 versus 10 months). ATM inhibitors will begin phase III clinical trials likely in combination with chemotherapy and/or PARP inhibitors as single agent activity is modest, while combination treatment appears promising with an acceptable toxicity profile.
References:
Yap TA, O'Carrigan B, Penney MS, Lim JS, Brown JS, de Miguel Luken MJ, Tunariu N, Perez-Lopez R, Rodrigues DN, Riisnaes R, Figueiredo I, Carreira S, Hare B, McDermott K, Khalique S, Williamson CT, Natrajan R, Pettitt SJ, Lord CJ, Banerji U, Pollard J, Lopez J, de Bono JS.J Clin Oncol. 2020 Jun 22:JCO1902404. doi: 10.1200/JCO.19.02404. Online ahead of print.PMID: 32568634
Konstantinopoulos PA, Cheng SC, Wahner Hendrickson AE, Penson RT, Schumer ST, Doyle LA, Lee EK, Kohn EC, Duska LR, Crispens MA, Olawaiye AB, Winer IS, Barroilhet LM, Fu S, McHale MT, Schilder RJ, Färkkilä A, Chowdhury D, Curtis J, Quinn RS, Bowes B, D'Andrea AD, Shapiro GI, Matulonis UA. Berzosertib plus gemcitabine versus gemcitabine alone in platinum-resistant high-grade serous ovarian cancer: a multicentre, open-label, randomised, phase 2 trial. Lancet Oncol. 2020 Jul;21(7):957-968. doi: 10.1016/S1470-2045(20)30180-7. Epub 2020 Jun 15.PMID: 32553118.