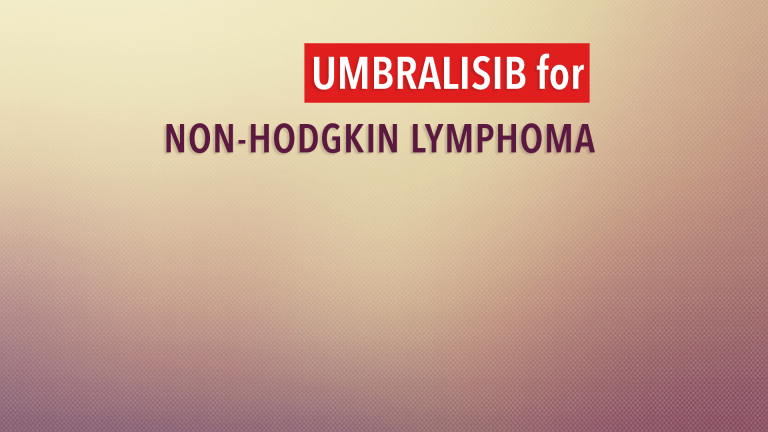 Umbralisib Treatment for Marginal Zone Lymphoma
Ukoniq PI3K inhibitor for the management of Lymphoma - company elects not to bring to market - FDA withdraws approval
by Dr. C.H. Weaver M.D. 6/2022
Ukoniq PI3K inhibitor for the management of Lymphoma initially received accelerated approval by the US FDA however the company has now elected not to bring to the medication to market and the FDA has withdrawn its initial approval due to concerns of unexpected fatalities to patients taking the medication.
More than half of the individuals with recurrent marginal zone lymphoma (MZL) treated with the experimental PI3K delta inhibitor Ukoniq (umbralisib) experienced a response to treatment according to clinical trial results presented at the 2019 American Association for Cancer Research annual meeting.
Marginal zone lymphomas are typically first treated with the anti-CD20 therapy using Rituxan (rituximab) as a single drug or in combination with chemotherapy. Rituxan based therapy has improved outcomes but MZL eventually relapses, and these individuals have limited treatment options.
The Food and Drug Administration granted accelerated approval to Ukoniq for the treatment of adult patients with relapsed or refractory marginal zone lymphoma (MZL) and relapsed or refractory follicular lymphoma (FL).
Approval was based on two single-arm clinical studies showing improved overall response to treatment and improved duration of response. For patients with relapsed MZL, 49% responded to treatment with 16% achieving complete responses, 43% of refractory FL patients responded to treatment with a median response duration of 11.1 months. In a May 2022 press release however TG Therapeutics announced they were not going to make Ukoniq commercially available. TG Release
About Ukoniq
Phosphatidylinositol 3-kinases (PI3K), are a family of enzymes involved in cellular functions such as cell growth, proliferation, differentiation, motility, survival and intracellular trafficking, which in turn are involved in cancer. Umbralisib (TGR-1202) is an orally available PI3K delta inhibitor, targeting the delta isoform selectivity over the alpha, beta, and gamma isoforms of PI3K. The delta isoform of PI3K is strongly expressed in blood cells and is believed to be important in the proliferation and survival of B-cell lymphocytes.
About The UNITY-NHL Clinical Trial
Patients with MZL that had previously received ≥1 prior therapy, including at least one CD20 monoclonal antibody-containing regimen were enrolled in the study evaluating umbralisib. Patients received 800 mg orally once daily until progression or unacceptable toxicity.
Initial results from the found that 55% of treated patients had a complete or partial response at 6 months, and one in five had complete remission. The clinical benefit rate was 84 percent and tumors were reduced in 91 percent of patients with at least one post-baseline assessment.
Overall therapy was well tolerated with the most common side effects being diarrhea-colitis, fatigue, nausea, neutropenia, musculoskeletal pain, anemia, thrombocytopenia, abdominal pain, decreased appetite, and rash. The most serious side effect reported was diarrhea-colitis and this was the most common reason for dose modifications.
The results now need to be confirmed in other studies. Phase III clinical trials are ongoing in MZL and other B-cell malignancies, including follicular lymphoma and chronic lymphocytic leukemia.
Reference:
aacr.org/Newsroom/Pages/News-Release-Detail.aspx?ItemID=1297
https://www.fda.gov/drugs/development-approval-process-drugs/fda-investigating-possible-increased-risk-death-lymphoma-medicine-ukoniq-umbralisib