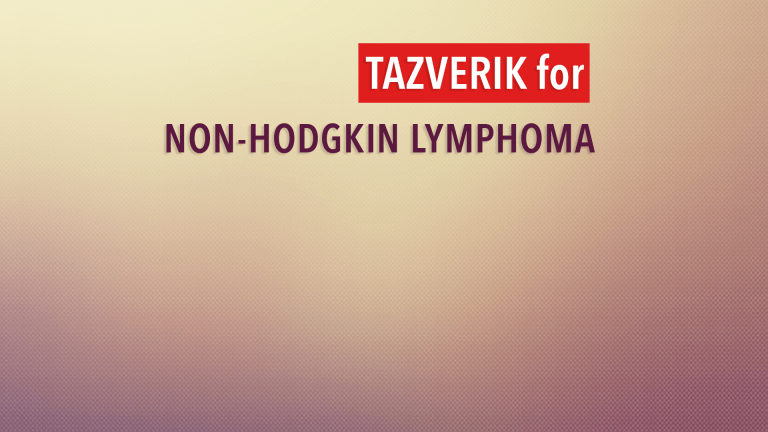 Tazverik (tazemetostat) Treatment for Follicular Non-Hodgkin Lymphoma
Tazverik is a novel precision cancer medicine that targets the EZH2 cancer causing mutation in follicular lymphoma.
by Dr. C.H. Weaver M. D. 6/2020
On June 18, 2020, the Food and Drug Administration granted accelerated approval to Tazverik (tazemetostat) an EZH2 inhibitor, for adult patients with relapsed or refractory follicular lymphoma (FL) whose tumors are positive for an EZH2 mutation as detected by an FDA-approved test and who have received at least 2 prior systemic therapies, and for adult patients with FL who have no satisfactory alternative treatment options.
About Tazverik (tazemetostat)
Tazverik is an orally available precision cancer medicine that competitively inhibits histone methyl transferase EZH2, with antineoplastic activity. Upon oral administration, Tazverik selectively inhibits the activity of both wild-type and mutated forms of EZH2. Inhibition of EZH2 specifically prevents the methylation of histone H3 lysine 27 (H3K27). This decrease in histone methylation alters gene expression patterns associated with cancer pathways and results in decreased cancer cell growth in EZH2 mutated cancer cells. EZH2, which belongs to the class of histone methyltransferases (HMTs), is a cancer driving mutation that is over expressed or mutated in a variety of cancer cells and plays a key role in cancer cell growth.
The FDA approval was based on two clinical trials performed in 42 patients with follicular lymphoma that had failed at least 2 prior systemic therapies and had over expression of the cancer driving EZH2 mutation. The overall response rate was 69% with 12% of patients experiencing complete disappearance of their cancer. The average duration of response to treatment was 11 – 13 months.
The most common side effects included fatigue, upper respiratory tract infection, musculoskeletal pain, nausea and abdominal pain. Second primary malignancy was the most common reason for treatment discontinuation (2% of patients). The prescribing information includes a warning and precaution for secondary malignancies.
Reference: